Employee Online Leave Application : Bharat Coking Coal Ltd
Organization : Bharat Coking Coal Limited
Service Name : Employee Online Leave Application
Applicable State: All India
Website : http://www.bcclweb.in/
Want to ask a question / comment on this post?

Go to bottom of this page.
BCCL Employee Leave Application
To avail online services, you have to login
Related / Similar Facility : BCCL Employee Payslip
Step-1: Enter your User Id
e.g.- s90123456
Step-2: Enter your Password
e.g.- y1958
Step-3 : Click on "Sign In" button
Sign In Here : https://www.bcclweb.in/?page_id=5201&lang=en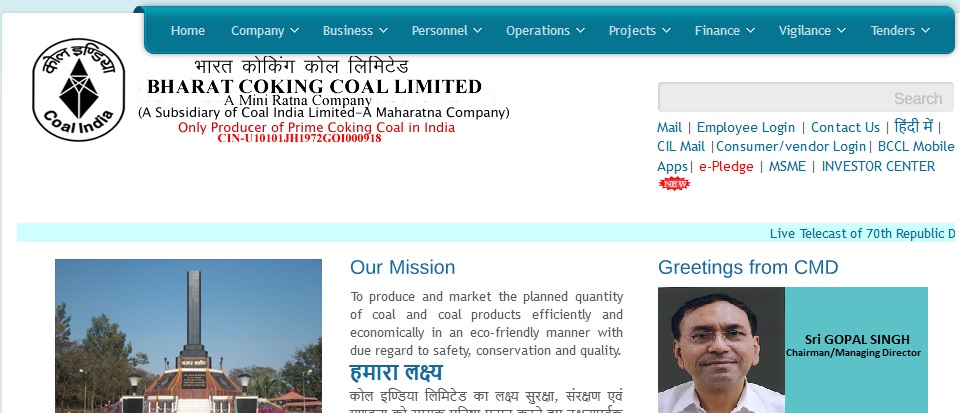 Product & Service
Coking Coal :
These coals, when heated in the absence of air, form coherent beads, free from volatiles, with strong and porous mass, called coke.
** These have coking properties
** Mainly used in steel making and metallurgical industries
** Also used for hard coke manufacturing
Semi Coking Coal :
These coals, when heated in the absence of air, form coherent beads not strong enough to be directly fed into the blast furnace. Such coals are blended with coking coal in adequate proportion to make coke.
** These have comparatively less coking properties than coking coal
** Mainly used as blend-able coal in steel making, merchant coke manufacturing and other metallurgical industries
About Us
** Bharat Coking Coal Limited (BCCL) is a Public Sector Undertaking engaged in mining of coal and allied activities.
** It occupies an important place in as much as it produces bulk of the coking coal mined in the country. BCCL meets almost 50% of the total prime coking coal requirement of the integrated steel sector.
** BCCL was incorporated in January, 1972 to operate coking coal mines (214 Nos) operating in the Jharia & Raniganj Coalfields, taken over by the Govt. of India on 16th Oct,1971 to ensure planned development of the scarce coking coal resources in the country.
** Currently, the Company operates 81 coal mines which include 40 underground, 18 opencast & 23 mixed mines as on 01.04.2010.
** The Company also runs 6 coking coal washeries, 2 non-coking coal washeries.
Need help?:
Nodal Officers List:
| | | | | |
| --- | --- | --- | --- | --- |
| EMPNo | Name | Area | Email | Mobile |
| | | | | |
| 90227547 | SUJATA KUMARI | HQ | sujataintellectua@gmail.com | 9470595469 |
| 90300443 | SOURABH KUMAR SINGH | KATRAS | sousnh@gmail.com | 9708307668 |
| 90296773 | IKJOT DHAWAN | BLOCK-II | ikjotdhawan@yahoo.com | 9470599627 |
| 90227539 | NAGENDRA YADAV | GOVINDPUR | nagendray2222@gmail.com | 9470596393 |
| 90276676 | PRAMOD KUMAR | GOVINDPUR | pkumar0510@gmail.com | 9470597069 |
| 90267832 | DIPIKA KUMARI | SIJUA | deepika25.bhu@gmail.com | 9470597379 |
| 90300344 | ARINDAM KUNDU | SIJUA | 86.arindam@gmail.com | 9470595994 |
| 90276247 | RANJAN KUMAR | KUSUNDA | ranjan.kumar1607@gmail.com | 9470597060 |
| 90311820 | PALLAVI | KUSUNDA | pallavi07.bhu@gmail.com | 9470599733 |
| 90267550 | MEGHA AVINAW | P B AREA | megha.avinaw@gmail.com | 9470597027 |
| 90267691 | PRABHAT KUMAR | LODNA | prabhukester@gmail.com | 9470597195 |
| 90276429 | YOGENDRA KUMAR BIRULI | LODNA | yogendra.kbr@gmail.com | 9470597095 |
| 90276775 | KUMARI NIVEDITA | E JHARIA | kumari.nivedita1@gmail.com | 9470597542 |
| 90297524 | ANAND PRAKASH | E JHARIA | apnand87@gmail.com | 9470595951 |
| 90276866 | RAJU KUMAR | W JHARIA | raj1261987@gmail.com | 9470597656 |
| 90311895 | JYOTI KUMARI | W JHARIA | jyotsnam6645@gmail.com | 9470599913 |
| 90276700 | SWETA SUBHASHINI | C V AREA | subhashini1985.xiss@gmail.com | 9883639372 |
| 90293085 | SUMANTA ROY | C V AREA | | 9470599881 |
| 90311671 | KUMARI VARSHA | WEST WASHERY ZONE | myself.vd@gmail.com | 9470599963 |
| 90276478 | ATUL SHARMA | EAST WASHERY ZONE | atul1986sharma@gmail.com | 9470597921 |
| 90297508 | MANISH CHANDRA SAHU | EAST WASHERY ZONE | manish.bhumpmir@gmail.com | 9470595996 |
| 90267766 | SHILPI BARANWAL | WASHERY DIVISION | baranwal.shilpi@gmail.com | 9470597970 |
| 90275801 | TULIKA | BASTACOLLA | tulikamishra5@gmail.com | 9470597293 |
| 90311812 | DHARMENDRA | BASTACOLLA | dharmendra09aug@gmail.com | 9470599820 |
| 90292632 | ASHOK KUMAR PAL | HQ | akpal2632@gmail.com | 9470595885 |
| 90311143 | KUMARI SHWETA | P B AREA | kshweta1143@bccl.gov.in | 9470599770 |
| 90296815 | ABHISHEK KUMAR | WEST WASHERY ZONE | abhimishra006@gmail.com | 9470599967 |
| 90311473 | URMI JAIN | BLOCK-II | inboxofurmi@gmail.com | 9470599949 |
| 90267972 | DEEPENDRA NETAM | BARORA | deependra.netam@gmail.com | 9470596564 |
| 90276643 | ANIL KUMAR | BARORA | anil_muskanil@rediffmail.com | 9470596577 |