Maharashtra Nursing Council Online Registration
Organisation : Maharashtra Nursing Council MNC
Facility : Online Registration
Home Page : http://www.maharashtranursingcouncil.org/
You can now ask your question regarding this facility.
Please go to the bottom of this page.
Maharashtra Nursing Council Registration
The Online Registration System for Maharashtra will be started from 1st March Every Year.
Related : Maharashtra Nursing Council Online Enrollment System : www.statusin.in/9476.html
Steps for Online Application
Click on Registration link available in the right panel of home page.
New User Registrations
Click New Registration link available in the left panel.

Create User Account for Registration :
Step 1 : Select Do you have Registration No
Step 2 : Select State
Step 3 : Select if you are Army Candidate
Step 4 : Enter First Name
Step 5 : Enter Last Name
Step 6 : Enter Middle Name
Step 7 : Enter E-mail ID
Step 8 : Enter Mobile No
Step 9 : Enter Aadhaar Number
Step 10 : Enter User Name
Step 11 :  Enter Password
Step 12 : Confirm Password
Step 13 : Click Create Account Button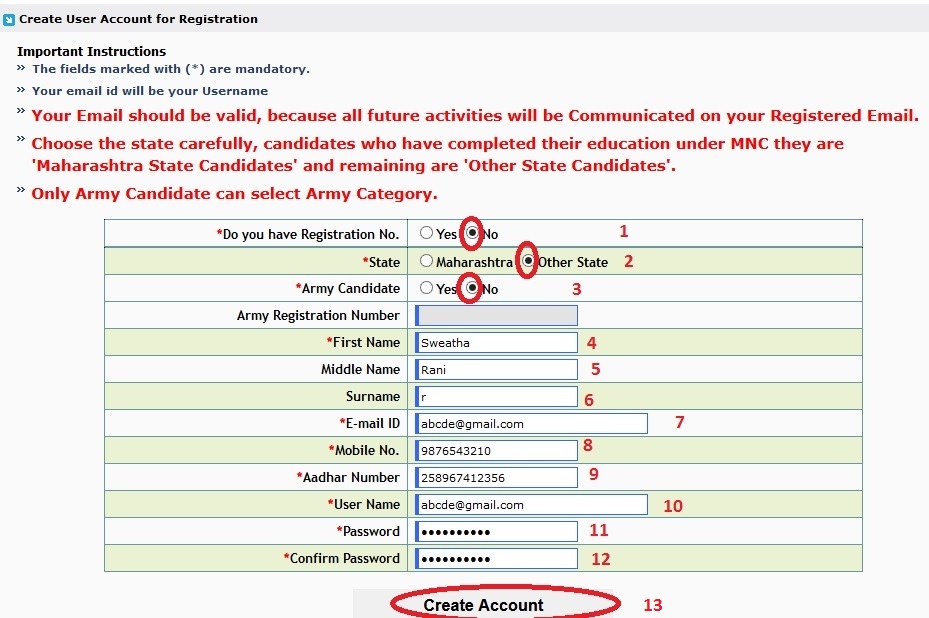 Then Next Screen will be displayed, Click on OK button.Conformation message will be displayed.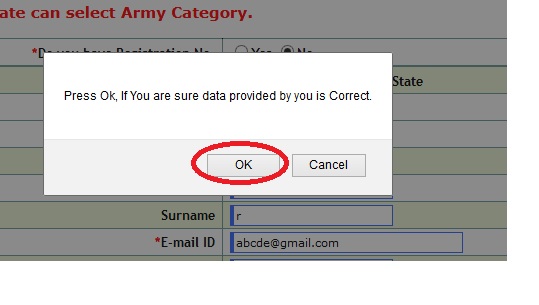 Login Details
Click on Login button in main menu,login screen will be displayed
1. Enter your User Name
2.Enter Your Password
3.Enter Captcha code
4.Click on login button.
Request SUID
1) Click on Student Login (on Home Page)
2) Click on Request SUID Menu (In case you have not got it from your Institute)
3) Fill up the Required Details (Your Registration Number as per your Registration Certificate)
4) SUID will be mail to you on the E-mail provided by you in SUID Request Form
Deposit Application Fee
Deposit Application Fee in Bank or Pay Online using Debit/Credit Card
1) Check the Fee Structure given on MNC website to know correct Application Fee
2) Deposit the Fee amount to nearest Bank Of Baroda Branch ("Bank Of Baroda" "Account No 20070100009948") (Don't forget to collect the slip having Bank Transaction Number)
OR
3) Pay your Fees online using Debit or Credit Card while filling Application Form as stated in Step 4
Fill up Online Application (Renewal/Registration)
1) Click on the Student Login (on Home Page)
2) Login with your Username and Password
3) Once logged in, Student Account Summary will be displayed with your Online Application Status (if any).
4) To Send new Application – Click on New Application in menu
5) Select Desired Application and click on click on Proceed
a. Renewal
b. Registration
c. Etc.
6) Fill up the Required Details (Present Address, Employment Details etc)
7) Enter Valid Registration Number (Provided by MNC at the time of Registration)
8) In case of Bank Payment Enter the Correct Bank Transaction Number
9) In case of online payment use your Debit / Credit Card as per the instructions provided during Payment process (step 5)
10) After submitting the Application you will receive a message (Your Application is submitted successfully).
11) Then Attach the Required Documents
a. Click on Attach Button in Documents table
b. A document upload window will open
c. To Upload Click on browse (file type must be .pdf / .doc /.docx / .jpg)
d. Select file and click on Save
e. Your Document will get Uploaded
Online Payment Process
1) Select online payment option in your New Application Page and Click Submit & Pay.
2) Go to student Account page, check your Application status.
3) Click on Pay online button.
4) You will be then redirected to Bank of Baroda's Online Payment page.
a. Select appropriate Card type ( you must have either VISA or MASTER card)
b. Enter your Name as mentioned on the card
c. Enter your 3 digit security code as provided on the backside of your card
d. Then the Online portal will guide you for further Payment process
e. After Successful Payment, You will receive a Transaction ID.
f. Please note down this Transaction ID for future reference.
Check Application Status Online
1) Login with your User Name and Password
2) Go to Student Account Menu
3) You'll get all the details and status of your Application
a. Once the application is Approved by MNC you will be able to Print Payment receipt online (Application approval process will take approximate 48 hrs after submission)
4) Students who are applying for Renewal :
a. You will get Renewal Slip and Renewal Form copy online just after allotment process is completed from MNC
b. Students are must attach the renewal slip on the backside of their Registration Certificate
c. And also required to send the Renewal Form (Signed by student) to MNC