udyogaadhaar.gov.in Register Your Complaint
Organisation : Ministry of Micro, Small & Medium Enterprises
Facility : Register Your Complaint
Applicable For : Entrepreneur
Website : https://my.msme.gov.in/MyMsme/Reg/Home.aspx
Want to ask a question / comment on this post?

Go to bottom of this page.
Register Complaint
Please enter the following details to register your complaint,
*All fields are mandatory
1. * Aadhaar Number
Related : MSME Update Udyog Aadhaar : www.statusin.in/24164.html
2. * Name of Entrepreneur
3. * Mobile Number +91-
4. * Email
5. * Complaint Description – (Only a-z A-Z 0-9 . , () _ : ? / – ,+ are allowed), maximum 2000 characters or approx 400 words
6. * Verification Code
7. Click on the Submit button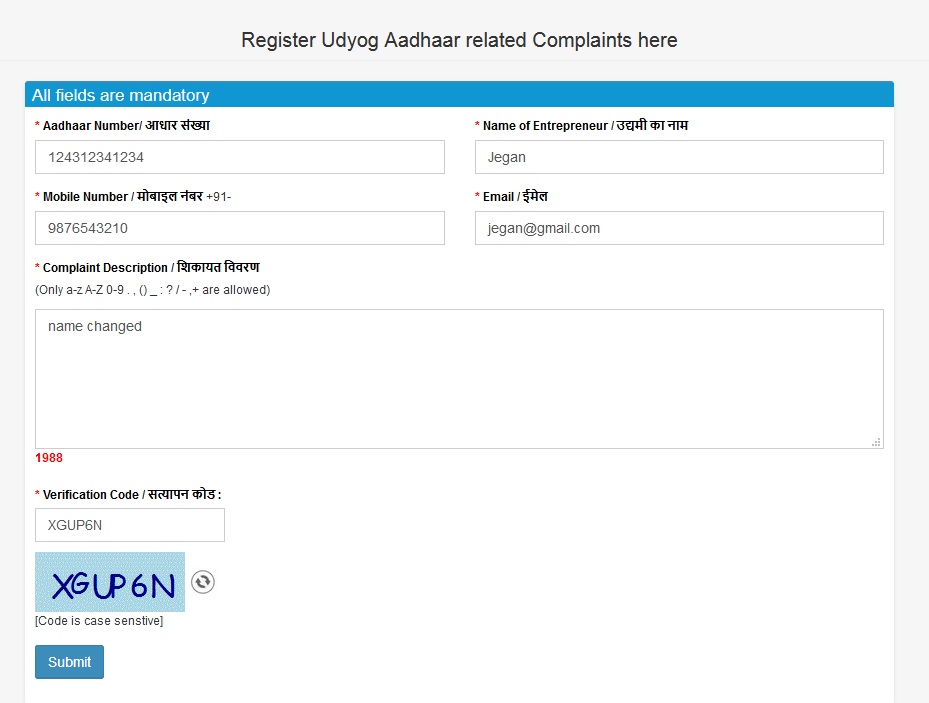 FAQs :
1. Is there a provision to verify the UAM credentials by the procurement agencies including government departments and PSUs?
NIC has been advised to suitably provide this provision in a way that several e-procurement portals in the country, created by the government or private but being used by the government could benefit from the UAM portal in so far as online verification of a MSME unit is concerned.
2. Is there a difference in the information sought under EM-I/II and the new UAM?
In order to promote ease of doing business for MSMEs, it has been decided to seek lesser information than EM-I/II in the UAM.
3. How to submit the supporting documents while filing UAM online?
The information sought is on self-certification basis and no supporting documents are required at the time of online filing of UAM.
4. What would be the role of "Udyog Bandhu" in the UAM?
The role of facilitating the creation and growth of enterprises in the States/UTs is not proposed to change in any manner whatsoever through UAM. The concept of "Udyog Bandhu" may therefore not be affected by UAM.
5. Whether the new system of UAM encapsulates the change in the line of production?
Yes, since the new system constitutes self declaration format, the change in the line of productions accordingly may be incorporated.
6. What would happen to those enterprises which do not have Aadhaar Number?
At present Aadhaar Number is mandatory for registration under UAM. However, the GoI will find a way out for covering those cases where Aadhaar Number is not available.
7. EM-I filed by a prospective enterprise entitles it for certain exemptions from paying stamp-duties. How to handle this in UAM?
Legally, the EM-I/II ceases to exist after 18-09-15. States/UTs may encourage providing all benefits/concessions to MSMEs based on UAM only.
8. Is there a provision for editing of information in UAM data of an enterprise by GM (DIC)?
No. Howver, GM DICs , on the UAM portal, shall be able to enter their remarks on the respective information provided by the entrepreneurs while filing the UAM online.
9. Who has access to the data from the UAM portal?
The UAM Portal shall have suitable provisions to allow officials of the State Governments including GM DICs to have password protected access to data of their jurisdiction.
10. Whether the new system of registration provides NIC Code in Hindi and English?
Presently the NIC Codes are only available in English. However, the same may be made available in Hindi in due course.