IndusInd Bank : Online Vehicle Loan EMI Payment
Organisation : IndusInd Bank
Service Name : Online Vehicle Loan EMI Payment
Website : https://www.indusind.com/loanemipayment.html
Want to comment on this post?

Go to bottom of this page.
IndusInd Bank Vehicle Loan EMI Payment
Now you can pay the Vehicle Loan EMI of IndusInd Bank online
Related : IndusInd Bank : Check Credit Card Application Status : www.statusin.in/8434.html

How To Pay Vehicle Loan Online?
Step : 1 Register Yourself
** Visit our Bank website at: www.indusind.com
** click the "online loan payment" button
** register yourself by providing the correct email ID and desired password.
** A mail will be sent to your ID seeking confirmation.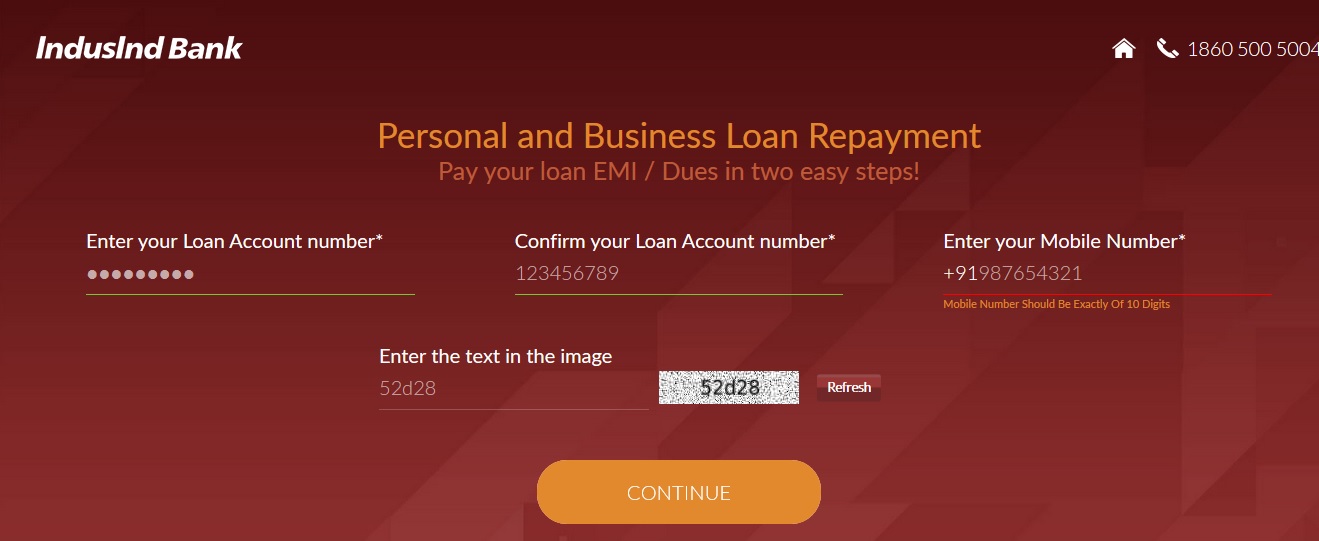 Step : 2 Tag your Loan Account(s)
** Once the Request for "Online Registration" ID is activated you can tag your loan account(s) by providing the relevant details.
Step : 3 Visit IndusInd Bank site, login, enter amount and select your Bank
** Visit IndusInd Bank Website
** Login using your login ID (vide Step 1 above).
** Enter the amount proposed to be paid against the tagged loan account(s);
** Click on "Submit"; now it would lead you to BillDesk portal page.
Step : 4 Login to Your Bank's Website Net Banking
** The BillDesk Portal would allow you to choose your Bank;
** Now login to the net banking of your bank using your Login ID and password and transact / pay the overdues.
Step : 5 Confirm Payment
** Enter your authentication details (Net Banking User ID and Password of your Bank Account / Equivalent details).
** Confirm payment amount.
** Your bank account will get debited instantaneously.
Step : 6 Receive online confirmation
** You will receive a Transaction Reference Number on successful completion of transaction.
** Post settlement of dues by your bank to our payment portal managed by BillDesk, we would be crediting your respective loan account(s) with value date/amounts remitted.
** Pease note that payments made by you will reflect in your IndusInd Bank Loan account(s) within 3 working days.
** You would also be getting a confirmatory email in your registered email id.
** We request you to go through the Terms & Conditions / Disclaimer clause / FAQ etc. as listed in our Bank's website and familiarize yourself before transacting online.
IndusInd Bank Mission:
We will consistently add value to all our stakeholders and emerge as the 'best-in-class' in the chosen parameters amongst the comity of banks, by doubling our profits, clients and branches within the next three years.
Helpdesk
If you still require any guidance, just give us a call at: 1800 209 0061 / 1860 500 5004 (or) Call our Customer Care Centre at : (044) 2815 1172 to 1175 – we will help you set up your link for online repayment. You can also email to us at: reachus@indusind.com / payments@indusind.com for this.