Standard Chartered Bank Loan EMI Payment Online : sc.com
Organisation : Standard Chartered Bank
Service Name : Loan Repayment Online
Website : https://www.sc.com/in/loans/loan-repayment-option/
Want to comment on this post?

Go to bottom of this page.
SC Bank Loan Repayment
Hassle free loan repayment methods.
Related : Standard Chartered Bank Credit Card Application Status : www.statusin.in/4789.html

How To Pay EMI Online?
Make your Standard Chartered Loan (Mortgage and Personal Loan) payments in a secure and convenient manner through Bill Desk by following the below 3 simple steps
Step 1:
** Enter your 8 digit loan account number twice, Loan Account Holder Name and Payment Amount against EMI / Arrears
** Click on validate to validate the account number with our records.
** Choose the bank from which you want to make this payment.
** You will be securely redirected to the payment interface of your chosen bank.
Step 2:
** Enter your Authentication Details (Net Banking User ID and Password of your Bank Account / Equivalent details).
** Confirm Payment Amount.
** Your chosen Bank Account will get debited instantaneously.
Step 3:
** You will receive a transaction reference number on successful completion of the transaction.
** Save the transaction reference number for your reference.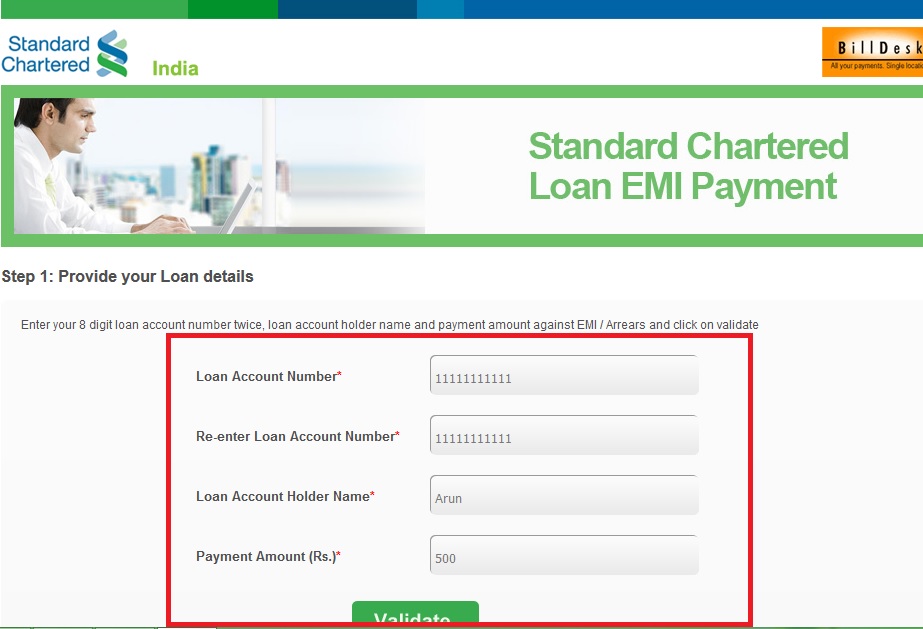 Please Note:
** This service is for Personal Loan, Home Loans and Loan Against Property customers only.
** This facility is only for payment of arrears. Payments made would be adjusted against the arrears outstanding in the account.
** Any excess funds will be refunded as per bank's existing policy. Part-payment or loan closure payments will not be processed.
** We will not be able to stop the Presentation / Re-presentation of your Regular Mode of Repayment i.e. PDC / ECS / Auto-Debit.
** Please enter your name along with Loan Number. In case of mismatch between Name and Loan Number as per our records, the payment will not be credited into your account.
** Pay your loan outstanding from other bank accounts though net banking.
** Please note that SMS confirmation will be sent to your mobile number registered with the bank after the payment is credited to the bank (this usually takes 2 working days).
** In the event you are unable to make your payment, you can re-try after 24 hours.
** If you still experience an issue, please contact the Standard Chartered phone banking for assistance.
Disclaimer:
This is to inform that by clicking on the link, you will be leaving our www.sc.com/in and entering a website operated by other parties. Such links are only provided on our website for your convenience and Standard Chartered Bank does not control or endorse such websites, and is not responsible for their contents.
The use of such website is also subject to the terms of use and other terms and guidelines, if any, contained within each such website. In the event that any of the terms contained herein conflict with the terms of use or other terms and guidelines contained within any such website, then the terms of use and other terms and guidelines for such website shall prevail.
Helpdesk
Email : customer.care@sc.com