FASTag Application For Highway Toll Online Payment
Organisation : FASTag
Service Name : Apply For FASTag/ Pay Highway Toll Online
Website : http://www.fastag.org/fastag-pay-highway-toll-online
You can now ask your question on this facility / status.
Ask here
(OR) Go to the bottom of this page for comments.
FASTag Highway Toll Payment
FASTag is a simple to use, reloadable tag which enables automatic deduction of toll charges and lets you pass through the toll plaza without stopping for the cash transaction.
Related : Vahan Parivahan RTO Online Services : www.statusin.in/41903.html
FASTag is linked to a prepaid account from which the applicable toll amount is deducted. The tag employs Radio-frequency Identification (RFID) technology and is affixed on the vehicle's windscreen after the tag account is active.
FASTag is a perfect solution for a hassle free trip on national highways. FASTag is presently operational at 180 toll plazas across national and state highways. More toll plazas will be brought under the FASTag program in the future.
FASTag Benefits
Saves Fuel & Time:
FASTag is read by the tag reader at the plaza and the toll amount is deducted automatically, when the vehicle approaches the toll plaza. The vehicle with FASTag doesn't need to stop at the toll plaza for the cash transaction
SMS Alerts For Transactions:
Customer will receive SMS alerts on his registered mobile numbers for all the transactions done in his tag account
Online Recharge:
Customer may recharge his tag account online through, Credit Card/ Debit Card/ NEFT/ RTGS or Net Banking
No Need To Carry Cash:
Customer doesn't need to worry about carrying cash for the toll payments
Web Portal For Customers:
Customers can access their statements by logging on the FASTag customer portal
Fees & Charges
Tag Joining Fee Rs. 200 including all applicable taxes
One-Time Tag Deposit Amount:
| Vehicle Class | Description | Tag Deposit | Threshold Amount |
| --- | --- | --- | --- |
| 1 | Car / Jeep / Van | 200 | 100 |
| 2 | Light Commercial Vehicle 2-axle / 3-axle | 300 | 140 |
| 3 | Bus 2-axle / 3-axle / Mini-Bus | 400 | 300 |
| 4 | Truck 2-axle | 400 | 300 |
| 5 | Trucks 3-axle and above | 500 | 300 |
| 6 | Earth Moving / Heavy Construction Machinery | 500 | 300 |
| 7 | Tractor / Tractor with Trailer | 500 | 300 |
| 8 | Tata Ace and Similar Mini Light Commercial Vehicle | 200 | 100 |
How To Apply Online For FASTag?
Just follow the simple steps mentioned below to apply online
Steps:
Step-1 : Go to the link http://www.fastag.org/apply-online
Step-2 : Select your Bank
Step-3 : Fill the form and submit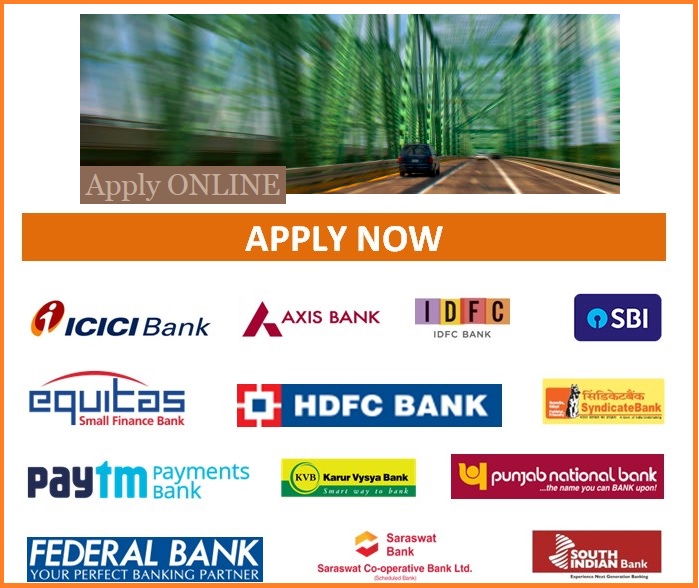 How To Get FASTag Offline?
The customer may visit any of the Point of Sale (POS) locations at Toll Plazas / Issuer Agency to get your FASTag account created. Customer may call on customer care no. Of the Issuer Agency to know more details.
Customer need to submit a copy of the following documents along with the application for FASTag:
1. Registration Certificate (RC) of the vehicle.
2. Passport size photograph of the vehicle owner
3. KYC documents as per the category of the vehicle owner (viz. Individual / corporate):
For Individual :
ID proof and Address proof from the list mentioned and 1 passport size photograph.
** Driving License
** PAN Card
** Passport
** Voter ID Card
** Aadhar Card (with address)
For instance, valid driving license would be sufficient for Address & ID proof.
How To Recharge Online?
You may recharge your FASTag account by making payment through cheque or online through Credit Card/ Debit Card/ NEFT/ RTGS or through Net Banking. FASTag account can be recharged upto Rs. 1,00,000.00 (Rupees One Lac only).
Steps:
Step-1 : Go to the link http://www.fastag.org/fastag-online-recharge
Step-2 : Slect Bank and Login to your account
Step-3 : Recharge Online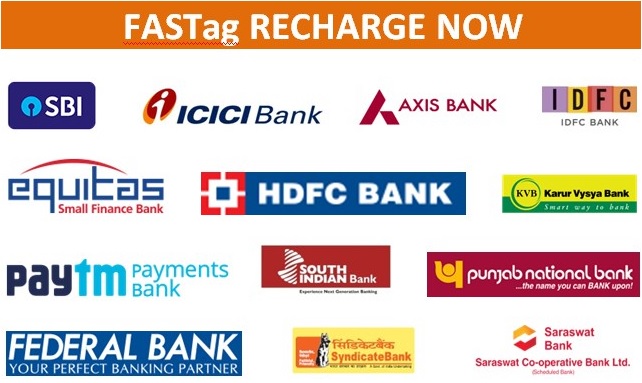 FASTag FAQs
How will I get to know if and how much toll has been debited?
The customer will receive an SMS with requisite details to his registered mobile number as soon as the toll transaction takes place. Periodic statement of account may also be obtained on website of the Issuer Agency after registration by the customer.
Do I need to use any specific lane at the toll plaza for FASTag?
A vehicle with FASTag may use any lane at toll plazas by making cash payment. However, the FASTag will work only in the lanes demarcated for FASTag. Vehicle without valid FASTag entering FASTag lane will be charged double the applicable toll amount in cash.
Can I avail a Monthly Pass or Local Pass?
The monthly pass facility is specific to each toll plaza. You may call customer care of the participating bank / issuer agency for further details.
How and where do I finally pay the toll?
Issuer Agency will electronically deduct the applicable toll fee from the customer's account linked to the FASTag. This deduction will be done post the toll transaction. The customer needs to adequately fund the account which is linked to FASTag. This recharge process may be termed as top-up.
How would I report an incorrect deduction and how will I get back the same?
Customer can report an incorrect deduction by calling us at customer care number of the issuer agency. The agency will review your request and necessary action.
How do I block my FASTag account, in case my vehicle is lost?
Customer can call up customer care of the issuer agency and block his / her FASTag account.
I have new vehicle fitted with RFID Tag. How to get it activated?
Please contact the PoS of respective Issuer Agency.
Can the tags purchased earlier be used?
Only RFID Tag purchased earlier may be used, in case of any problems, please contact the PoS of issuer Agency. Any other type of Tag will not work on FASTag lanes.
FASTag Customer Care
(i) ICICI Bank (Customer Care 1860 210 0104)
(ii) Axis Bank (Customer Care 1800 103 5577)
(iii) IDFC Bank (Customer Care 1800 266 9970)
(iv) SBI Bank (Customer Care 1800 110 018)
(v) Equitas Small Finance Bank (Customer Care 18004191996)
(vi) HDFC Bank (Customer Care 1800 120 1243)
(vii) Syndicate Bank (Customer Care 1800 425 0585)
(viii) Paytm Payments Bank (Customer Care 1800 102 6480)
(ix) Karur Vysya Bank (Customer Care 1800 102 1916)
(x) Punjab National Bank (Customer Care 08067295310)