Muthoot Blue EPay Loan Online Payment : muthootepay.com
Organisation : Muthoot Fincorp Ltd
Service Name : Muthoot Blue EPay Loan Online Payment
Website : https://www.muthootepay.com/
You can now ask your question on this facility / status.
Ask here
(OR) Go to the bottom of this page for comments.
Muthoot Blue EPay
Muthoot Fincorp Ltd introduces Muthoot Blue EPay service for Loan Online Payment
Related / Similar Services :
Muthoot Webpay Interest Payments Online

How To Pay Loan Online?
Just follow the simple steps mentioned below to pay loan online.
Steps:
Step-1 : Go to the link https://www.muthootepay.com/
Step-2 :
New User : Enter "Register Now" link, Fill the Form and Submit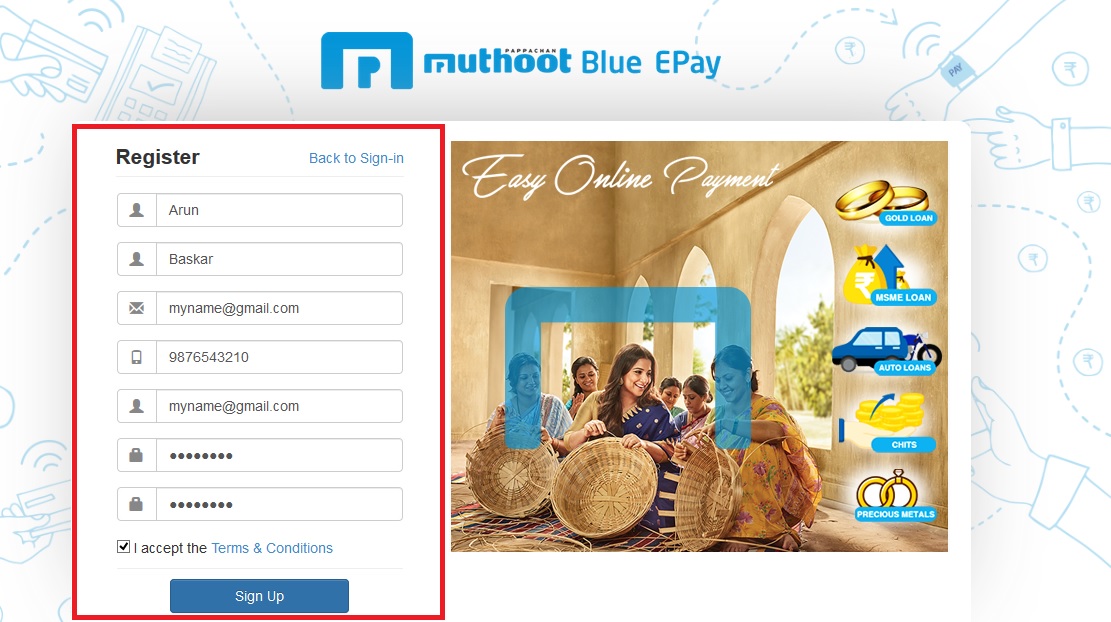 Registered User : Enter your User Name and Password to Login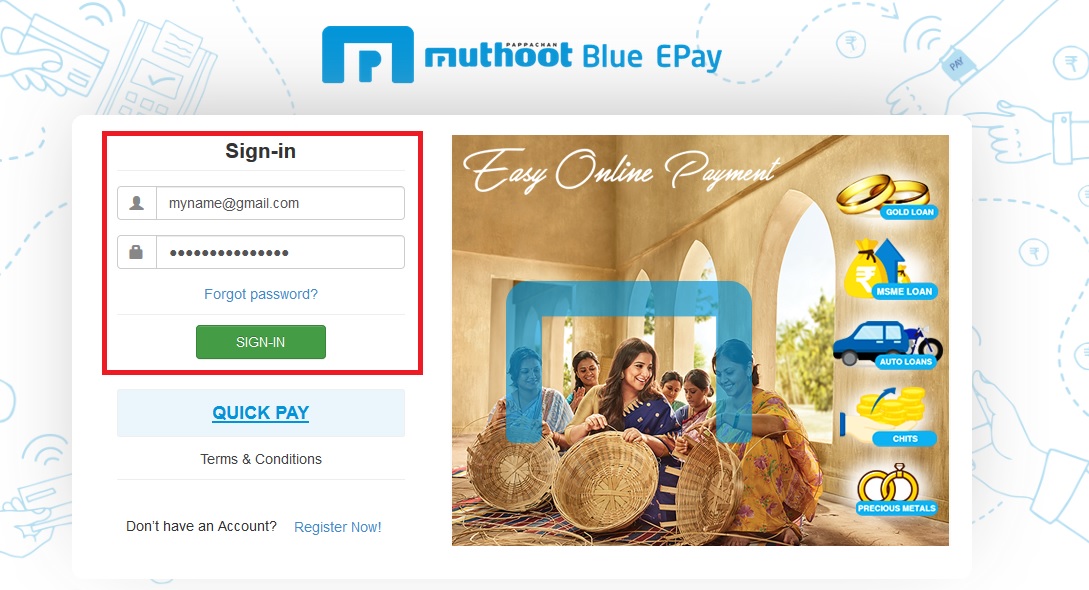 Step-3 : After Login, you can pay online.
(or)
Step-1 : Go to the link https://www.muthootepay.com/
Step-2 : Click on the "Quick Pay" link
Step-3 : Enter your Mobile Number for verification.
Step-4 : After verification, you can pay online.
Payment Terms
** The funds will be paid into customer loan account with Muthoot' Fincorp Ltd in T+1 working Days' time.
** It will be the responsibility of the customer to ensure that no double payment is made from his end for the same Account.
** All disputes arising out of this services shall be subject to the exclusive jurisdiction of competent courts in Trivandrum .
General Terms:
** Once the payment has been made, no cancellation will be entertained for any reason whatsoever.
** During Online Payment, if the amount is debited from customer bank account and the transaction details are not generated online, please allow us 24 hours' time to generate the transaction details .
** In case if the Online transaction details are not generated even after 24 hours or money is not refunded back to the customer bank account, the customer may contact epaysupport@muthoot.com
** If customer account has been debited twice for one transaction, one transaction amount will be refunded via same source within 20 working days.
Transaction Charges
ATOM
| Payment Option | Transaction Charges |
| --- | --- |
| Debit Card transaction charges below 2000 Rs | 0.75 % + Tax |
| Debit Card transaction charges above 2000 Rs | 1.00 % + Tax |
| HDFC & SBI Group Net Banking transaction charges | Rs.16 + Tax |
| ICICI Bank Net banking transaction charges | Rs.11 + Tax |
| Axis Bank Net banking transaction charges | Rs.9 + Tax |
| Rest all Banks Net Banking transaction charges | Rs.5 + Tax |
PAYTM
| Payment Option | Transaction Charges |
| --- | --- |
| Debit Card transaction charges below 2000 Rs | NIL |
| Debit Card transaction charges above 2000 Rs | Rs.18 + Tax |
| HDFC & AXIS Net Banking transaction charges | Rs.10 + Tax |
| ICICI Net Banking transaction charges | Rs.7 + Tax |
| SBI Net Banking transaction charges | Rs.5 + Tax |
| Paytm Wallet | Rs.1.3% + Tax |
| UPI transaction charges below 2000 Rs | NIL |
| UPI transaction charges above 2000 Rs | Rs.11 + Tax |
| Rest all Banks Net Banking transaction charges | Rs.4 + Tax |
Tech Process
| Payment Option | Transaction Charges |
| --- | --- |
| Debit Card transaction charges below 2000 Rs | 0.70% + Tax |
| Debit Card transaction charges above 2000 Rs | 0.95% + Tax |
| Axis & ICICI Net Banking transaction charges | Rs.11 + Tax |
| SBI & HDFC Net Banking transaction charges | Rs.15 + Tax |
| Rest all Banks Net Banking transaction charges | Rs.4 + Tax |
| UPI | Rs.16 + Tax |
| m-Visa | Rs.25 + Tax |
| Cash Cards | Rs.16 + Tax |
| Wallets | Rs.16 + Tax |
Helpdesk
** For any assistance, please call our toll free number : 1800 102 1616
** For any assistance, please mail us at : epaysupport@muthoot.com