ghmc.gov.in Procedure For Fire NOC Certificate : Greater Hyderabad Municipal Corporation
Organisation : GHMC Greater Hyderabad Municipal Corporation
Service Name : Procedure For Fire NOC Certificate
Website : https://www.ghmc.gov.in/Proc_Firenoc.aspx
You can now ask your question on this facility / status.
Ask here
(OR) Go to the bottom of this page for comments.
GHMC Fire NOC Certificate
Procedure for applying Provisional/ Occupancy Fire No Objection Certificate
Related / Similar Facility :
GHMC Get Births/ Deaths Certificate Online

How To Apply For NOC?
a) The Proponent shall submit Application on-line through the GHMC online portal http://eghmc.ghmc.gov.in/
b) After payment of the required fees and submission of the application , it is visible in the District Fire Officer's Dashboard.
c) The District Fire Officer assigns the application to the Zonal Station Fire Officer through the online system for further processing.
d) The Station Fire Officer inspects the premises/building to check the required precautions have been met.
e) The Officer then submits the inspection report online for further processing.
f) The submitted report is then available on the District Fire Officer's dashboard for scrutiny.
g) After scrutiny, the District Fire Officer forwards the report to the Additional Director Fire Services.
h) Additional Director reviews the application and the report. They then provide their remarks and along with that forwards the application to the Chief City Planner.
i) The Chief City Planner again forwards the application along with his remarks to the Commissioner, GHMC.
j) The Commissioner Approves/Rejects the file and the applicant will be able to download the final approved certificate/letter through the portal.
k) After each stage that the application goes through in the process, the applicant receives a SMS to the registered mobile number informing the status.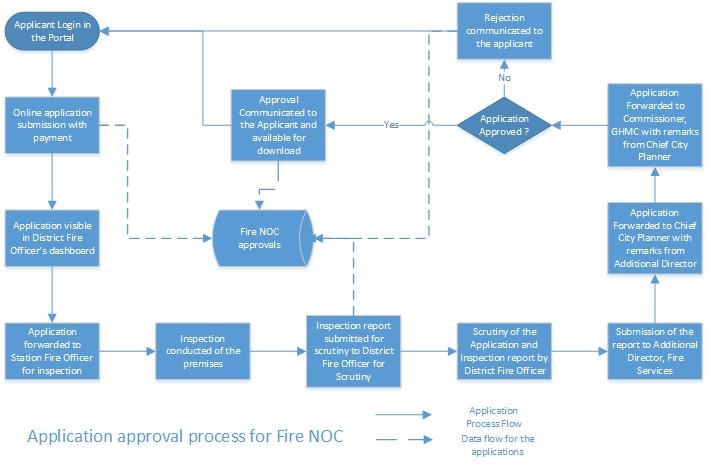 Documents Required
Checklist of Documents to be submitted with the Application
a) Site Plan.
b) Basement Floor Plan.
c) Stilt/Ground Floor Plan.
d) Floor wise Plan.
e) Terrace Plan.
f) Section Plan.
g) Elevation Plan.
h) Provisional / Revised Provisional NOC (Needed for Occupancy NOC Application).
Time Limits
Time Limits for receiving Fire NoC after submission of Complete Application.
a) For Buildings under 15 mts height : 7 days.
b) For Buildings above 15 mts height : 14 days.
Helpline
Call : 21111111, 040-23225397.
Hyderabad History:
Hyderabad is the capital of Telangana state and temporary capital of Andhra Pradesh state. The city, founded in the year 1591 by Mohammed Quli Qutub Shah, the fifth sultan of Qutb Shahi dynasty, offers a fascinating panorama of the past, with richly mixed cultural and historical tradition spanning over 400 years.
It is one of the fastest growing cities of India and has emerged as a strong industrial, commercial, technology center, gives a picture of glimpses of past splenders and the legacy of its old history.The history of Hyderabad begins with the establishment of the Qutb Shahi dynasty. Quli Qutb Shah seized the reins of power from the Bahamani kingdom in 1512 and established the fortress city of Golconda.