pedservices.py.gov.in Cheque/ DD Challan Preparation : Puducherry Electricity
Organisation : Puducherry Electricity Department
Service Name : Cheque/ DD Challan Preparation
Applicable State: Puducherry
Website : https://pedservices.py.gov.in/Consumer/ConsumerChequeDDPayment
You can now ask your question on this facility / status.
Ask here
(OR) Go to the bottom of this page for comments.
PED Cheque/ DD Challan
Puducherry Cheque DD Challan Preparation
Related : Puducherry Electricity Bill Online Payment : www.statusin.in/42148.html

How To Prepare Challan?
1. Pick CHEQUE / DD CHALLAN Menu:
In https://pedservices.py.gov.in Home page, you will find a link as "CHEQUE / DD CHALLAN".
2. Add Bills
On the next screen, add the bills by entering valid consumer number that want to pay by Cheque / DD.

3. Adding Multiple Bills
After adding a bill, the page will be displayed now consumer can add multiple bills by entering valid consumer no and clicking Add button
4. Fill Mandatory Fields
After adding all the bills, fill the mandatory fields
** Name
** Cheque / DD Number
** Type (Cheque / DD)
** Cheque / DD Date
** Bank
** Bank Branch
** Bank IFSC Code
After filling all the mandatory fields, click on Generate GRAS Challan.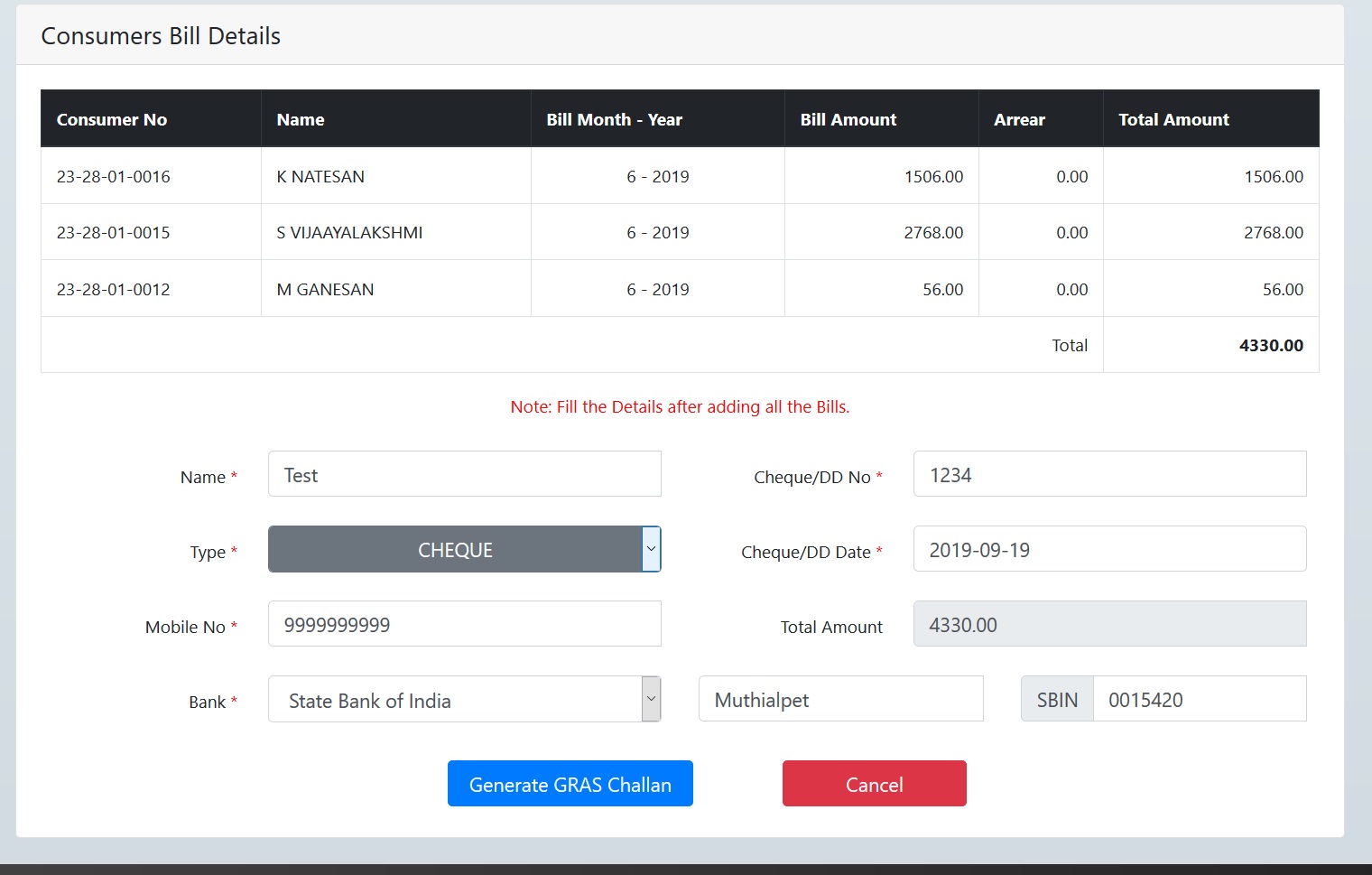 5. Generating GRAS Challan:
On clicking Generate GRAS Challan, consumer will be redirected to GRAS Site on the next tab. Now select State Bank of India and Click on Proceed.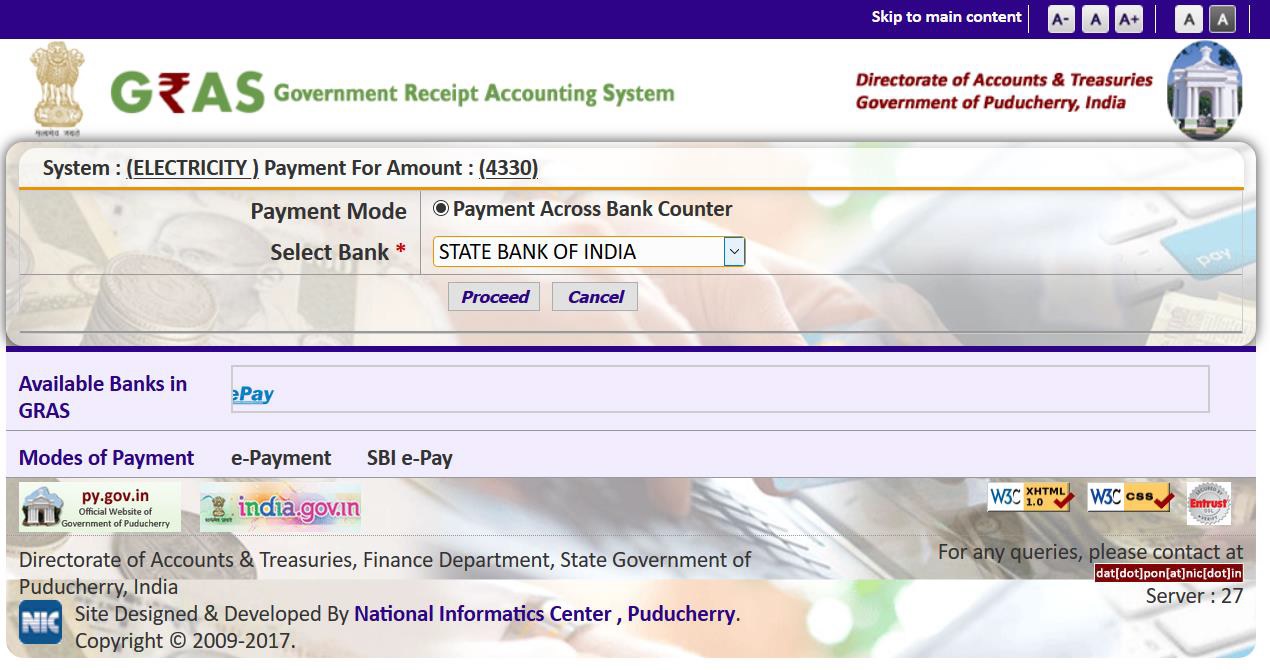 6. Note Down GRN Number:
GRN Number will be displayed as an alert message. Note down the GRN Number.
7. Take a Print Out of Challan:
The Challan will be displayed. Take a print out of the Challan.
8. Get Back to Pedservices:
After obtaining the Challan, get back to pedservices site and Enter the Challan Details.
9. Successful Message:
After clicking submit button, the Successful alert message will be displayed. After Successful message, consumer can pay bill in Cheque / DD enabled counter with the Challan.
Note:
** Before going counter for Cheque/ DD payment ensures that GRAS Challan and Cheque / DD are available.
** After counter payment Acknowledgement will be provided.
** After realization of Cheque / DD SMS will be sent to the payer Mobile number then receipt will be issued at counter by that Acknowledgement.
About The Site :
This website enables citizen of Puducherry UT to pay electricity bills (Current Consumption Charges) quickly, easily, anytime and from anywhere. At first it breaks the barrier to pay electricity bills only in the respective area counters. Shortly it will be across other regions (viz. Mahe and Yanam).
Various modes of payment are enabled for the convenient of public. Citizen can pay through Cash and PoS at counters, net banking, credit card, debit card, IMPS, NEFT/RTEGS and BBPS. Payment history, receipts may be available online to consumers. Shortly other services viz. Meter Reading, Billing, name change, new connection and change of services etc also available.
Contact
Email : Support-ped.py@gov.in