Bihar Migrant Workers Online Registration : covid19.bihar.gov.in
You can now ask your questions or doubts for this post.
Please go to the bottom of this page for comments.
Organization : Government of Bihar
Facility Name : COVID-19 Migrant Online Registration
Applicable For : Migrant Workers
Applicable State : Bihar
Website : https://covid19.bihar.gov.in/
COVID-19 Bihar Migrant Registration
Registration of stranded persons in Bihar who are desirous of returning to other state.
How to Register?
Steps :
Step 1 : Visit the official website of Covid 19 Bihar State Portal through provided above.
Step 2 : Next, click on the "Registration" link in the home page.
Step 3 : Read the terms & conditions carefully and click on "Proceed" button.
Step 4 : Fill the registration form with the required details.
Step 5 : Finally click on "Submit" button to complete your registration.
State & District Helpline Numbers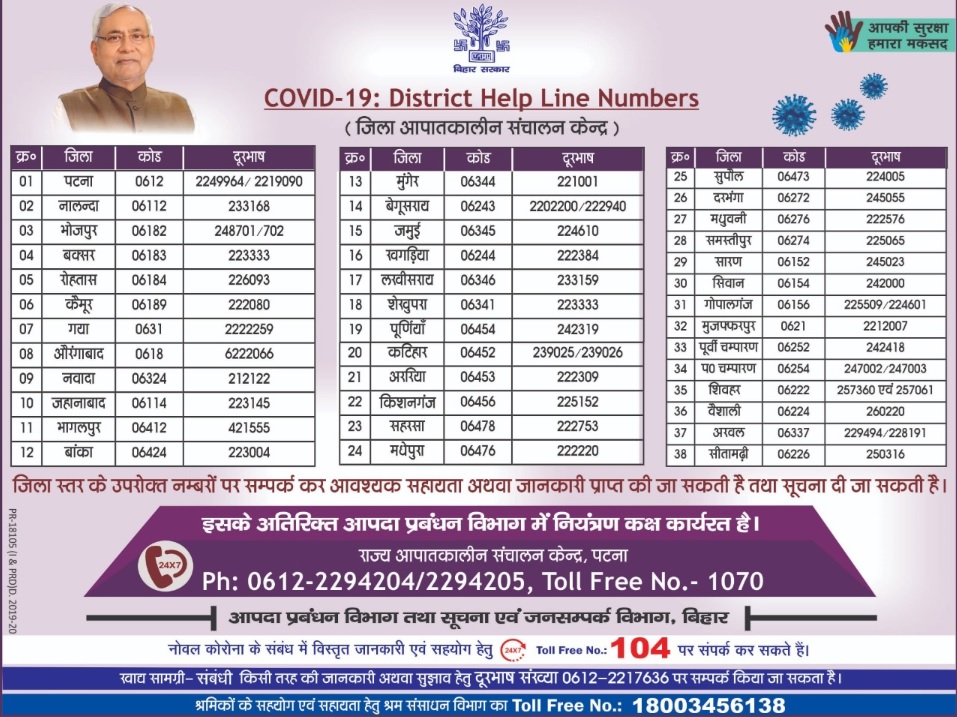 Bihar Bhawan, New Delhi Helpline Numbers :
** 011 23010147
** 011 23010148
** 011 2792009
** 011 23014326
** 011 23013884
FAQs
1. When can I return to Bihar?
You can return to Bihar ONLY after lockdown restrictions are removed.
2. Do I need to register for entry into Bihar?
Yes, entry into the Gram Panchayat or Urban Local Body area will be only after the registration through the Government Portal.
3. Why do I need to register with Govt. of Bihar to return to Bihar?
In view of the Corona pandemic, all the persons returning to Bihar will have to undergo mandatory 14-day quarantine as a precautionary measure. Government will be creating quarantine facilities in the Gram Panchayats and Urban Local Body areas.
The registration is required for the Government to make the required arrangements for the Quarantine.
4. How do I Register?
** The Registration can be made on the official portal
** It can be self-registration by you.
** The Gram Panchayat and the Urban Local Body (ULB) have also been authorized to make the registration.
** You can request your family member/friend in the village or town, to register on your behalf. They can approach the Gram Panchayat office or ULB office for the registration.
5. Will I get any financial incentive if I register?
No. Only registering your name in the portal will not entitle you to get any financial incentive. There is financial incentive of Rs. 2000/- for returning through the government procedure and successful completion of the 14-day quarantine. The successful completion means following all the directions given for quarantine.
6. Can I use a private vehicle to return to Bihar? And what is the procedure of inter-state movement?
Yes. You can come by a private vehicle. But the registration is mandatory and a pass will be issued for the travel purpose. You should not start the journey without obtaining the Pass.
7. Can I cancel after I register?
Yes, you can cancel. After registration, if you do not want to travel to Bihar, you can intimate through the portal by yourself or by your family members/relatives staying in Bihar. You can also inform the Nodal officer of the GP/ULB over telephone. (The Nodal officer details will be sent to you after registration)
8. My work has started in Bangalore/Hyderabad. Since I don't have any symptoms, can I go back even though my quarantine will end in next few days?
No, once returned to Bihar, there is a mandatory 14-day quarantine period.