APSRTC Online Bus Ticket Booking Andra Pradesh : apsrtconline.in
Organisation : APSRTC State Road Transport Corporation Andra Pradesh
Facility : Online Bus Ticket Booking
Applicable State : Andra Pradesh
Home Page : https://www.apsrtconline.in/oprs-web/guest/home.do?h=1
You can now ask your question on this facility / status.
Ask here
(OR) Go to the bottom of this page for comments.
APSRTC Online Booking Registration
Online Booking (Internet Booking) will enable the passenger to book the seats and cancel the ticket even from remote places where APSRTC counters or franchisees are not available.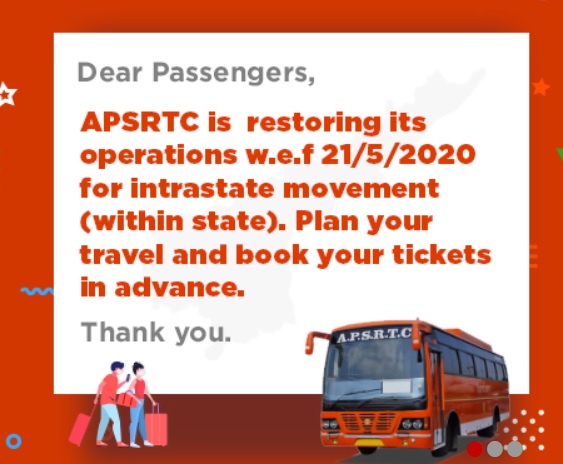 e-ticket Booking Procedure
The procedure and guidelines for Internet booking (called, On-line booking) are detailed as follows
1. Booking can be made by Registered user through the Internet. Registered User will be given username and password after filling an E-form on the Internet by giving his personal details.

2. Payments for tickets booked will have to be made through Credit Card /Debit Card.
3. Passenger booking the ticket will have to login to APSRTC website and proceed through the link provided for Advance Booking. The passenger will select the seats in a service of his choice based on the availability.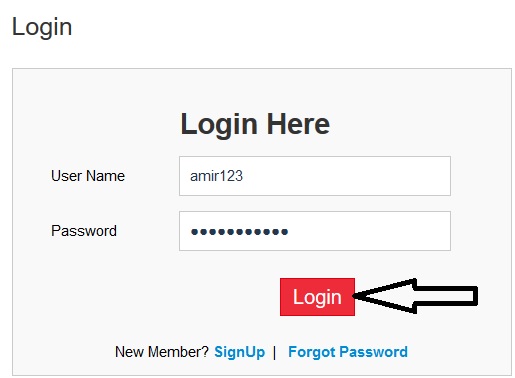 4. During the booking process, the passenger will have to select Identity Type and submit ID No. for confirming his identity during the journey. He can select from any of the Photo Identity Cards i.e. Passport, Driving License, Voter ID Card, PAN Card, Ration Card (passenger's).
5. Before confirming the booking, the passenger will have to provide payment details like 'Credit Card / Debit Card' for accepting payment by the Payment Gateway. The booking will be confirmed after the Payment Gateway approves the transaction.
At this stage, an OB Reference Number will be generated for that ticket and passenger shall note this number for further communication in future with APSRTC. This e-Ticket MUST be produced at the time of boarding the bus along with ID proof.
6. Alternatively, the passenger will have the option of getting the 'e-Ticket' printed at any other place where he has Internet connectivity and printing facility. He can print the 'e-Ticket', by logging on through his User ID from Booked History in My Account tab.
7. After successful transaction this e-Ticket will be sent to passenger's mail address provided in his profile at the time of Registration. He can get the printout of this e-ticket from his mail.
8. During journey, with "e-Ticket", passenger has to possess the Original Identity Card mentioned in the "e-Ticket".
9. The on-duty Conductor (or Driver-cum-Conductor) will verify the Identity Card of the passenger mentioned in the e-Ticket during the journey. If the passenger fails to produce the specified Identity Proof, the ticket will be treated as INVALID. Photocopies of Identity proof are not allowed.
Waiting List
1. The e-Ticket user who intends to get wait listed seat when desired service is FULL, will be given WL1, WL2, WL3 etc., depending on the number of wait listed seats, duly collecting full fare.
2. In case of vacancy arises on account of cancellation, the wait list rolls up to the extent of vacancies in the service and new wait listed passengers are allowed.
3. Seat will be allotted against cancellation to wait listed passenger (seat) on FIRST IN FIRST OUT basis. A SMS and an email will be sent to the e-Ticket user.
4. Seat confirmed/ unconfirmed position will be sent to the passenger via SMS/e-mail before 3 hrs from the scheduled departure of the service. Alternatively he/she can know the status in official website.
5. If confirmed seat is cancelled normal cancellation/refund rules will be applied. In case unconfirmed seat is cancelled, total fare excluding Reservation fee and service charges will be refunded.
6. Wait listed passengers will not be permitted to travel in the service on the strength of the unconfirmed ticket. They will have to cancel the unconfirmed waiting list seats.
Reservation Fee
1. Advance reservation fee of Rs.20/- per seat is charged for passengers booking seats in advance.
2. Passenger Cess @ Rs. 2/- in DELUX, EXPRESS and Rs. 3/- on other services will be collected per passenger.
3. Rs. 15/- will be collected per passenger for all AC Services (except Vennela) towards Passenger Amenities (disposable seat cover, air freshener, wet napkin) provided.
4. Reservation Fee is non-refundable except in case of 100 % cancellation of tickets, if the service is cancelled byAPSRTC for operational or any other reasons.
5.Passenger PIS_TAX @ Re. 1/- will be collected per passenger.
Terms & Conditions
** Partial cancellation is allowed only once, for which cancellation terms & conditions will apply. Partial cancellation is allowed in round-trip tickets provided the same number and type (Adult/child) are cancelled in both UP & DOWN Journeys.
** For Registered users, cancellation is allowed online only if they login with the same user ID used for booking the ticket, which is to be cancelled. In respect of cancellations, refunds applicable will be made to the concerned Credit card / Debit Card account only.
** Cancellation of e-tickets is only allowed one hour before the schedule start time at origin of the Service.
** If the service is cancelled by APSRTC (or other STUs) for operational reasons, refund applicable will be made to the concerned Credit card / Debit Card account only.
** If a passenger has lost the "e-Ticket", a copy of the same can be printed from "Booked History" module by logging on to APSRTC site, through his User ID and password. No charges will be applicable.
** Alternatively he can get the printout from his email account, without logging into APSRTC site.
** All transactions made by the user through on-line booking will be available in "Booked History". This will be for the reference of the passenger and subsequent verification of transactions made on the concerned Credit card / Debit Card account.
** All transactions on Internet are subject to the conditions stipulated by the Payment Gateway and subject to levy of charges, if any. The APSRTC will levy a service charge of 2.5 % on the fare applicable for each seat in addition to the fare payable.
** Users are advised to print e-tickets immediately after booking e-ticket to avoid inconvenience.
** Payment Gateway Service charges will not be refunded for service cancellation/ failure transactions in e-ticketing.