mahajobs.maharashtra.gov.in : MahaJobs Portal 2020 Online Registration
You can now ask your questions or doubts for this post.
Please go to the bottom of this page for comments.
Organization : Maha Jobs Industrial Employment Bureau
Portal Name : Mahajobs Portal
Facility Name : Online Registration
Applicable For : Job Seekers
Applicable State : Maharashtra
Website : https://mahajobs.maharashtra.gov.in/
Maha Jobs Portal Online Registration
Mahajobs is a joint venture between the Department of Industries, Department of Labor and Skill Development-Entrepreneurship of the Government of Maharashtra to connect job seekers with entrepreneurs.
Objectives
The portal has the following objectives
** The link between job seekers and entrepreneurs.
** Reducing the gap between demand and supply of manpower in different types of skills.
** Enabling industries to operate seamlessly.
** To create a permanent system of skilled manpower for industries in Maharashtra to get suitable local workers.
How to Register?
Just follow the below steps for Mahajobs Portal Online Registration.
Steps :
Step 1 : Visit the official website of Mahajobs Portal through provided above.
Step 2 : Next, click on the "Jobseeker Registration" link in the home page.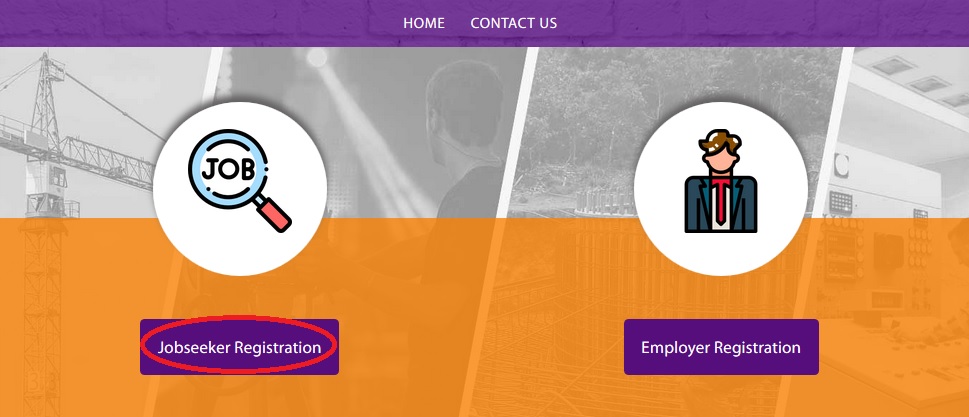 Step 3 : Fill the registration form with the following details,
** Full Name
** Do you have Domicile certificate of Maharashtra? Yes/ No
** Mobile No.
** Mobile No. OTP
** Email id
** Email OTP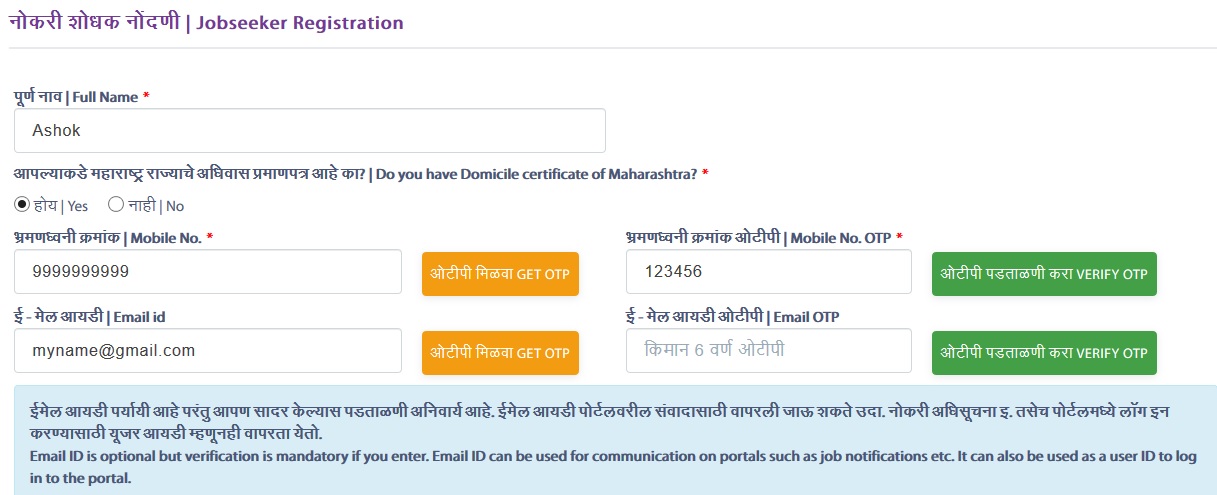 ** New password
** Confirm password
Note :
** Email ID is optional but verification is mandatory if you enter. Email ID can be used for communication on portals such as job notifications etc. It can also be used as a user ID to log in to the portal.
** Password Length should be minimum 8 characters and maximum 20 characters. Password must contain atleast 1 UpperCase Alphabet, 1 LowerCase Alphabet, 1 Number and 1 Special Character.
Step 4 : Enter the Captcha code as shown in the image.
Step 5 : Finally click on "Submit" button to complete your registration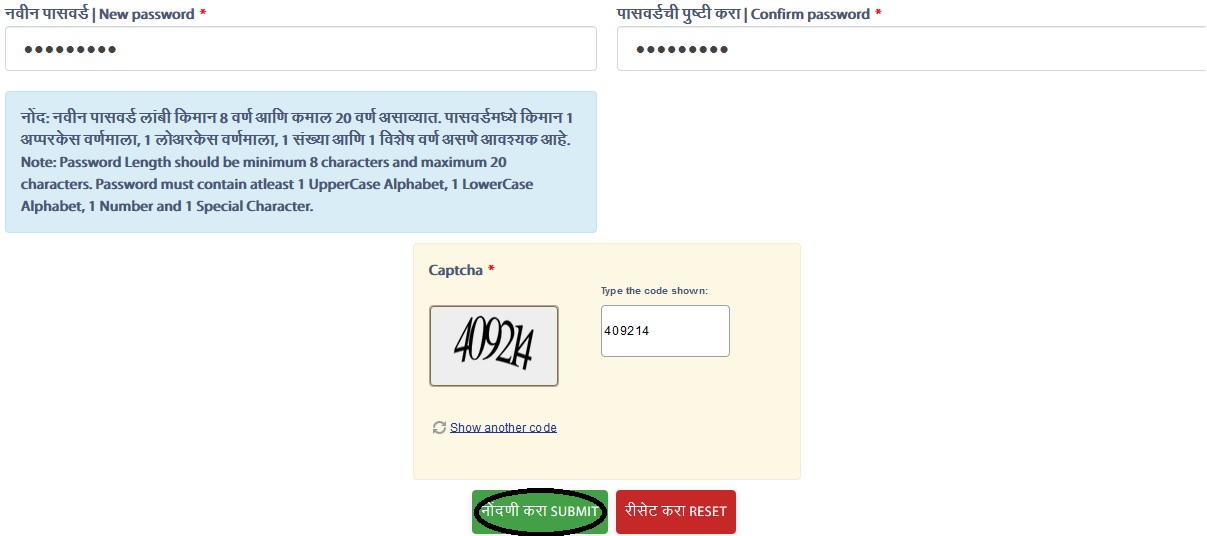 How to Search Job?
Steps :
Step 1 : Visit the official website of Mahajobs Portal through provided above.
Step 2 : Next, click on "Jobseeker Login" and login with your Email Id/ Mobile Number & Password.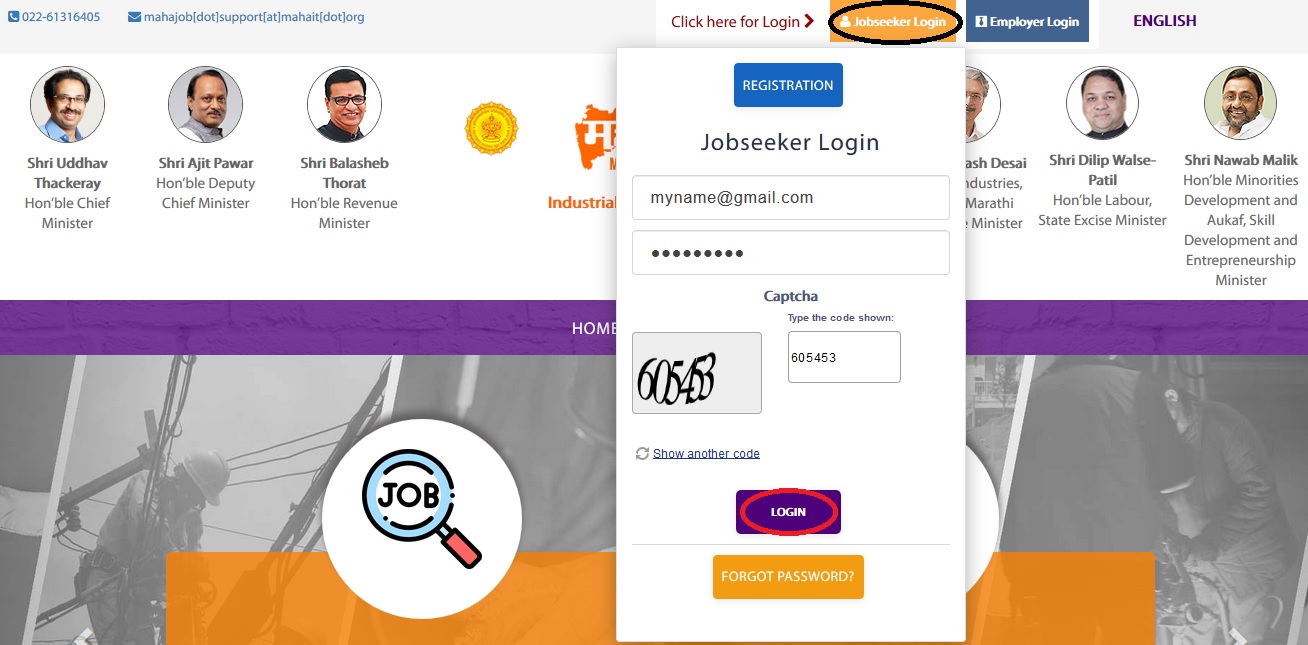 Step 3 : After that, click on "Search Job" link.
Step 4 : You can apply the filters to get the optimum results
Step 5 : You can select from the following filters
** Skill Category,
** Select Skill Sector,
** Select Skill Sub Sector,
** Select Skill Work Experience (In Years),
** Select Education,
** Place Of Activity Located,
** Industry,
** District,
** Taluka.
Step 6 : Select the company name and Click on apply.
Step 7 : Also, you can track your applications in the "Applied Jobs section" by using the Job Tracking ID and industry.
About MahaJobs Portal
Mahajobs helps entrepreneurs to get their work done smoothly by providing skilled workers. Mahajobs aims to revive the economy of the state from an industry perspective, keeping in view the need for skilled manpower.
The Mahajobs Portal has been created with the objective of enabling the unemployed youth of the State of Maharashtra to find employment with the help of various skills and to overcome the problem of shortage of workers so that the industries can carry out their work smoothly.
We are constantly striving to provide the best service to job seekers and entrepreneurs.
Contact
For any assistance regarding MahaJob Portal you may call on our customer care 022-61316405 or you can Email to mahajob[dot]support[at]mahait[dot]org