hsvphry.org.in New Water / Sewerage Connection Apply Online : Haryana Urban Development Authority
Organisation : Haryana Urban Development Authority
Facility : New Water / Sewerage Connection Apply Online
Applicable For : Haryana
Website : https://www.hsvphry.org.in/Pages/default.aspx
You can now ask your question on this facility / status.
Ask here
(OR) Go to the bottom of this page for comments.
HSVPHRY Water Connection Online Application
Online process to apply New Water / Sewerage connection
How to Apply?
Just follow the below steps to apply for New Water / Sewerage Connection online,
Steps :
Step 1 : User will visit HUDA website i.e. https://www.huda.org.in and click on the link highlighted below.


Step 2 : On clicking the link the below screen appears where user will enter their credentials provided by HUDA.

Step 3 : Once the User will login successfully, the following screen appears where user will click on apply New connection.
Step 4 : After clicking the above link the application form will appear where user will enter the details required in the Water application form.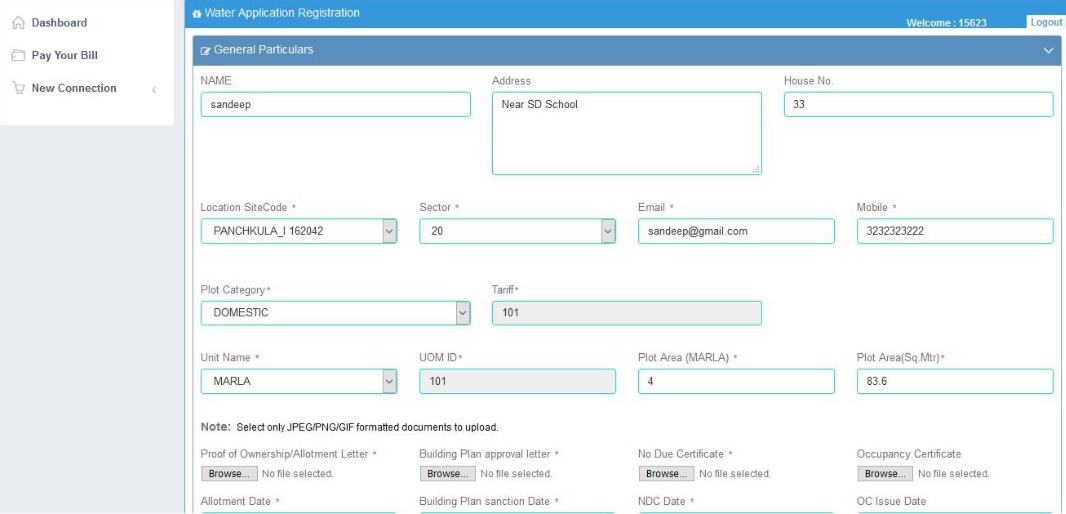 Step 5 : After submitting the application, User will get the message that your application is accepted and Pending at JE.
Step 6 : User may check through login on HUDA portal to check the application Status on his dashboard area.
Step 7 : User got message on his Dashboard. User can make the payment online and download the receipt.
Documents Required
Document checklist required to be uploaded online while applying online for New Water Connection
1. Proof of Ownership/Allotment letter.
2. Possession Certificate.
3. Building plan approval letter.
4. Road cut fees receipt.
5. Registered Plumber certificate.
6. Purchased Water meter invoice.
Guidelines :
https://www.statusin.in/uploads/pdf2020/44476-Gl.pdf
Post allotment Payments
On Line Mode :
** Allottee will click on Online Payments link on the Home Page of the Portal.
** A web page will open asking username and password (When Allottee was not logged in). After login allottee will get the Online Payment page.
** Allottee has to enter the amount and select a Payment Header under which he want to pay his amount, after that click on Make Payment button. He will get List of Bank page, as shown below.
** When you select an option bank for payment, portal will redirect you to bank site. Like if you select BillDesk, the portal redirect you to Billdesk
** The portal will give you the successful transaction details. You can take print of that page also via click on Print Receipt button
Note : To pay online allottee has to login first
How to get User ID & Password?
This is an important Service where an allottee can see the details of his/her Plot including Financial Transcations made with HUDA. This feature enables the allottee to make online payments through Payment Gateway.
User ID & Password for online Sectors have been dispatched from the concerned Estate Office at the Correspondence address available in HUDA records. In case the same has not been received you can apply to the concerned Estate Officer.
About Us :
The Haryana Urban Development Authority, a statutory body of Haryana Government, was constituted under the Haryana Urban Development Authority Act, 1977.
HUDA, as an organization, has built cities on modern town planning concepts, fulfilling dreams of millions and emerged as an organization that others envy and copy while Haryana takes pride.