thuna.keralapolice.gov.in THUNA Citizen Portal Online Registration : Kerala Police
Organisation : Kerala Police Department
Facility/ Service Name : THUNA Citizen Portal Registration
Applicable State : Kerala
Website : https://thuna.keralapolice.gov.in/citizen/login.htm?loggedout=true
Want to comment on this post?

Go to bottom of this page.
Kerala THUNA Citizen Portal Registration
THUNA is a new venture of Kerala Police for providing services and information to citizen through portal.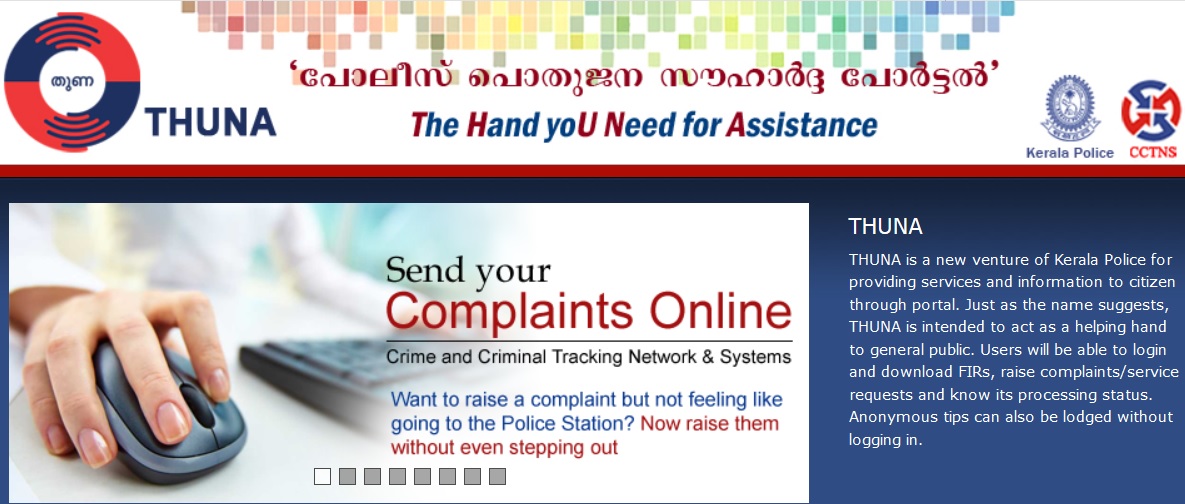 Just as the name suggests, THUNA is intended to act as a helping hand to general public. Users will be able to login and download FIRs, raise complaints/service requests and know its processing status. Anonymous tips can also be lodged without logging in.
How to Register?
Just follow the below steps for THUNA Citizen Portal Online Registration.
Steps :
Step 1 : Visit the official website of Kerala Police Department through provided above.
Step 2 : Next, click on the "Create Citizen Login" link in the home page.
Step 3 : Fill the registration form with the following details,
** Personal Details
** Age Panel
** Address
** Login Details
Step 4 : Give your details including mobile number
Step 5 : Give login id, password and security questions
Step 5 : Finally click on "Submit" button to complete your registration.
Step 6 : You will receive an OTP in the mobile number given
Step 7 : In the next screen enter that OTP for completing your user creation
FAQs
1. I have forgotten my password for Thuna portal. How can I retrieve the same?
** Click on Forgot Password link in Thuna portal
** Give your username
** Answer the two security questions correctly
** Click on Reset Password
** You will be redirected to password change page
** Give the new password details and click Submit
2. I want to register a character certificate service request via Thuna portal. In my area there are frequent power outages. Because of this I am not able to submit the request. Is there any alternate way to do this?
Yes. Login to Citizen portal with your login id and password
** Go to Download Offline Forms under citizen services
** Select Download Character Certificate Request-eform
** Give captcha details shown in screen and click Download
** Save the file in your system
** Fill the details in the downloaded file (can be done without internet connectivity) and click Generate XML
** Save the generated xml file
** Next time when you have network connectivity go to add character certificate page
** In the Eform File Upload option select the saved xml file and click on Populate Eform
** All the data from xml file will be autopopulated in the screen
** Verify the details and click submit
** In the similar way you can submit requests for complaint, employee verification etc
3. Is it possible to get a receipt for the complaint/service request I have raised from Thuna portal?
Yes. Login to Citizen portal with your login id and password
** Go to Download Receipts under Citizen Services
** Click on the Download Receipt link against your complaint/service request
4. Where can I view the general information provided by Kerala Police for citizen?
** Login to Citizen portal with your login id and password
** Go to citizen information link
** You can view information regarding missing persons, lost/recovered property, safety tips etc.
5. Is there any provision where I can download the various citizen service forms in pdf format?
** Yes. Login to Citizen portal with your login id and password
** Go to Download pdf link under citizen information
6. What are the additional functionalities available in citizen information?
Citizen information has the following additional provisions
** View FIR for FIR download
** Medical Unit list containing list of hospitals
** Commendable works containing details of help provided by citizens
** Arrested/wanted person information
** GD search and print for getting GD details of PS