Rashtrapati Bhavan Udyanotsav 2021 Online Booking For Mughal Garden Visit : rb.nic.in
Organisation : The Presidents Secretariat, Rashtrapati Bhavan
Facility Name : Online Booking For Mughal Garden Visit
Applicable For : All
Last Date : 21st March 2021
Website : https://rb.nic.in/rbvisit/rbvisit_mughal.aspx#
Want to comment on this post?

Go to bottom of this page.
Rashtrapati Bhavan Udyanotsav 2021
Visit to the Mughal Gardens shall be allowed only through online Booking. Entry to the Garden will be through Gate no 35 of Rashtrapati Bhavan on North Avenue Road.

Visiting Period
Mughal Garden of Rashtrapati Bhavan will be opened for public viewing from 13 February 2021 (Saturday) to 21 March 2021 (Saturday). The Garden will remain close on every Monday.
How To Book Online?
Online Booking can be done by visiting President Of India Website (https://presidentofindia.gov.in/) and following the Mughal Garden Visit Link or by visiting Rashtrapati Sachivalaya website (https://rashtrapatisachivalaya.gov.in) and following explore & tour link.
Step-1 : Go to the link https://rb.nic.in/rbvisit/rbvisit_mughal.aspx
Step-2 : Click on "Click here for online booking"
Step-3 : Select Date and Time
Step-4 : Enter Person Information and Submit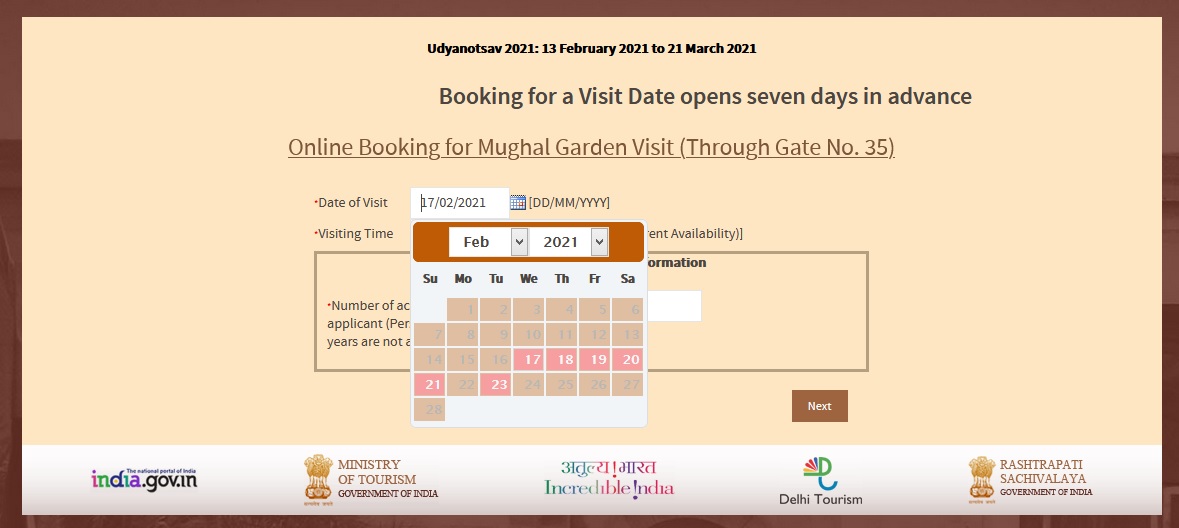 Note:
Booking for a Visit Date opens seven days in advance
Instructions
1. Visitors need to follow Covid-19 guidelines issued by Government.
2. Entry to Mughal Garden during Udyanotsav is Free of cost.
3. Online Booking for a visit date shall be available 7 days in advance and closes on the day before the visit date.
4. Visiting hours (10 am to 5 PM) are divided into 7 hourly slots, starting from 10 am to 4 pm with Last entry time for visitors at 4 PM
5. Maximum of 100 Visitors will be allowed to visit in each slot.
6. Maximum of 5 Visitors can be booked in a single booking.
7. Persons who are below 10 years or above 65 years are not allowed to Visit.
8. Mobile Number is mandatory for online booking.
9. Only one booking is permitted from one Mobile number.
10. Mobile phones can be carried in switched off conditions. Visitors who carry visitor pass in mobile phone need to switch off the phone after check in.
11. Visitors need to carry visitor pass (Paper Print or Mobile Pass) and identity card.
12. Visitors will have to give an undertaking regarding the following at the time of online booking:
a. Non resident of any containment zone.
b. Not suffering from any fever, cough & any respiratory disease.
c. Not been under quarantine in last 3 weeks.
d. Not tested Covid-19 Positive in last three weeks.
14. Eatables/Paan/Gutka/Cigarette/BackPack/Camera/Video Camera are not allowed inside the Gardens.

About Rashtrapati Bhavan:
Rashtrapati Bhavan, home to the President of the world's largest democracy, epitomizes India's strength, its democratic traditions and secular character. Rashtrapati Bhavan was the creation of architects of exceptional imagination and masterfulness, Sir Edwin Lutyens and Herbert Baker. It was Sir Lutyens who conceptualized the H shaped building, covering an area of 5 acres on a 330 acre estate. This mansion has a total of 340 rooms spread over four floors, 2.5 kilometres of corridors and 190 acres of garden area.