grants-msje.gov.in e-Anudaan Portal For Grant in Aid Schemes : Ministry of Social Justice & Empowerment
Organisation : Ministry of Social Justice and Empowerment
Facility Name : e-Anudaan Portal For Grant in Aid Schemes
Website : grants-msje.gov.in/ngo-login
Want to ask a question / comment on this post?

Go to bottom of this page.
What is MSJE e-Anudaan Portal?
The MSJE e-Anudaan Portal facilitates online submission of NGO's application proposals along with the prescribed documents and automates the complete process for issuance of Grant-in-Aid.
Related / Similar Facility :  e-ANUDAAN MSJE SHRESTA Scheme

Various Back office user have privilege for application processing as per the role defined at District, State Directorate, State Secretariat and at the Central Ministry. The process involves the application verification, checklist filling, inspection report, scrutinizing, screening, recommendation, financial approval and GIA sanction.
In view of the COVID situation prevailing in the Country, first advance installment of GIA for 2021-22 to the organization will be released without any physical inspection by PMU State Coordinators. However, monitoring of the organizations will be done through the live feed of CCTV footage, being shared by the organizations.
MSJE e-Anudaan Schemes
DoSJ&E:
1. National Action Plan for Drug Demand Reduction (NAPDDR)
2. Atal Vayo Abhyuday Yojana (AVYAY)
3. Scheme For Residential Education For Students in High Schools in Targeted Areas(SHRESHTA) for SC Welfare
4. Assistance to Voluntary Organizations for Welfare of OBCs
5. Free Coaching Scheme For SC And OBC Students (FCFSO)
DEPWD:
1. Deendayal Disabled Rehabilitation Scheme to Promote Voluntary Action for Persons with Disabilities (DDRS Scheme)
2. Assistance to Disabled Persons for Purchase/ Fitting of Aids and Appliances (ADIP Scheme
How To Register Your NGO?
Step-1 : Go to the link https://grants-msje.gov.in/ngo-login
Step-2 : Click on the link "Register your NGO"


Step-3 : Read the instructions and Hit "Proceed" button.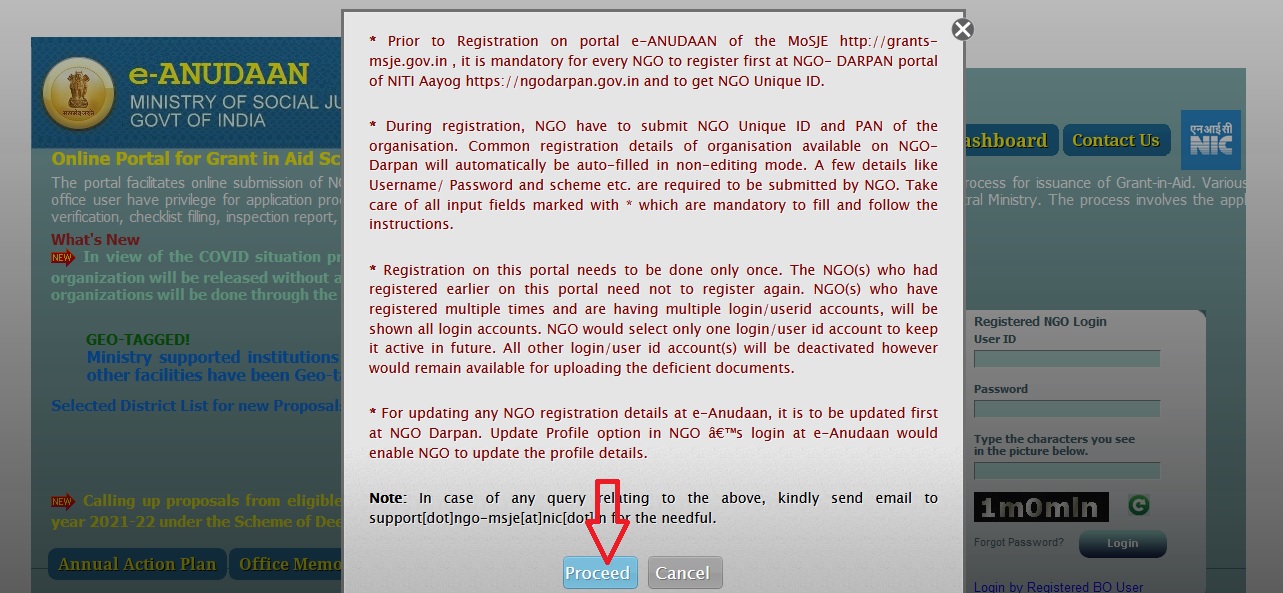 Step-4 : Enter Unique ID (eg. WB/2016/0103412, obtained from NGO-Darpan Portal)
Step-5 : Enter PAN Number (PAN Number of NGO/Organisation registered at NGO-Darpan Portal)
Step-6 : Enter OTP and Captcha
Step-7 : Submit Form
Instructions On MSJE e-Anudaan Portal
** Prior to Registration on portal e-ANUDAAN of the MSJE https://grants-msje.gov.in/ , it is mandatory for every NGO to register first at NGO- DARPAN portal of NITI Aayog https://ngodarpan.gov.in and to get NGO Unique ID.
** During registration, NGO have to submit NGO Unique ID and PAN of the organisation. Common registration details of organisation available on NGO-Darpan will automatically be auto-filled in non-editing mode.
** A few details like Username/ Password and scheme etc. are required to be submitted by NGO. Take care of all input fields marked with * which are mandatory to fill and follow the instructions.
** Registration on this portal needs to be done only once. The NGO(s) who had registered earlier on this portal need not to register again.
** NGO(s) who have registered multiple times and are having multiple login/userid accounts, will be shown all login accounts. NGO would select only one login/user id account to keep it active in future.
** All other login/user id account(s) will be deactivated however would remain available for uploading the deficient documents.
** For updating any NGO registration details at e-Anudaan, it is to be updated first at NGO Darpan. Update Profile option in NGO 's login at e-Anudaan would enable NGO to update the profile details.
NAPDDR Scheme
Substance use disorders are serious problem adversely affecting the social fabric of the country. Dependence to substances not only affects the individual's health but also disrupts their families and the whole society. Of late, the menace of substance dependence in the younger generation has been rising all over the world and India is no exception to it.
i. The prime objective is to focus on preventive education, awareness generation, identification, counselling, treatment and rehabilitation of individuals with substance dependence, training and capacity building of the service providers through collaborative efforts of the Central and State Governments and Non-Governmental Organizations
ii. Create awareness and educate people about the ill-effects of substance dependence on the individual, family, workplace and the society at large and reduce stigmatization of and discrimination against, groups and individuals dependent on substances in order to integrate them back into the society
iii. Develop human resource and build capacity to
** Provide for a whole range of community based services for the identification, motivation, counselling, de-addiction, after care and rehabilitation for Whole Person Recovery (WPR) of dependents ;
** Formulate and implement comprehensive guidelines, schemes, and programmes using a multi-agency approach for drug demand reduction;
** Undertake drug demand reduction efforts to address all forms of illicit use of any substances;
** Alleviate the consequences of substance dependence amongst individuals, family and society at large.
** Facilitate research, training, documentation, innovation and collection of relevant information to strengthen the above mentioned objectives
Contact
In case of any query relating to the above, kindly send email to support[dot]ngo-msje[at]nic[dot]in for the needful.
FAQ On MSJE e-Anudaan Portal
Sure, here are some FAQ on MSJE e-Anudaan Portal:
What is e-Anudaan Portal?
e-Anudaan Portal is a web-based platform that facilitates the online submission of applications for grant-in-aid schemes by NGOs working for Scheduled Castes (SCs) and Scheduled Tribes (STs). The portal was launched by the Ministry of Social Justice and Empowerment (MSJE) in 2014.
Who can use e-Anudaan Portal?
e-Anudaan Portal can be used by NGOs working for SCs and STs to apply for grant-in-aid schemes. NGOs must be registered with the MSJE and have a unique NGO ID to use the portal.
What are the benefits of using e-Anudaan Portal?
e-Anudaan Portal offers a number of benefits to NGOs, including:
** Ease of application: NGOs can apply for grant-in-aid schemes online through the portal. This eliminates the need to physically submit applications to the MSJE.
** Transparency: The entire application process is transparent and can be tracked online. NGOs can see the status of their applications at any time.
** Quicker processing: Applications submitted through the portal are processed more quickly than applications submitted offline.
How to use e-Anudaan Portal?
To use e-Anudaan Portal, NGOs must first register with the portal. Once registered, NGOs can create an account and log in to the portal. To apply for a grant-in-aid scheme, NGOs must first select the scheme they want to apply for. Once the scheme has been selected, NGOs must fill out the application form and upload the required documents. The application form can be filled out in Hindi or English. Once the application form has been filled out and the required documents have been uploaded, NGOs must submit the application.
Additional Simplified Procedure
Here are the steps on how to register for MSJE e-Anudaan Portal:
1. Go to the e-Anudaan Portal website: https://grants-msje.gov.in/
2. Click on the "NGO Login" link.
3. You will be asked to create a login ID and password.
4. Once you have created a login ID and password, you will be able to log in to the e-Anudaan Portal.
5. On the e-Anudaan Portal, you will need to fill out the NGO Registration Form.
6. The NGO Registration Form will ask you to provide the following information:
** The name of the NGO
** The address of the NGO
** The type of NGO
** The PAN of the NGO
** The NGO Unique ID (You can get your NGO Unique ID from the NGO Darpan portal)
** The scheme that you are applying for
7. Once you have filled out the NGO Registration Form, you will need to upload the following documents:
** A copy of the NGO's registration certificate
** A copy of the NGO's bylaws
** A copy of the NGO's financial statement
** A copy of the NGO's staff list
8. Once you have uploaded the documents, you will need to submit the NGO Registration Form.
9. Your NGO registration application will be reviewed by the Ministry of Social Justice and Empowerment (MSJE).
10. If your NGO registration application is approved, you will be issued an NGO registration certificate.
Here are some additional things to keep in mind:
** You can register for e-Anudaan from anywhere in India.
** You can register for e-Anudaan in multiple schemes.
** You will need to create a separate login ID and password for each scheme that you register for.
** The processing time for a e-Anudaan registration application is typically 15-30 days.