TPADL Bill Payment Online : TP Ajmer Distribution
Organisation : TP Ajmer Distribution Ltd (TPADL)
Facility Name : Pay TPADL Bill Online
Location : Ajmer, Rajasthan
Website : https://www.tpadl.com/
Want to ask a question / comment on this post?

Go to bottom of this page.
How To Pay TPADL Bill Online?
To pay TPADL bill online, Follow the below steps
Steps:
Step-1 : Go to the link https://www.tpadl.com/customers/bill-payment/pay-by-billdesk
Step-2 : Enter the CA Number (or) K Number
Step-3 : Enter the Mobile Number
Step-4 : Enter the Email Number and
Step-5 : Enter the Captcha Code
Step-6 : Click o n "Pay Now" button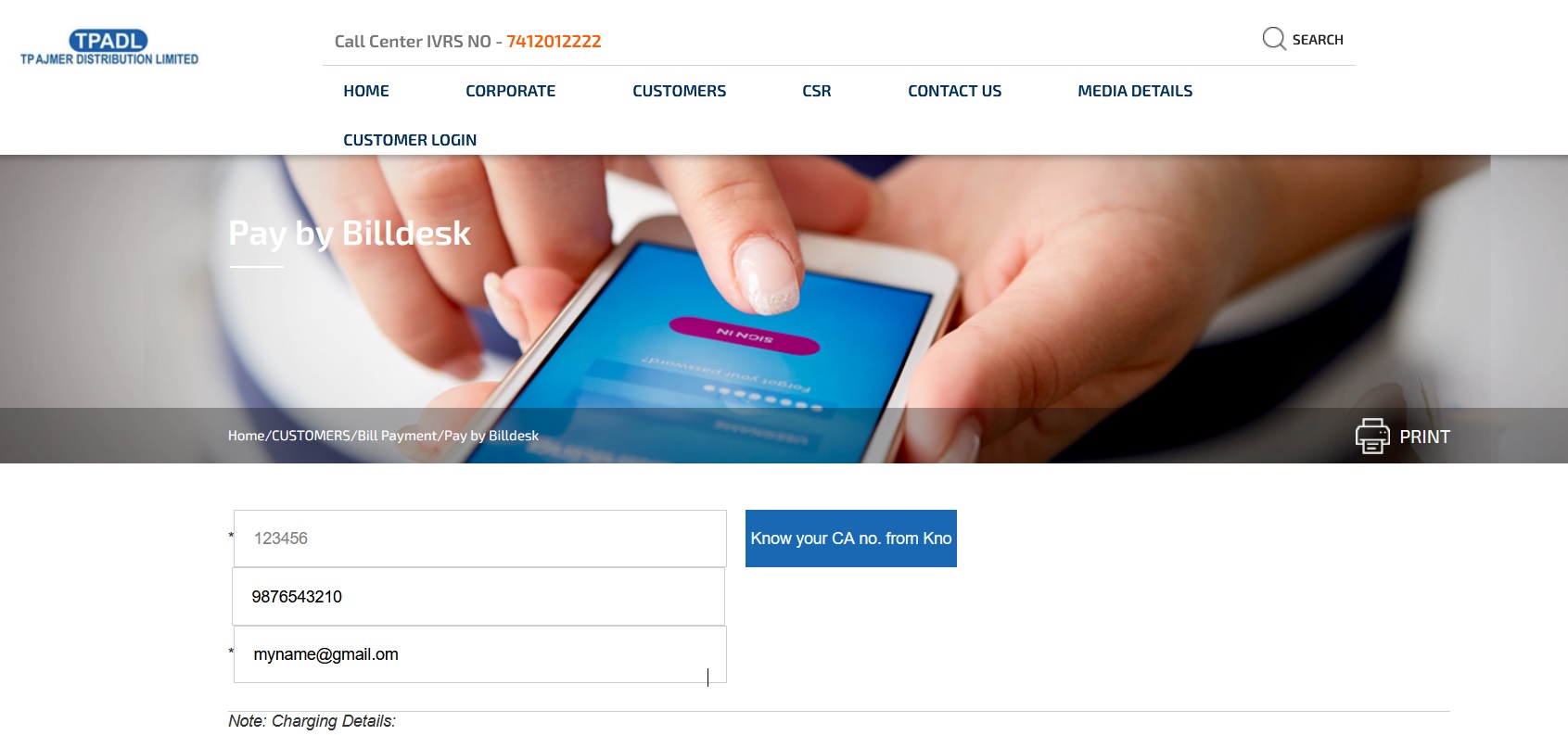 Credit/Debit Card Payments
1. Net banking, wallet and cash card- No charges from consumer.
2. Credit/Debit card transactions up to Rs 5000- No charges from consumer.
3. Credit card above Rs 5000- Convenience fees is 0.75% of the transaction amount.
4. Debit card above Rs 5000- Convenience fees is 0.70% of the transaction amount.
Note:
On your having exercised the option of online payment you are being redirected to service provider's network/site for further procedure and making payment for this transaction. Please note you may be asked to disclose certain personal /confidential and sensitive information during the said process, which you shall be undertaking at your own risk and cost.
TPADL does not guarantee the reliability, accuracy, security of the service provider's website/network. Any dispute(s) in relation to usage of the service provider's website/ network shall be strictly an affair between user and service provider only.

About TPADL:
TP Ajmer Distribution Limited (TPADL) is a Special Purpose Vehicle (SPV) formed by Tata Power and signed Distribution Franchisee Agreement (DFA) with Ajmer Vidyut Vitran Nigam Limited (AVVNL) to cater to the power requirements of customers in Ajmer for a period of 20 years which will be responsible for operating and maintaining the distribution network in Ajmer City, which includes City Division-I and City Division-II areas.
It will also be responsible for managing the billing and collections in the said areas. TP Ajmer Distribution Limited will work closely with the existing employees, Government of Rajasthan, and its elected representatives, officials in electricity department as well as law enforcement agencies to serve customers with efficiency and ensure superior customer care that is synonymous with Tata Power.
Tata Power has a vast experience in Distribution in Mumbai and Delhi, and has been a benchmark performer in Delhi since the last 15 years where losses have been brought down from a high of 53% in 2002 to approximately 8.8% in March 2017. At Ajmer also, similar strategy is being worked on where Tata Power will work on all the areas to improve overall improvement in Distribution system by adapting to Tata culture of customer orientation.
Tata Power is India's largest integrated power company with a growing international presence. The Company together with its subsidiaries and jointly controlled entities has an installed gross generation capacity of 10613 MW and a presence in all the segments of the power sector viz. Fuel Security and Logistics, Generation (thermal, hydro, solar and wind), Transmission, Distribution and Trading.
Contact
Call Center IVRS NO – 7412012222