Co-optex Monthly Saving Scheme (CMSS) Online Payment
Organisation : The Tamilnadu Handloom Weavers Co-operative Society Ltd
Scheme Name : Chit Scheme / Co-optex Monthly Saving Scheme (CMSS)
Facility Name : CMSS Online Payment
Applicable For : KNT Customer
Applicable State/UT : Tamil Nadu
Website : https://www.cooptex.gov.in/index.php?route=common/home
Want to ask a question / comment on this post?

Go to bottom of this page.
How To Pay Cooptex CMSS Online?
To Pay Co-optex Monthly Saving Scheme CMSS amount online, follow the below steps
Steps:
Step-1 : Go to the link https://www.cooptex.gov.in/index.php?route=account/kntlogin
Step-2 : Enter the E-Mail Address
Step-3 : Enter the Password
Step-4 : Click on 'Login' button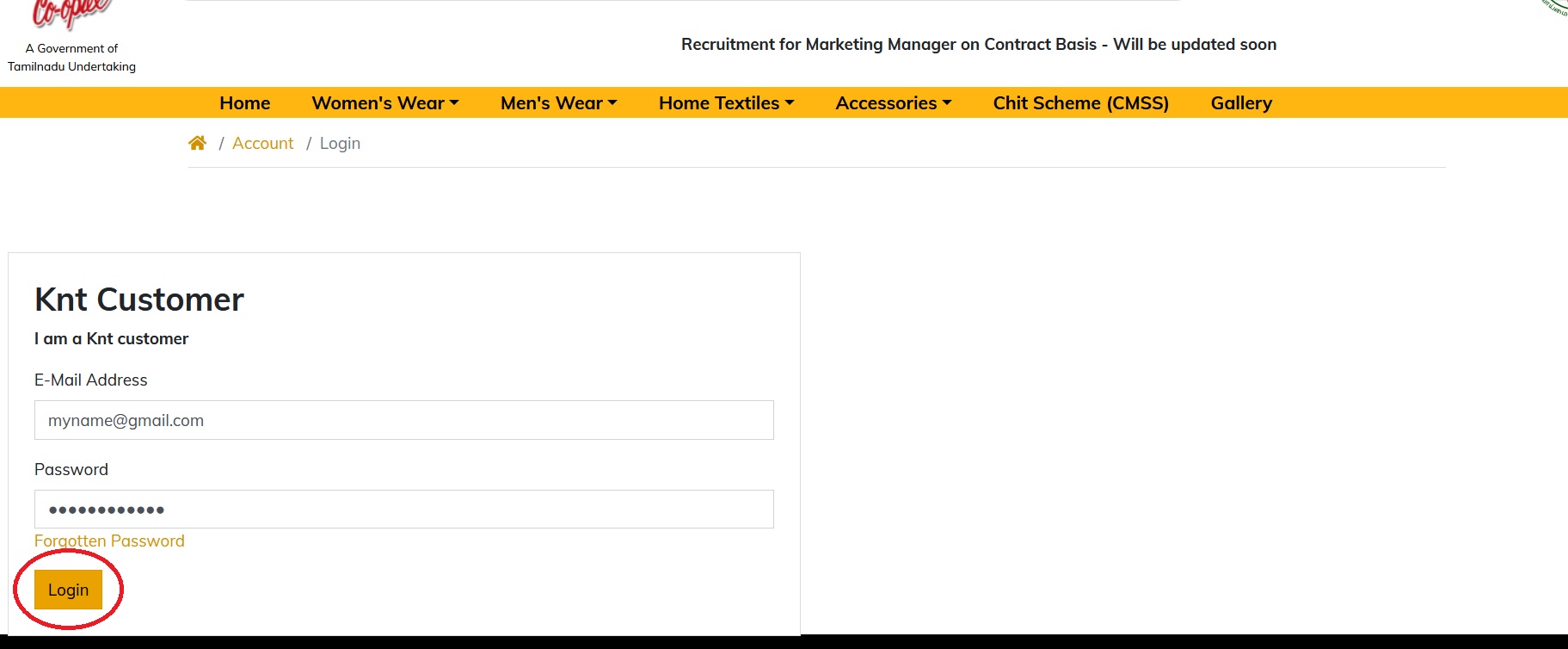 Co-optex Payment, Refund & Exchange Policy
Payments & Returns:
Co-optex is presently accepting payments only through Credit Cards, Debit Cards and Net banking only. As and when other methods will be incorporated, the same would be updated here as well. Your Credit/Debit card information remains private and confidential.We accept all VISA & Master Cards– only Indian cards, as International cards may not be supported.
You will have to enter your 16 digit Credit/Debit card number and the 3 digit CVV (Card Verification Value) code which is at the back of your card and complete the payment.With a view of making Online shopping safer, the Reserve Bank of India has made it mandatory, from 1st August 2010 onwards, for all transactions to have an extra level of authentication.
The "extra level" is a password which you will have to enter after entering your Credit Card/ Debit Card details while making an online payment. This technology is called Verified by VISA (VBV) or MSC (MasterCard Secure Code).You will have to log onto your banks website for registration and each bank has its own process for registration
Cash On Delivery:
Co-optex presently not offering any cash on delivery payment option for any orders. The same would be updated as and when we make changes in this policy.
Price:
All offer prices on Co-optex are inclusive of taxes, there are no hidden charges whatsoever. You have to only pay the offer price that you see on our product page next to the specific product image. In some cases or location,you will have to pay shipping charges, which will be mentioned on you screen while you place the order , before making final payment.
Orders:
After placing your valued order and making the payment, we would not be able to make any changes in the same. Also combining or adding orders once they have been placed would not be possible.
Post shipment of your products, orders cannot be cancelled at all. In the event of a non-delivery occurring due your mistake (wrong name, address or any other wrong information), Co-optex would incur an extra cost for redelivery and the samewould be claimed from you.Any order placed for a product that is listed at an incorrect price may be cancelled.
This shall be regardless of whether the order has been confirmed and/or payment levied. In the event the payment has been processed, the same shall be credited to your account and duly notified to you by email.
Returns, Refunds & Exchange Policy:
** Co-optex makes every effort to service the orders placed with them, as per the specification and delivery timelines mentioned against each product.
** As a policy, we request you to kindly check the product and the accessories while accepting the delivery.
** In case of any discrepancies, kindly bring it to our notice before accepting delivery by calling us on<Contact Number> or email us on support@cooptex.gov.in.
** After acceptance of delivery of the product, Co-optex will not entertain any returns or refund request.
** As by default our payment mode of the order is Online (Credit/Debit Card OR Net Banking), if customer will be cancelled/returned his/her order, then 5% of the order amount will be deducted from the refunding amount.
** Refund will be done within 10-15 working days from the date of request of refund.
** For any products available on sale on Co-optex, the company does not assume any liability. Co-optex is only in the business of providing products from manufacturers to customers at the destination of their choice.
** At the time of receipt of products, customer shall check to ensure that product is in proper condition to his / her satisfaction and sign on delivery chalan as his / her acceptance of the product.
However considering our esteemed customer interest we are bound to exchange the product or refund the amount in following conditions:
1. Any damage discovered at the stage of inspection by the customer when it is unpacked by the delivery associate during the delivery, the damaged product would be entitled for immediate replacement within next 15 days.
2. No request for exchange of product will be entertained subsequent to the customer or his/her representative signing the document ( deliverychalan ) acknowledging the receipt of the product to his/her satisfaction.
3. In case of any physical damage found at the time of delivery, the product should be returned in saleable condition with original packing.
4. Invoice Copy / Delivery Chalan / Payment proof in original will be required to be submitted at the time of such request.
5. The credit note issued in case where replacement product is not available , the credit note can be used for purchase of any product within the stipulated validity period and cannot be refunded in cash or otherwise.
6. No return of any product purchased under a promotional scheme or discount or where invoice specifically mentions " no replacement ".
7. We reserve the right to request the customer for identification.
Contact
Telephone : 044 28194760
Toll Free Number : 1800-599-7633