DPIIT Download Startup Recognition and Tax Exemption Certificate : startupindia.gov.in
Organisation : Department for Promotion of Industry and Internal Trade (DPIIT)
Facility Name : Download Startup Recognition and Tax Exemption Certificate
Applicable State/UT : All Over India
Website : https://www.startupindia.gov.in/
Want to ask a question / comment on this post?

Go to bottom of this page.
How To Download Startup Recognition Certificate?
To Download Startup Recognition and Tax Exemption Certificate, Follow the below steps
Related / Similar Facility : Startup India Seed Fund Scheme Online Application
Steps:
Step-1 : Go to the link https://www.startupindia.gov.in/content/sih/en/startupgov/validate-startup-recognition.html
Step-2 : Select certificate type, Certificate number (or) Entity Name
Step-3 : Click on the "Submit" button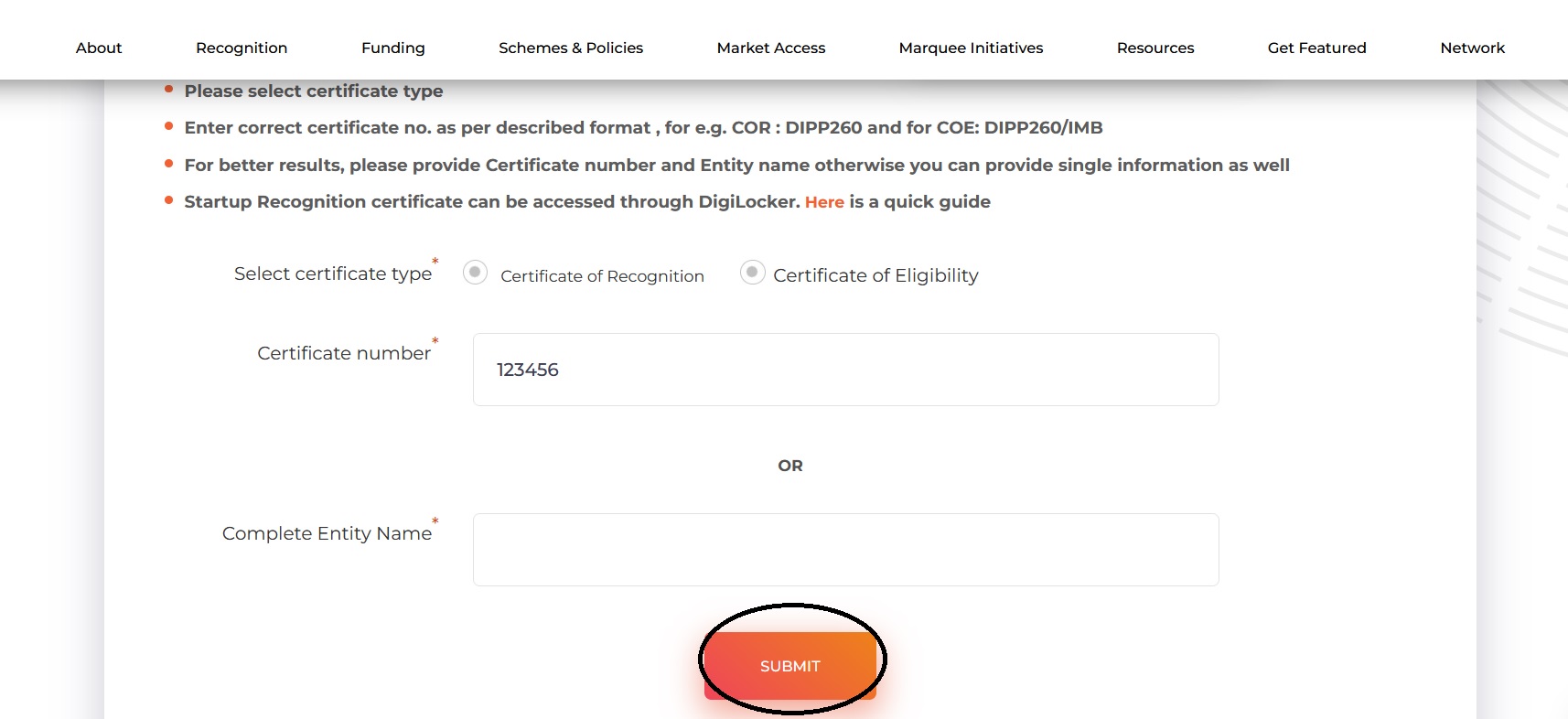 Instructions:
** Please select certificate type
** Enter correct certificate no. as per described format , for e.g. COR : DIPP260 and for COE: DIPP260/IMB
** For better results, please provide Certificate number and Entity name otherwise you can provide single information as well
How To Download Startup Recognition Certificate Through DigiLocker?
Startup Recognition certificate can be accessed through DigiLocker. The certificate empowers startups by providing access to authentic digital certificate to their digital document wallet. The issued certificates in DigiLocker system are deemed to be at par with original certificate as per Rule 9A of the Information Technology (Preservation and Retention of Information by Intermediaries providing Digital Locker facilities) Rules, 2016
How can a startup access Recognition Certificate via DigiLocker?
1) Login into the mobile app or web portal of DigiLocker
2) Go to Search Document Page and click on the Department for Promotion of Industry and Internal Trade (DPIIT) icon under Central Government Section or Search for term Startup
3) Click on the Recognition Certificate – Department for Promotion of Industry and Internal Trade (DPIIT)
4) Enter the Certificate Number and Registered Mobile Number
5) Click on Get Document to download the certificate
How to validate Startup recognition certificate issued through DigiLocker?
Corporates and Govt. Agencies can validate startup recognition certificate shared with them using DigiLocker.
Here are some quick steps to verify the certificate:
1) Login into the mobile app of DigiLocker
2) In the Hamburger menu ( icon), click on Scan QR Code
3) Scan QR code on the certificate issued via DigiLocker
4) Validate the information provided on the screen with the certificate shared with you

DPIIT Recognition Benefits:
Under the Startup India initiative, eligible companies can get recognised as Startups by DPIIT, in order to access a host of tax benefits, easier compliance, IPR fast-tracking & more.
Benefits:
** Startups shall be allowed to be self-certify compliance for 6 Labour Laws and 3 Environmental Laws through a simple online procedure.
** In the case of labour laws, no inspections will be conducted for a period of 5 years. Startups may be inspected only on receipt of credible and verifiable complaint of violation, filed in writing and approved by at least one level senior to the inspecting officer.
** In the case of environment laws, startups which fall under the 'white category' (as defined by the Central Pollution Control Board (CPCB)) would be able to self-certify compliance and only random checks would be carried out in such cases
Contact
Toll Free Number: 1800 115 565
Working Hrs: 10:00 am – 5:30 pm
Email: dipp-startups@nic.in