pudhumaipenn.tn.gov.in : Pudhumai Penn Scheme Tamil Nadu
Organisation : Government of Tamil Nadu
Scheme Name : Pudhumai Penn Scheme
Applicable For : Girl School Students
Applicable State/UT : Tamil Nadu
Website : https://www.pudhumaipenn.tn.gov.in/
Want to ask a question / comment on this post?

Go to bottom of this page.
What is Pudhumai Penn Scheme?
The Government of TamilNadu has launched Moovalur Ramamirtham Ammaiyar Higher Education Assurance Scheme to enhance the enrolment ratio of girls from Government schools to Higher Education Institutions. Through this scheme, the financial assistance of Rs. 1000/month will be provided to the girls till their completion of UG degree/Diploma/ITI/any other recognized course. The incentive amount under this scheme will be disbursed directly into the student's Bank Account.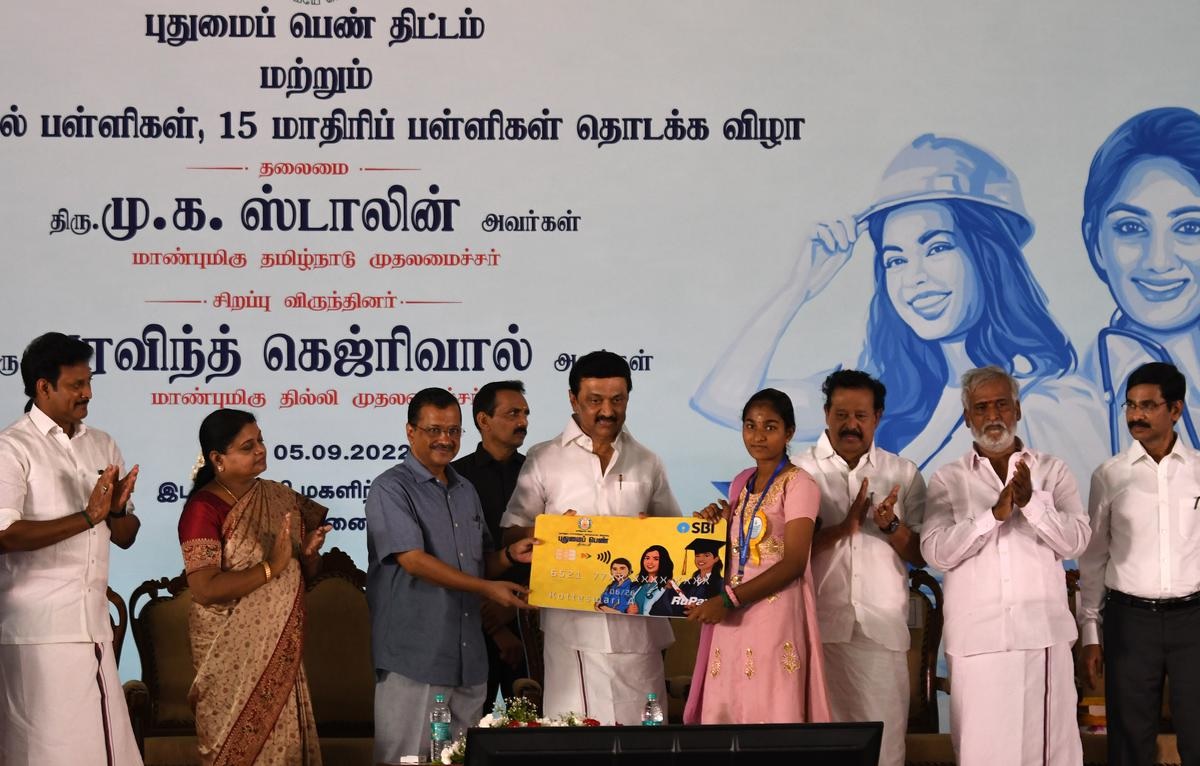 Benefits of Pudhumai Penn Scheme
** The scheme provides financial aid of ₹ 1000 to girls studying from class VI to XII to pursue higher education like graduation, diploma, ITI or other courses.
** The amount of ₹1000 will directly be sent to the bank account of the girl student.
** The scheme motivates the girl student to continue their higher education and discourages evil norms like child marriage from prevailing in society.
** The debit card was given to around 613 students during the initial phase of the scheme.
** Through the scheme, it is estimated that around 6 lakh females per year will be benefited from the spending of 698 crores.
** Under the Pudhumai Penn Scheme's initial phase, approximately 6500 students of Tiruchi district who are enrolled in engineering, science, and art institutions will be benefited.
** The Pudhumai Penn scheme encourages female students to continue their education by providing financial assistance, boosting their confidence, and discouraging parents from allowing their daughters to marry at a young age.
** It aims to help 6 lakh female students annually and has been budgeted at Rs.698 crore.
Eligibility of Pudhumai Penn Scheme
** The applicant must be an Indian citizen who resides in the state of Tamil Nadu.
** Student applicants are required.
** In order to benefit from this program, applicants must be female and in the sixth through twelveth grades.
How To Apply For Pudhumai Penn Scheme?
** Visit the Pudhumai Penn official website.
** Click on the 'Institutes/College' tab.
** Enter the username and password of the institute/college with the help of the principal and click on the 'Login' button.
** Fill in the particulars of the applicants.
** Submit the application with the documents.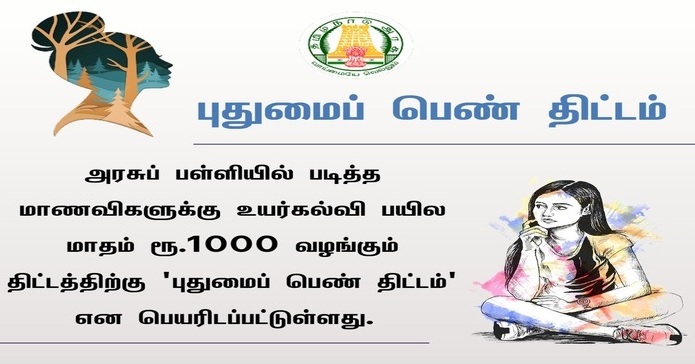 Documents Required For Pudhumai Penn Scheme
1) The Aadhar card or the voter ID card of the applicant.
2) Residence Certificate of the applicant. The applicant must be a resident of the state of Tamil Nadu.
3) Contact number of Parents or Legal Guardian is required.