DHL Broadband Net Online Payment : dhlbroadbandnet.com
Organisation : DHL Broadband Net [P] Limited
Facility Name : Online Payment
Location : Thoothukudi, Tamil Nadu
Website : https://www.dhlbroadbandnet.com/
Want to ask a question / comment on this post?

Go to bottom of this page.
How To Pay DHL Broadband Net Online?
To pay for DHL Broadband Net online, Follow the below steps
Related / Similar Facility : Netplus Broadband Bill Payment
Steps:
Step-1 : Go to the link https://myaccount.dhlbroadbandnet.com/login
Step-2 : Click on the tab "Quick Pay"
Step-3 : Enter the User Name (or) Mobile Number
Step-4 : Enter the Captcha
Step-5 : Click on Submit button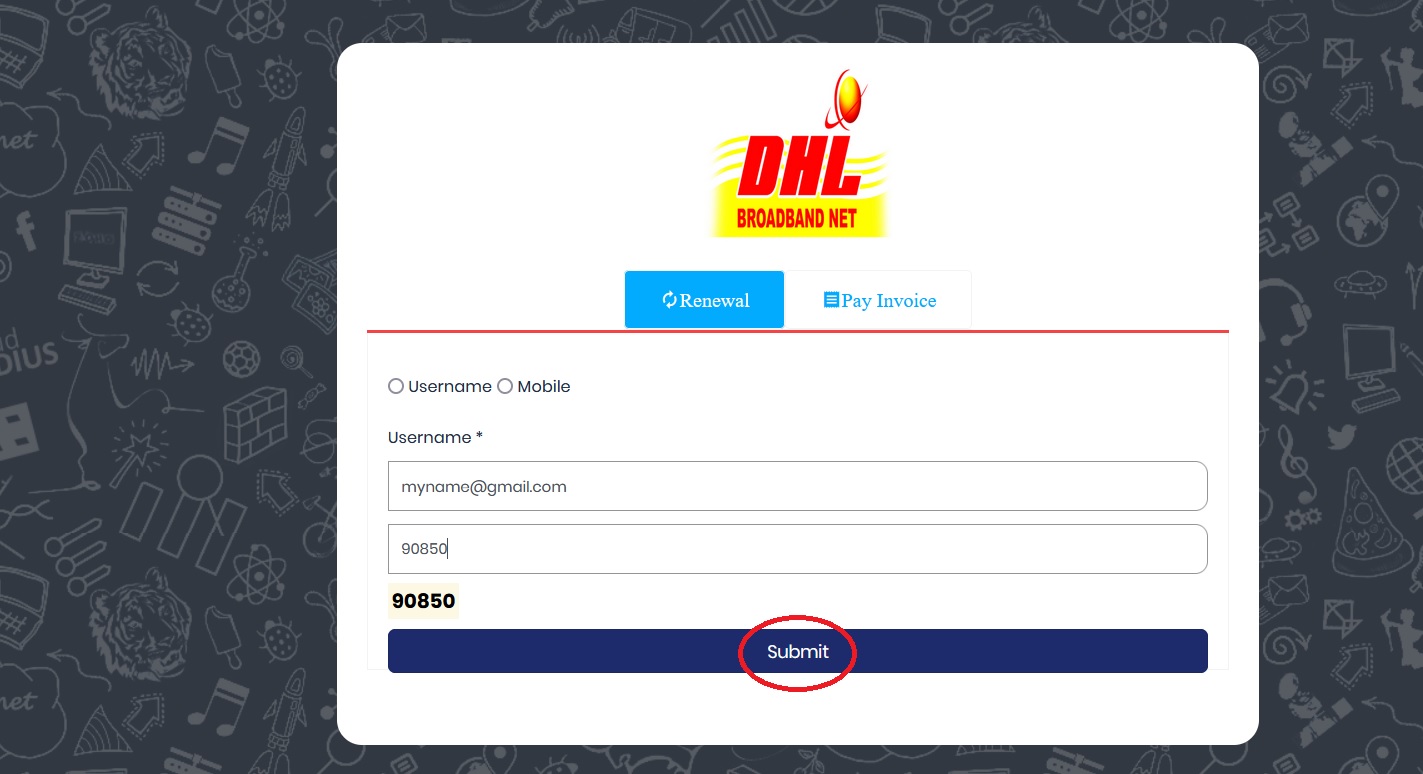 Broadband Wireless Access
Broadband Wireless Access (BWA) is a technology that provides instantaneous bandwidths greater than 1 MHz and support data rates greater than about 1.5 Mbit/s to consumers. Broadband wireless access is by far the easiest and most cost-effective way to implement your high performance network.
Whether you are in a metropolitan city or village, Broadband wireless access is the most reliable and cost-effective, high-speed data networking technology that will augment your Internet needs. Broadband wireless service is a proven technology that is not only the most reliable and cost-effective but also guarantees transaction of high-speed data across the network.
Furthermore, people are experiencing an increased need for high bandwidth. Be it for office or at home, the demand for high bandwidth services are steadily on the rise as today one need download multimedia content, such as video, music, and movies besides exchanging emails, the volume of data has gone up significantly in the recent years paving the way for increased bandwidth. Savings in speed of deployment and in installation costs have made Broadband wireless an attractive option.
Benefits of using Wireless Broadband services:
** Better Than Wired Networks.
** Simplicity and Flexibility.
** Speed and Reach.
** Reliability and Security.
** Economy and Pricing.

Wireless Networks for Business [VPN]:
A wireless network is a computer network that uses wireless data connections for connecting network nodes. Business house, government establishment and individuals prefer wireless networks to access data as one can get away with the cumbersome process of wiring every the nook and corner of the building which in most cases hangs all around presenting an ugly picture. It is much better and faster than the wired networks.
Another advantage is that unlike in the wired network, where the cables have to be changed in tune with the increase in the volume of the traffic, wireless technology offers much more flexibility in terms of scalability and also enables the users to reach places where cable is not a viable option. Besides, wireless technology is more economical and affordable as one can do away with the wiring cost.
Wireless Enterprise Inter building Connectivity are ideal for any modern enterprise with business needs to share; files, video, databases and e-mail across two or more remote locations with minimal effort and cost. With DHL Wireless systems you can own and control your network. Using DHL Point-to-Point and Point-to-Multipoint solutions you can now provide Ethernet and TDM applications to any point. Eliminating the need to pay recurring leased line charges to service providers, now you can significantly reduce operational expenditures.
Benefits:
** Highly secure communications between buildings.
** Low deployment cost.
** Fast deployment.
** Network redundancy links.
Wireless Network for Traffic Control:
1Vehicular traffic has increased several folds all over the globe, All the major cities are witnessing huge traffic and it has become very important to control the traffic ensure smooth flow all through the day and night. In order to avoid traffic congestion and also reduce the accidents Signalized traffic is a priority issue for every city. It has become very important to have and automatic transit control that offers more flexible solutions and high reliability.
By installing wireless devices in strategic spots, we can create a high reliable wireless network to help security agents, cops, and any other government security institution so they can view in real time what is happening in most congested streets. Today, many national agencies are relying on wireless technology to take better decisions regarding to traffic control, identifying individuals or suspicious vehicles.
Benefits:
** Centralized Monitoring for signalized intersections.
** Remote configuration of traffic controllers in real time.
** Collection and counting of traffic flow.
** Help pursuit suspect vehicles.
Helpline
Call : 73737 48 666 (24 x 7)
Email : helpdesk@dhlbroadbandnet.com