RTI Odisha Check Your Application/ Appeal Status : rtiodisha.gov.in
Organisation : Government of Odisha
Facility Name : Check Your Application/ Appeal Status RTI
Applicable State/UT : Odisha
Website : https://www.rtiodisha.gov.in/
Want to ask a question / comment on this post?

Go to bottom of this page.
How to Check Application Status RTI Odisha?
To Check Your Application or Appeal Status Follow the steps given below,
1) Enter Application no. or Appeal no.
2) Click on "Submit" Button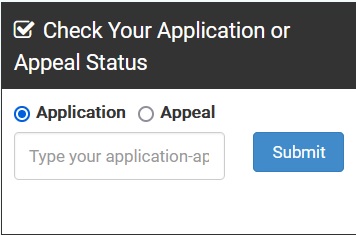 Help Line :
0674-2391356
rti-ori@nic.in
For Public Authorities, FAAs, PIOs & RTI
Online Requested Applicant
To Query on Complaint Cases & Second Appeals 9238104446
FAQ on RTI Odisha
Frequently Asked Questions (FAQ) on RTI Odisha
Is partial disclosure allowed?
Yes, only that part of the record which does not contain any information which is exempt from disclosure and which can reasonably be severed from any part that contains exempt information, may be provided. [S.10]

What is the fee & costs to be charged?
The Orissa RTI (Amendment) Rules, 2006 prescribes the following fees and costs to be charged from persons making request for information:
(A) Application Fee
I. Application fee seeking information – Rs. 10/- per Application
II. Application fee for first Appeal – Rs. 20/-
III. Application fee for second Appeal – Rs. 25/-
(B) Amount to be charged for providing information
I. A4 or A3 size paper created or copied- Rs. 2/- per each folio
II. Paper size larger than A4 or A3 – Actual charge or cost price of a copy
III. Inspection of records – No fee for the first hour & Rs.5.00 for each 15 minutes
IV. CD with cover – Rs. 50/- per CD
V. Floppy Diskette (1.44MB) – Rupees 50/- per Floppy
VI. Maps & Plans – Reasonable cost to be fixed by P.I.O. depending upon the cost of labour and material and equipment and other ancillary expenses
VII. Video Cassette/Microfilm/Microfiche – Reasonable cost to be fixed by P.I.O. depending upon the cost of labour and material and equipment and other ancillary expenses
VIII. Certified sample or models of material – Actual cost or price for sample or models
IX. Information in printed form – Price fixed for such publication
(C) Important Notes :
I. If further fees are required, then the same must be intimated in writing (Form-B) with calculation details of how the figure was arrived at;
II. No application fees will be charged from people living below the poverty line;
III. Applicant must be provided information free of cost if the PIO fails to comply with the prescribed time limit.

How a Public Authority will monitor the RTI Implementation?
1) Each Ministry or Department in relation to the public authorities within their jurisdiction shall collect, and provide the information as required under Section-25(3) to Orissa Information Commission as is required to prepare the Annual Report.
2) To facilitate the same, an IT intervention in the name of RTI CMM has been developed and is under implementation process. So, each public authority needs to implement and maintain by using their user ID and password.
3) This software, RTI CMM will generate the above report automatically.
4) For this purpose, each public authority must ensure the proper implementation & maintenance of RTI CMM Public Authority Account.

How RTI CMM does help a Public Authority?
Every Public Authority (Office) under Govt. of Orissa has access to the system through a Public Authority Account, where there is a predefined Web Content Management System for uploading the suo-motu-disclosure as per Section-4(1) (b) (c) (d) of RTI Act, 2005.
Similarly the Public Authority account has also options for maintaining and updating the RTI Applications received by PIOs / APIOs under Section-6 of RTI Act, 2005. It also helps a PIO to generate Annual Report under Section-25 of the Act.

What does RTI CMM mean?
RTI CMM is a Central Monitoring Mechanism for RTI implementation. This is a web based centralized system to monitor RTI implementation in the entire State. It is available in the URL; www.rtiorissa.gov.in hosted in the NIC server. In this system all the Departments & subordinate offices are given with an user ID & password to manage their proactive disclosure information under Section-4, RTI applications under Section-6 & 7 and first appeals under Section-19(1) etc.

What does e-filing mean?
E-filing is a centralized system of RTI CMM to maintain RTI applications and first appeals electronically received from the Citizen by hand or manually. This will further facilitate to generate the Information Register (Form-F), Cash Register (Form-G) and Appeal Register automatically as per Orissa RTI Rules, 2005.

What does e-request mean?
E-request is an online request system, where an Information seeker (Citizen) can apply for information to those public authorities, who are already connected into the RTI CMM. Here, he/she may apply for information as prescribed under Section-6(1) of the Act and Rule-4 (1) of Orissa RTI Rules, 2005. So, PIO can receive online application through this.

Is it possible to receive and dispose a RTI application through this mechanism and if yes, how?
Yes, with your user ID and password, you can able to receive RTI applications online and also you may reject, transfer or supply the required information to the applicant online.

If I forgot the User ID and Password, then how to get it?
Click on the "Forgot Password" button at login box. Then select any of the buttons and enter your e-mail Id or User Id accordingly. Then click on the "Go" button. The system will automatically send your password to your e-mail Id immediately. If you are finding it difficult, please drop a mail to rti-ori@nic.in with subject "Forgot Password".
Additional Simplified Procedure
To check the status of your RTI application in Odisha, you can follow these steps:
1. Go to the RTI Odisha website: https://rtiodisha.gov.in/
2. Click on "Check Application Status".
3. Enter your application number and click on "Submit".
You will then be able to see the status of your application. The status may be one of the following:
Pending: Your application is still being processed.
Under Review: Your application is under review by the Public Information Officer (PIO).
Information Received: The PIO has received the information requested and is preparing to respond.
Information Sent: The PIO has sent the information requested to you.
Rejected: Your application has been rejected.
If you have any questions about the status of your application, you can contact the RTI Odisha helpline.
Here are some additional tips for checking the status of your RTI application in Odisha:
** Make sure that you are using the correct application number.
** Check your spelling and grammar carefully when entering your application number.
** If you are still having trouble checking the status of your application, you can contact the RTI Odisha helpline for assistance.