NCW Women Helpline System Login : ncwwomenhelpline.in
Organisation : National Commission of Women (NCW)
Facility Name : NCW Women Helpline System Login
Applicable State/UT : All India
Website : https://ncwwomenhelpline.in/login
Want to ask a question / comment on this post?

Go to bottom of this page.
How to Login NCW Women Helpline System?
NCW Women Helpline is intended to provide Digital Complaint Registration System for women affected by violence through referral (Linking with appropriate authority such as police, One Stop Centre, hospital) and providing information about women related government programmes across the country.
Related / Similar Facility :  NCW Complaints Registration & Monitoring System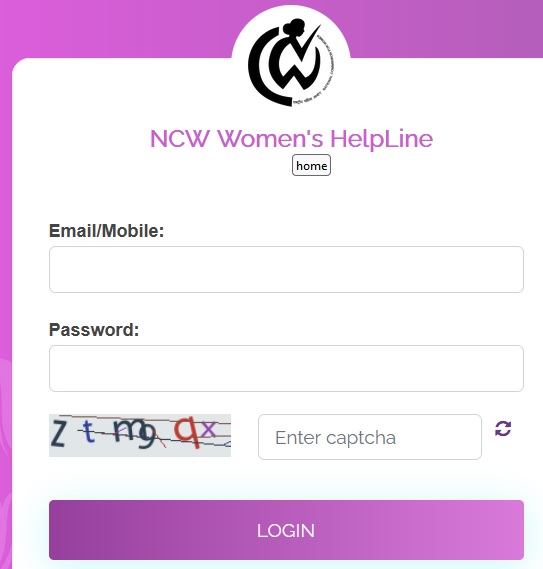 This Women Helpline is being operated from the premises of the National Commission for Women, New Delhi.
For any emergency assistance please call our women helpline number 112.
For any issue related to Violence against Women Please Call on Helpline : 7827-170-170
Objectives :
1) To provide Digital Complaint Registration System for women in distress through trained counsellors
2) To facilitate psychological counselling or referral to the appropriate agencies such as
** Police
** Hospitals
** District Legal Service Authority (DLSA)
** Protection Officer (PO)
** One Stop Crisis Centre (OSC).
3) To provide information about the appropriate support services, government agencies, etc.
NCW Women Helpline Services
NCW receives thousands of complaints every year related to Domestic Violence and other issues. Such incidents can make an adverse impact on mental health and sometimes they need psychological support to get out of this trauma.
In order to help the women in registering complaints and provide psychological support, the NCW has taken initiative to start this Helpline.
Any woman or girl (above 18 yrs) in distress seeking help can call this helpline. The helpline is staffed by Psychological Counsellors trained in topmost Mental Health and Counselling institutions.
Women Issues :
** Cyber Crimes against Women
** Rape / Attempt to Rape
** Acid Attack
** Sexual Assault
** Harassment of Women at Workplace
** Outraging modesty of women / Molestation
** Domestic Violence / Dowry Harassment
** Police Apathy
** Choice in Marriage / Honour Crimes
** Mental Stress
About NCW :
The National Commission of Women (NCW), is the statutory body of the Government of India, generally concerned with advising the government on all policy matters affecting women. The objective of the NCW is to represent the rights of women in India and to provide a voice for their issues and concerns.
The subjects of the campaigns run by NCW have included dowry, politics, religion, equal representation for women in jobs, and the exploitation of women for labour.

Additional Simplified Procedure
There are two ways to login to the NCW Women Helpline:
1. Through the website:
** Go to the NCW Women Helpline website.
** Click on the "Login" button.
** Enter your username and password.
** Click on the "Login" button.
2. Through the app:
** Download the NCW Women Helpline app from the Google Play Store or the Apple App Store.
** Open the app.
** Click on the "Login" button.
** Enter your username and password.
** Click on the "Login" button.
Once you are logged in, you can access all of the features of the NCW Women Helpline, including:
** Viewing your profile and account information
** Viewing your past reports
** Reporting a new incident
** Chatting with a counselor
** Accessing resources and support
If you are having trouble logging in, you can contact the NCW Women Helpline team for assistance.
Safety guidelines:
** Do not share your username or password with anyone.
** Be careful about what information you share on the NCW Women Helpline website and app.
** If you are concerned about your safety, you can use a pseudonym or create a fake account.
** Be aware of the risks of online predators and take steps to protect yourself.
Creative response:
The NCW Women Helpline is a safe space for women to report incidents of violence and abuse. It is important to remember that you are not alone and there are people who can help you. If you are in need of assistance, please do not hesitate to contact the NCW Women Helpline.