ysraarogyasri.ap.gov.in Know Your Aasara Status Online : Dr. YSR Aarogyasri Health Care Trust
Organisation : Dr. YSR Aarogyasri Health Care Trust
Facility Name : Know Your Aasara Status Online
Applicable State/UT : Andhra Pradesh
Website : https://www.ysraarogyasri.ap.gov.in/
Want to ask a question / comment on this post?

Go to bottom of this page.
How To Know YSR Aarogyasri Aasara Status Online?
To know YSR Aarogyasri Aasara Status Online, Follow the below steps
Related / Similar Facility : Dr.Ysr Aarogyasri Scheme Andhra Pradesh
Steps:
Step-1 : Go to the link https://www.ysraarogyasri.ap.gov.in/web/guest/status
Step-2 : Enter the Case ID and
Step-3 : Click On Submit Button.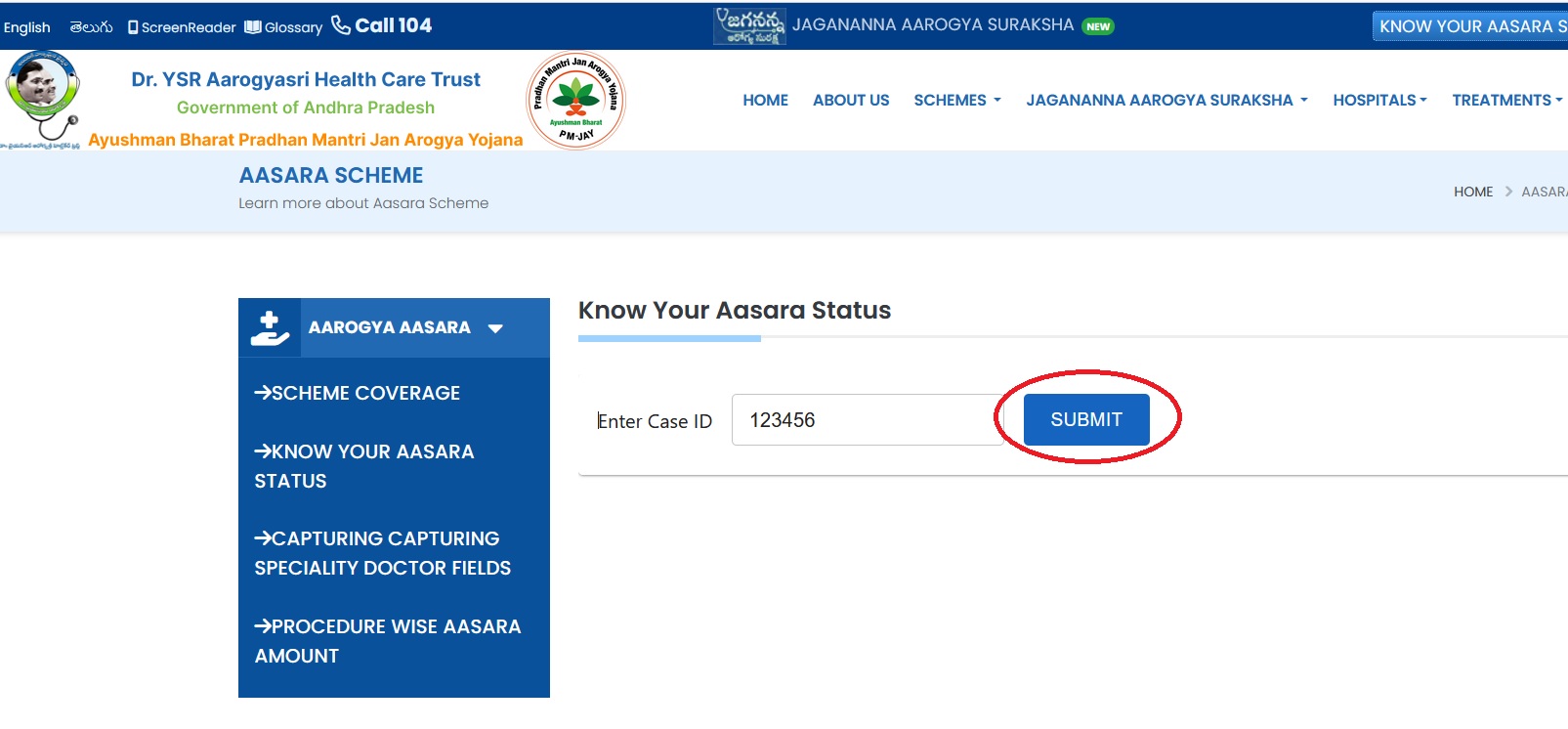 FAQ On Dr.YSR Aarogyasri Scheme
Frequently Asked Questions FAQ On Dr.YSR Aarogyasri Scheme
What is Dr.YSR Aarogyasri Scheme?
Dr.YSR Aarogyasri Scheme is a unique health scheme being implemented by State Government of Andhra Pradesh through Dr.YSR Aarogyasri Health Care Trust. The scheme provides financial assistance to BPL families to meet the catastrophic health needs.
How much of financial coverage is provided under the scheme?
The scheme provides coverage up to 5 lakhs for each family per year.
Who are the beneficiaries under the scheme?
All the BPL families identified by BPL ration card issued by Civil Supplies Department are eligible. All the people whose photo and name appear on Health Card / BPL (White, Annapurna and Anthyodaya Anna Yojana, RAP and TAP) ration card and suffering from identified diseases are eligible for availing treatment under the scheme.
What are the ailments identified for which I can get treatment under Dr.YSR Aarogyasri Scheme?
Serious diseases affecting Heart, Kidney, Cancer, Brain, Burns and accident cases etc., are covered under the scheme. A total of 2434 Surgeries / Therapies in 30 systems are covered under the Dr.YSR Aarogyasri Scheme. The list of these Surgeries / Therapies is available with PHC Doctors and Network Hospitals.
How to know that I am suffering from these diseases?
The common symptoms are enlisted in the Brochure on Dr.YSR Aarogyasri provided to all the BPL families. You may approach any of the PHC or Government Hospital near to you to know about your disease. You may contact ArogyaMithra at these hospitals for facilitation. You may also approach a Health Camp conducted by the Network Hospital. The 24 hour call centre with toll free number 104 also will guide you in this regard.
What about coverage for other diseases?
The existing Government Medical Infrastructure from PHC, CHC, Area Hospital, District Hospital and Specialty Hospitals can effectively provide free Treatment for other diseases.
What will be the role of Government hospitals?
Government Hospitals will continue to play a vital role in delivering free health care in other sectors such as Preventive Medicine, Primary health care, Secondary Health Care and tertiary care for the disease other than those in Dr.YSR Aarogyasri. They can also get empaneled to treat Dr.YSR Aarogyasri Cases wherever facilities are available and can plough back money from the scheme for their development. The PHC's and Area Hospital also act as referral points for the patients.
Who is implementing the programme?
State Government through Dr.YSR Aarogyasri Health Care Trust is implementing the Programme.
Who is paying the premium?
The entire premium is paid by the Government of AP on behalf of the BPL families
Is there any enrollment to be done to avail the benefits?
No. There is no separate enrollment, all the BPL families holding valid white ration card are automatically covered from the day of implementation of the scheme.
Can all the Hospitals in the state provide treatment under the scheme?
Cashless treatment under the scheme is provided to beneficiary in a Network Hospital. Trust after due verification of Infrastructure will empanel the hospital as a Network Hospital under the scheme. This is done to ensure quality treatment for the patient. The list of network hospitals with the specialties is available with ArogyaMithra. You can also avail this information by calling toll free number 104.
Is there any person who will help me in the hospitals?
Yes. A facilitator called ArogyaMithra will be available in all these hospitals to register, facilitate the treatment and guide you for all the services. ArogyaMithras are also available in PHC / CHC / Area Hospital / District Hospital and other government hospitals and in the Health camps to facilitate examination, screening and referral. ArogyaMithras are also placed at network hospital to guide and facilitate cashless treatment in the network hospital.
How can I recognize ArogyaMithra?
ArogyaMithras are provided with uniform apron for easy identification and placed at Dr.YSR Aarogyasri kiosk, a special help desk situated at reception in the hospital. The ArogyaMithras in PHC / CHC will be available in the PHC / CHC during OP hours.

Additional Simplified Procedure
To know your YSR Aarogyasri Aasara status online, you can follow these steps:
1. Go to the Dr. YSR Aarogyasri Health Care Trust website https://www.ysraarogyasri.ap.gov.in/.
2. Click on the "Know Your Aasara Status" link on the homepage.
3. Enter your Aarogyasri health card number and date of birth.
4. Click on the Submit button.
Note:
Your Aasara status will be displayed on the screen. If your status is Approved, you will be eligible for the Aasara benefit. If your status is Pending, your application is still being processed. If your status is Rejected, you will not be eligible for the Aasara benefit.
You can also check your Aasara status through the YSR Aarogyasri mobile app. To do this, download and install the app from the Google Play Store or Apple App Store. Once the app is installed, open it and enter your Aarogyasri health card number and date of birth. Your Aasara status will be displayed on the screen. If you have any questions about your Aasara status, you can contact the Dr. YSR Aarogyasri Health Care Trust customer care at 104.
The YSR Aarogyasri Aasara scheme is a government-sponsored scheme that provides financial assistance to patients who have undergone surgery or other major medical procedures. The scheme is available to all below poverty line (BPL) families in Andhra Pradesh.