Bajaj Finserv Bill Payment App : bajajfinserv.in
Organisation : Bajaj Finserv
Facility Name : Bill Payment App
Applicable State/UT : All Over India
Website : https://www.bajajfinserv.in/bajaj-finserv-bill-payment
Want to ask a question / comment on this post?

Go to bottom of this page.
What is Bajaj Finserv Bill Payment App?
Bajaj Finserv App now offers a platform for effortless bill payments. After all, your convenience is our priority. Now pay your electricity bills online – right from the comfort of your home. No more waiting in long queues or to search for payment centres. Bajaj Finserv app offers fast, secure, reliable platform for cashless payments through your mobile phone! Bajaj Finserv app is available in 14 languages, so that you can view the app in your own language! With the app, you will never miss out on your payment due date! So, you can enjoy uninterrupted power supply and continued services. Yes indeed, now Pay Online and save your time, efforts & money too.

Why Choose Bajaj Finserv App For Bill Payments?
** Facilitates easy and quick bill payments
** You can view past transactions and payment history through the app itself.
** You can view and download account statements, receipts for online mobile recharge easily.
** Easy to navigate with an intuitive navigation.
** Available for android as well as iOS users.
Features of Bajaj Finserv Bill Payment App
** Mobile – Recharge your prepaid mobile and pay your postpaid bills anytime, anywhere. Bajaj Finserv includes all the major network providers such as Airtel, Vi, Jio, BSNL, etc.
** Electricity – Effortless payments of your Electricity bills.
** DTH – Recharge your DTH connection at utmost ease for Airtel, Tata Sky, Dish TV, Sun Direct TV, Videocon D2H
** Gas – Book your LPG and settle your gas bill dues just at the tap of your smartphone. (Gujarat Gas Limited, Mahanagar Gas Mumbai, SITI Energy, Indraprastha Gas Limited)
** Water – Pay off your water bills in just a few easy steps
** Credit card bills – Conveniently pay your credit card bills with your mobile.
** Broadband/ landline – Enjoy uninterrupted internet connected with timely bill payments on the app.
How To Download Bajaj Finserv Bill Payment App?
Step 1: Download Bajaj Finserv App from Google Play Store or Apple Store
Step 2: Login with your My Account Cust. ID or mobile number with an OTP that will be sent to your mobile number.
Step 3: Click on any of the categories to pay your bill.
Step 4: Enter your Consumer ID and complete your payment for your bill and get instant confirmation.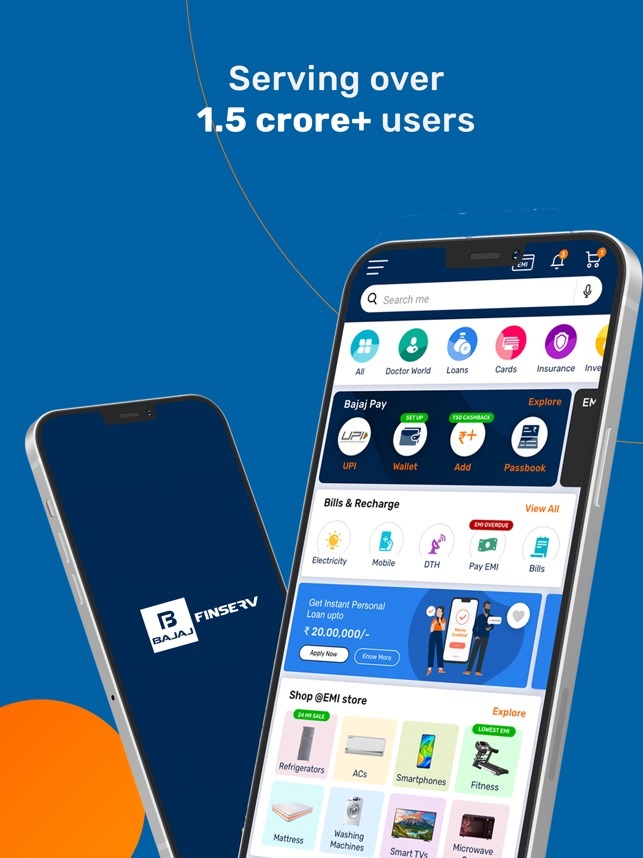 Disclaimer:
While care is taken to update the information, products, and services included in or available on our website and related platforms/ websites, there may be inadvertent inaccuracies or typographical errors or delays in updating the information. The material contained in this site, and on associated web pages, is for reference and general information purpose and the details mentioned in the respective product/ service document shall prevail in case of any inconsistency.
Subscribers and users should seek professional advice before acting on the basis of the information contained herein. Please take an informed decision with respect to any product or service after going through the relevant product/ service document and applicable terms and conditions. In case any inconsistencies are observed, please click on reach us.
Additional Simplified Procedure
To download the Bajaj Finserv Bill Payment App, you can follow these steps:
1. Go to the Google Play Store or Apple App Store.
2. Search for "Bajaj Finserv" and select the official app.
3. Tap on the "Install" button.
4. Once the app is installed, open it and log in with your registered mobile number.
If you are a new user:
1. Tap on the "Create Account" button.
2. Enter your mobile number and verify it with the OTP that is sent to you.
3. Enter your personal details, such as your name, email address, and date of birth.
4. Create a password and set up your Bajaj Pay wallet.
Once you are logged in, you can start paying your bills by following these steps:
1. Tap on the "Pay Bills" section.
2. Select the biller that you want to pay.
3. Enter your account number and the amount that you want to pay.
4. Review the details and tap on the "Pay" button.
Note:
You can also use the Bajaj Finserv Bill Payment App to make other payments, such as mobile recharges, DTH recharges, and money transfers. Please note that the Bajaj Finserv Bill Payment App is currently only available in India.