Download Payment History Online : urjapay.andaman.gov.in
Organisation : Electricity Department Andaman & Nicobar Administration
Facility Name : Download Payment History Online
Applicable State/UT : Andaman & Nicobar
Website : https://urjapay.andaman.gov.in/Default
Want to ask a question / comment on this post?

Go to bottom of this page.
How To Download Urja Pay Payment History Online?
To Download Urja Pay Payment History Online, Follow the below steps
Steps:
Step-1 : Go to the link https://urjapay.andaman.gov.in/SignIn
Step-2 : Register/Login
Step-3 : Download Payment History Online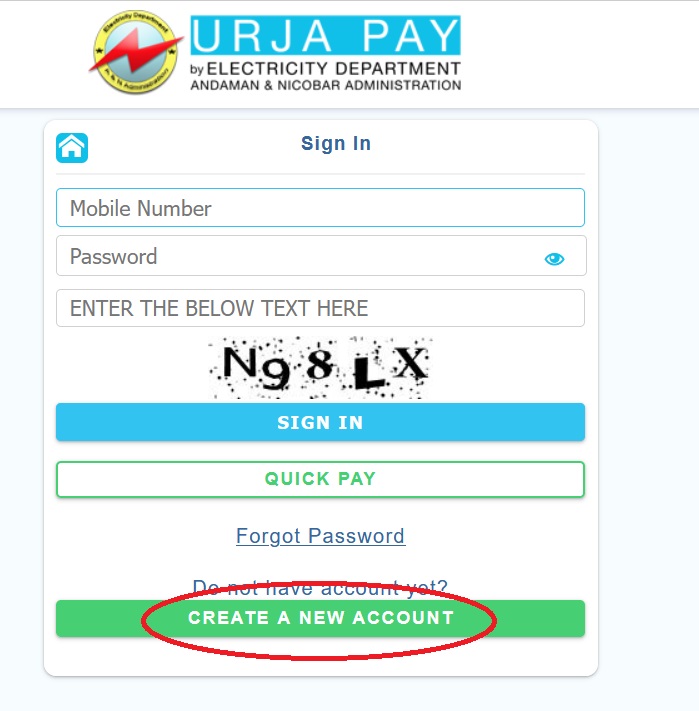 Terms & Conditions
1. I/We agree and accept the services provided by ELECTRICITY DEPARTMENT at my/our request to carry out my/our bill payments through Payment Gateway on my/our account, throughinstructions given by me/us from time to time.
2. I/We agree to provide my/our correct identification details as registered with the billing department. I/We agree to indemnify the Bank/Payment Gateway from any liability due to incorrect information in this regard. I/We also agree to communicate any change in identification details to the ELECTRICITY DEPARTMENT.
3. I/We have no objection whatsoever, to the billing department providing my/our billing details to the Bank/Payment Gateway.
4. While the Bank/Payment Gateway will take all reasonable steps to ensure the accuracy of the billing details, the Bank/Payment Gateway is not liable for any error. I/We shall not hold the Bank/Payment Gateway responsible for any loss, damages, etc. that may be incurred / suffered by me/us, if the information contained turns out to be inaccurate/incorrect.
5. I/We agree that any disputes on bill details will be settled directly with the concerned office of the ELECTRICITY DEPARTMENT and the Bank/Payment Gateway's responsibility is limited to provision of information only.
6. I/We agree that we will make bill amount payments as required by the ELECTRICITY DEPARTMENT. I/We will not hold the Bank/Payment Gateway responsible for the biller rejecting the bill amount because of incorrect or incomplete entries.
7. I/We agree to pay full amount of electricity bill otherwise my/our connection is liable for disconnection and delay payment charges will be leviable as per JERC regulations.
8. I/We agree that the record of the instructions given and transactions with the Bank/Payment Gateway shall be conclusive proof and binding for all purposes and can be used as evidence in any proceeding.
9. I/We agree that the ELECTRICITY DEPARTMENT is at liberty to withdraw at any time the Bill Payment facility, or any services provided there under, in respect of any or all the account (s) without assigning any reason whatsoever, without giving me/us any notice.
FAQ On Urja Pay
Frequently Asked Question FAQ On Urja Pay
How to delete a consumer from online account?
Login into to the portal and click on "Delete Consumer" menu. Click on the delete icon respective to the consumer you want to delete. An One Time Password (OTP) will be sent through SMS to the registered mobile number of the consumer. Upon verifying the OTP, the consumer will be deleted from your online account.
How to register my mobile number?
Visit your respective Electricity Site Office for registering the mobile number.
Where I can Pay my bills?
You can pay your Utility Bills from following points
** Web Self Service at https://urjapay.andaman.gov.in
** e-Dweep Kendra- Common Service Centre (CSC)
** Electricity Department Site Office Payment Counters
I have forgotten my Online password. How to retrieve the password?
If you have forgotten your Online Password then visit our portal https://urjapay.andaman.gov.in. Click on the Sign In and then click on Forgot Password link on the home page. Enter your username,eMail ID,select the secret question from the list and type the secret answer as entered during registration. A random password will be sent to your registered mobile number in SMS. Click on signin and enter username and new password to login.
What if I have forgotten my Password as well as my Secret Answer?
If you have forgotten your Password as well as Secret Answer then call our Support Center and provide your emailid. Validate your details with our agent and on successful verification, a random password will be sent to your regisetered mobile number. Use the password to login.
Additional Simplified Procedure
Here's a step-by-step guide on how to download Urja Pay payment history online:
1. Navigate to the Urja Pay website:
Open your web browser and go to the Urja Pay website: https://urjapay.andaman.gov.in/.
2. Sign in to your account:
Click on the "Sign In" button located in the top right corner of the homepage. Enter your registered consumer ID and password, and then click on the "Login" button.
3. Access the Payment History section:
Once you're logged in, hover over the "Consumer Management" tab and select "Payment History" from the drop-down menu.
4. Select the desired date range:
On the Payment History page, you can choose a specific date range for which you want to view your payment history. Use the calendar pickers to select the start and end dates.
5. Click on the "Download" button:
Once you've selected the date range, click on the "Download" button located at the bottom of the page. This will generate a PDF file containing your payment history details.
6. Save the PDF file:
Choose a location on your computer to save the downloaded PDF file. You can then open and view your Urja Pay payment history at your convenience.