University of Mumbai (MU) Mark Sheet e-Verification : univ.secur.co.in
Organisation : University of Mumbai (MU)
Facility Name : Mark Sheet e-Verification
Applicable For : Students of MU
University Location : Mumbai
Website : http://univ.secur.co.in/verification
Want to ask a question / comment on this post?

Go to bottom of this page.
How To Verify University of Mumbai Mark Sheets Online?
Just follow the below steps and get your mark sheets verified online.
Related / Similar Facility : University of Mumbai Online Migration Certificate
Step 1:
Select Student Registration or Third Party Registration.
Step 2:
Register with your complete information.
Step 3:
Authenticate yourself with your email ID.
Step 4:
Update all required fields. Ensure the details are the same as the ones in the mark sheets.
Step 5:
Upload ALL Semester mark sheets. Any mark sheets missing will be treated as an incomplete request, and will not be processed.
Step 6:
Pay the required e-verification fees online, by choosing any of the payment options available.
Step 7:
e-Verification report will be sent to your registered email ID.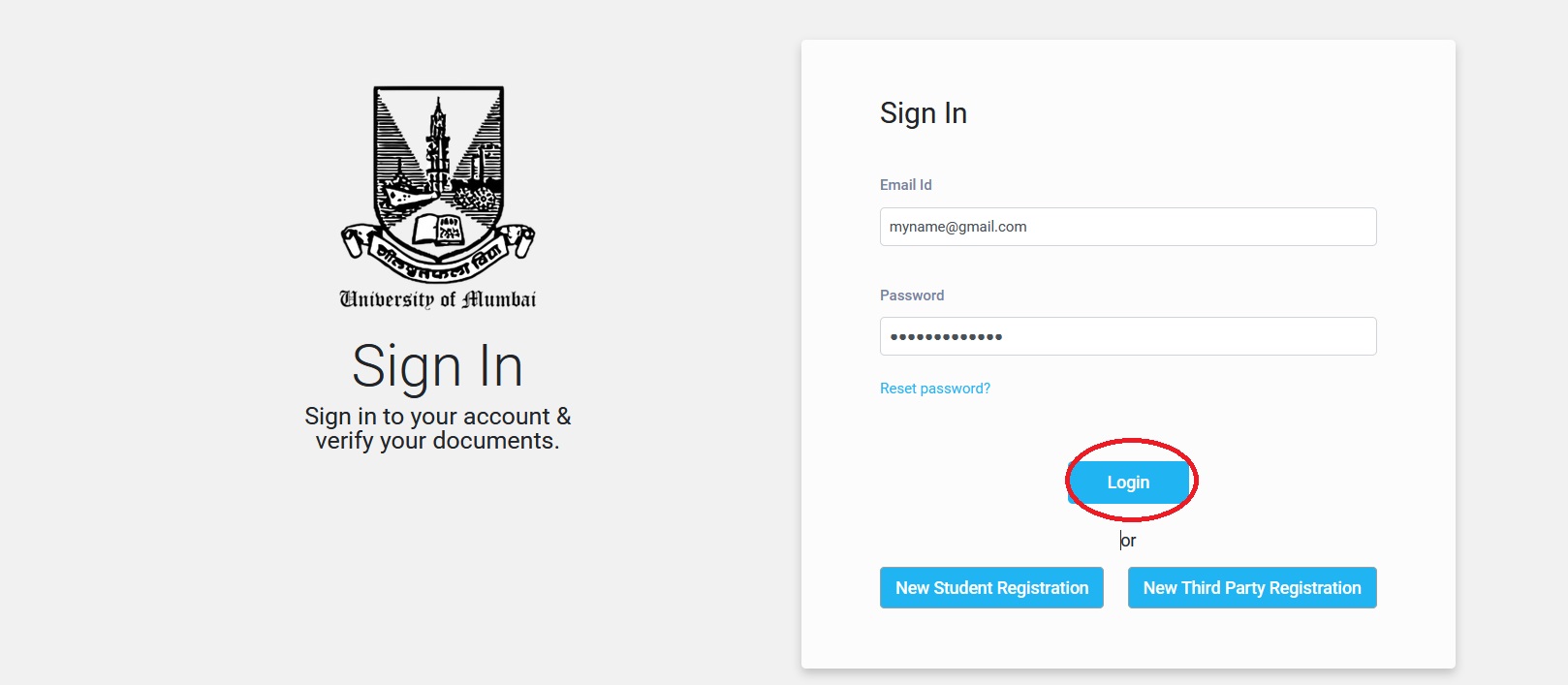 MU e-Verification Refund Policy
Any payment received on this website is processed automatically and transferred to the University. These fees are non-refundable, once an e-verification request is submitted online. Hence, we request the user to double check that all necessary information and documents are correctly and completely updated at the time of submission.
Only in exceptional cases, where a student has applied for her/his own record verification, and where the student is not able to provide any documents required by the University officials, SecUR may consider a refund request, based on the same being approved by the said University officials. In such circumstances, a refund shall be processed within 10-15 working days of the request being received from the student.
FAQ On MU e-Verification
Frequently Asked Questions FAQ On University of Mumbai (MU) Mark Sheet e-Verification
Q. How long will my request take to process ?
A. Requests typically take 7-10 working days to process. This may sometimes get delayed in case of holidays in the University / College, or if the record requested for is old.
Q. How do I know my request has been accepted ?
A. Any request will only be declined if the documents you have uploaded are either incomplete, or unclear. In either of these situations, you will receive an email from us on your registered email id, stating the pending information required from your end. Once we receive the pending information, the request will get processed.
Q. How do I know my payment has been received ?
A. As soon as your payment is received by us from our online payment gateway partner, you will receive a receipt for the same on your registered email id. The receipt can also be download from your account as well.
Q. How is my request going to be processed ?
A. For each request, we access the University / College archives to search for the information. Once this is received, we compare it to the documents uploaded by you, and send you a report on your registered email id.
Q. How do I track the status of my request ?
A. You can log into this website, with the same user id and password you used for registration, to get the latest update on your request.
Q. On the website, my request shows as "Completed", but I have not received any report.
A. Please check in your registered email, in the Spam or Junk folders in case the report has gone there. If you still don't see the report, write to us at help@educred.co.in
Q. The transaction failed while I uploaded my request, but the money got debited from my account. What should I do ?
A. Do not worry. We will get a report of the same at our end, and the money will get automatically refunded to your account within 7 working days. In case you do not receive it within that period, you can write to us through the Contact Us Option or submit your query through the form provided.
Q. Can I ask for a refund once I have placed a request ?
A. Unfortunately, no. Once we receive your completed request and your corresponding payment, the request is already under process. We may only refund your payment in extremely rare circumstances, where we are unable to process the request due to some failure at our end.
Q. How do I know the report I receive is genuine ?
A. As you will see once you receive the report, it carries the signature of the designated official from the University.
Q. I do not wish to follow the online process. Can I approach the University directly for my request ?
A. This online process has been adopted by the University in order to make the processing of requests faster, hassle-free and transparent for students. With the adopting of the online process, these Universities / Colleges will have stopped accepting any manual request. However, if you still wish to approach the University and attempt the same, you are free to do so.
Q. In case of any queries / complaints / clarifications, whom should I approach ?
A. ou may write to us through the Contact Us Option or submit your query through the form provided on the site and we will respond to you within 2 working days of receiving your query.
Additional Simplified Procedure
To verify University of Mumbai mark sheets online, follow these steps:
1. Create an account:
Go to the University of Mumbai's e-verification portal (http://univ.secur.co.in/) and click on "Student Registration" or "Third Party Registration."
2. Register your details:
Enter your complete information, including your name, date of birth, enrollment number, and contact details.
3. Authenticate your email:
Check your registered email for a verification link. Click on the link to confirm your email address.
4. Update your profile:
Provide any additional information required, such as your course details and examination year.
5. Upload mark sheets:
Upload scanned copies of all your semester mark sheets. Ensure the scans are clear and legible.
6. Make payment:
Pay the required e-verification fees online using any of the available payment options.
7. Submit the request:
Once the payment is successful, your e-verification request will be submitted.
8. Receive verification report:
You will receive an e-verification report to your registered email address within 3-5 working days.
Note:
Please note that the e-verification report is valid for one year from the date of issuance. If you need to verify your mark sheets again after the validity period expires, you will need to submit a new e-verification request.