taxsoft-ngl.nic.in Form & TIN Verification Nagaland : Department of Taxes
Organisation : Department of Taxes Nagaland
Service Name : Form & TIN Verification
Applicable States/ UTs : Nagaland
Website : https://taxsoft-ngl.nic.in/nagalandmisc/
You can now ask your question regarding this facility.
Please go to the bottom of this page.
Form & TIN Verification Nagaland
You can Access the following services,
Related : Department of Taxes Migration Under GST Nagaland : www.statusin.in/38731.html
1. Way Bill Verification
2. CST Form Verification
3. Reset Password
4. Dealer TIN Verification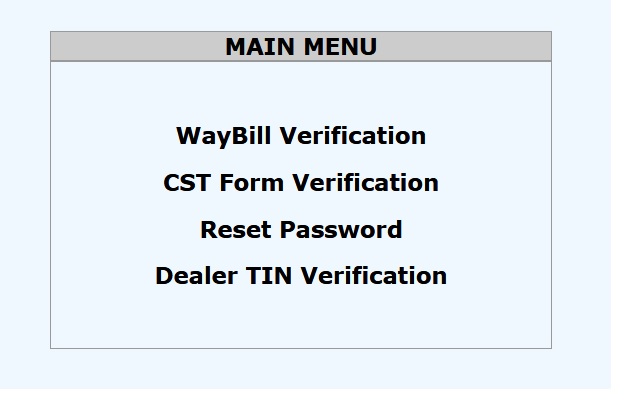 Way Bill Verification
Please enter the following details for Way Bill Verification,
1. Select Act
2. Enter Way Bill No
3. Enter Key as Above*
4. Click on the Go button
CST Form Verification
Using this web-site the dealers can see the details of the online CST forms issued by the department to its dealers. For this, the dealer needs to know and enter the Series Number and Serial Number of the CST form.
1. Select Form type on-line or offline
2. Enter the CST Form No
3. Select Act
4. Enter Key as Above*
5. Click on the Go button
Reset Password
You have to enter the following details to Reset your Password,
1. Enter Tin Number
2. Enter CST No
3. Enter Trade Name
4. Enter Address
5. Enter PAN Number
6. Enter Current User ID
7. Select Reset password Yes or No
8. Upload of the original scanned copy of the Authority letter/ Annexure III :
Select Document
Select File
Tips for reducing file size :
a) Scanned documents can be saved in both Jpeg and pdf formats.
b) Maximum file size should be restricted to 150 kb .
9. Enter Applicant Name
Verification :
I/We agree to that the Information provided here – in is true to our knowledge and any mis – statement of fact can lead to cancellation of the request and/or legal action.
10. Enter Key as Above*
11. Click on the Submit button
Dealer TIN Verification
Please enter the below details for Dealer TIN Verification,
1. Select Registration Type VAT or CST or Petroleum or Amusement
2. Enter TIN/CST No.
3. Enter Key as Above*
4. Click on the Search button
Entry of Online Road Permit
** Open Departmental website
** Select ' e-Road Permit ' link under ' e-Services' section
** Click on 'New Road Permit? Click Here' for entering new Road permit details
** In the entry page ( * marks indicate mandatory fields),
i) Select Office name from the drop-down list
ii) Enter all the mandatory basic details like Name of the applicant, Permanent Address, Mobile No, Purpose of consignment etc. If you are already registered then select "yes" and enter the TIN No Otherwise select "No" under whether registered
iii) Under 'Consignment details', enter Description of goods, Quantity, Unit,value, Consignor TIN, Invoice No, Invoice date, Place from which despatched, destination to which despatched.
iv) Under 'Transporter details' , enter Name of Transporter, Registration No. of the vehicle, Name of the owner of vehicle,Consignment No, Consignment date
v) Enter the Key as displayed and click ' Save' to save the data. An Acknowledgement No will be generated. Click on ' Ok' and Note down the Ack No.
Submission of Road Permit
** Go to home page . Enter the Ack No , mobile No and the Key. Click on 'Submit' (You will get SMS alert on approval of the Road Permit by the Approval Authority)
Printing of Road Permit
** Select 'e-Road Permit ' link under ' e-Services' section of departmental website
** Enter the Ack No, mobile No and the Key. Click on 'Submit'
** Click on 'Print '