msmeonline.tn.gov.in : MSME Prime Minister's Employment Generation Programme PMEGP Scheme
Organisation : Department of Industries & Commerce
Service Name : MSME Prime Minister's Employment Generation Programme (PMEGP)
Applicable States/ UTs : Tamil Nadu
Website : https://www.msmeonline.tn.gov.in/
You can now ask your question on this facility / status.
Ask here
(OR) Go to the bottom of this page for comments.
MSME PMEGP Programme
Government of India has approved a new credit linked subsidy programme called Prime Minister's Employment Generation Programme (PMEGP) by merging the two schemes that were in operation till 31.03.2008 namely Prime Minister's Rojgar Yojana (PMRY) and Rural Employment Generation Programme (REGP) for generation of employment opportunities through establishment of micro enterprises in rural as well as urban areas.
Related : MSME UYGEP Unemployed Youth Employment Generation Programme : www.statusin.in/38666.html
PMEGP will be a central sector scheme to be administered by the Ministry of Micro, Small and Medium Enterprises (MoMSME). The Scheme will be implemented by Khadi and Village Industries Commission (KVIC), a statutory organization under the administrative control of the Ministry of MSME as the single nodal agency at the National level.
At the State level, the Scheme will be implemented by State KVIC Directorates, State Khadi and Village Industries Boards (KVIBs) and District Industries Centres (DICs) through banks.

PMEGP Eligibility
** Any individual, above 18 years of age.
** There will be no income ceiling for assistance for setting up projects under PMEGP.
** For setting up of project costing above Rs.10 lakh in the manufacturing sector and above Rs. 5 lakh in the business /service sector, the beneficiaries should possess at least VIII standard pass as educational qualification.
** Assistance under the Scheme is available only for new projects sanctioned specifically under the PMEGP.
** Self Help Groups (including those belonging to BPL provided that they have not availed benefits under any other Scheme) are also eligible for assistance under PMEGP.
** Institutions registered under Societies Registration Act,1860;
** Production Co-operative Societies, and Charitable Trusts.
** Existing Units (under PMRY, REGP or any other scheme of Government of India or State Government) and the units that have already availed Government Subsidy under any other scheme of Government of India or State Government are not eligible.
PMEGP Application
For Upgradation / Expansion of existing PMEGP / MUDRA units :
Eligible applicants can file application for financial Assistance under this scheme through the PMEGP online portal – https://www.kviconline.gov.in/pmegpeportal

Step 1 : Click on Apply online Button. Then Select Online Application Form button

Step 2 : Enter the following fields to fill the application form.
Online Application For Second Loan Subsidy For Upgrading Of Existing Unit
(1) Select First Loan Availed Under
(2) Select State
(3) Select District *
(4) Enter Your PMEGP Application ID*
(5) Enter Your Udyog Aadhaar Registration No*
(6) Enter Your Aadhaar No:*
(7) Enter Your Pan No:*
(8) Click on Next Button.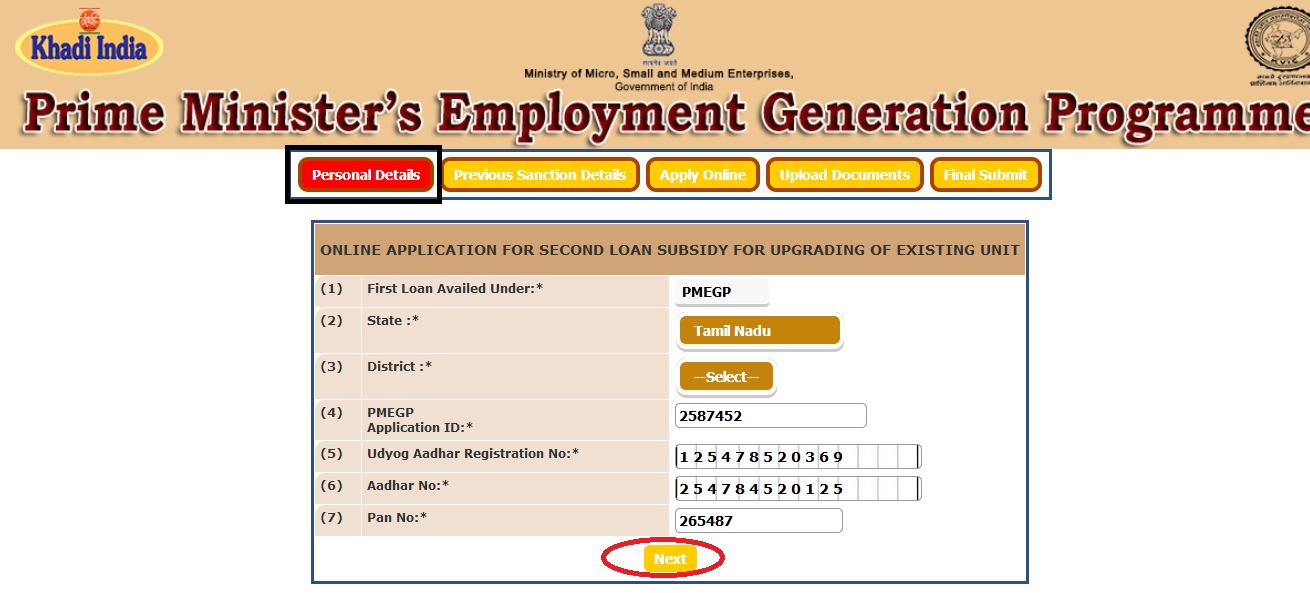 Step 3 : Enter the Previous Sanction Details
Step 4 : Fill Apply Online
Step 5 : Upload Documents
Step 6 : Final Submit
PMEGP Financial Assistance
Categories of beneficiaries
under PMEGP
Beneficiary's contribution
(of project cost)
Rate of Subsidy
(of project cost)
Area (location of project/unit)
Urban
Rural
General Category
10%
15%
25%
Special (including SC / ST /
OBC /Minorities/Women, Exservicemen, Physically handicapped, NER, Hill and
Border areas etc.
05%
25%
35%
More Details Get Here : http://www.indcom.tn.gov.in/pmegp.html
Note :
** The maximum cost of the project/unit admissible under manufacturing sector is Rs. 25 lakh.
** The maximum cost of the project/unit admissible under business/service sector is Rs. 10 lakh.
** The balance amount of the total project cost will be provided by Banks as term loan.
PMEGP Scheme FAQ
Q. What is maximum project cost allowed under PMEGP?
A.  Rs.25.00 lakhs for manufacturing unit and Rs.10.00 lakhs for Service Unit
Q. Whether cost of land includes in the project cost?
A. No.
Q. What is the component of project cost?
A.  Capital Expenditure Loan, one cycle of working capital and 10% of project cost as own contribution in case of General category and 5% of project cost in case of weaker section.
Q. Who are the beneficiaries?
A.  Individual Entrepreneurs, Institutions, Co-operative Societies, Self Help Groups, Trusts
Q. Which are the financial agencies?
A. 27 Public Sector Banks ,Regional Rural Banks(RRB), Co-operative Banks and Private Scheduled Commercial Banks approved by respective State Task Force Committee.
Q. How the capital expenditure loan / Cash Credit Limit be utilized ?
A.  Working Capital at least once should touch 100% limit of Cash Credit within three years of Lock-in period of M.M. and not less than 75% of the utilization of the sanction limit on an average.
Q. Where the beneficiary has to submit his/her application/ Project?
A- Beneficiary can submit his/her application/Project online on kvic website www.kvic.org.in / kviconline.gov.in/pmegpeportal. List of office addresses of KVIC/KVIB/DIC are available at our website.
Q. What is Village Industry ?
A.  Any Village Industry (except those mentioned in the negative list) located in the Rural Area which produces any goods or renders any service with or without the use of power and in which the fixed capital investment for head of a full time artisans or worker does not exceed Rs.1.00 lakh in plain area and Rs.1.50 lakhs in hilly areas and for A & N Island and Laxdeep Rs.4.5 Lakhs.
Q. What is rural area ?
A.  Any area classified as Village as per the revenue record of the State, irrespective of the population. It also includes an area even if classified as town provided its population does not exceed 20000
Q. What is Age limit ?
A. Any adult beneficiary above 18 years is eligible for financing under PMEGP.