Punjabi University Certificates Online : pupdepartments.ac.in
Organisation : Punjabi University
Service Name : Apply For Certificate Online
Website : http://pupdepartments.ac.in/enquiryexam/certificate/index.php
You can now ask your question on this facility / status.
Ask here
(OR) Go to the bottom of this page for comments.
Punjabi University Certificate Online
Apply For Punjabi University Certificate Online.
Related / Similar Facility : GCG Admission Online Registration 2020-21

How To Apply Online ?
** Go to the link http://pupdepartments.ac.in/enquiryexam/certificate/index.php
** In order to apply for the Online services, student first needs to create an account. This can be done by clicking on the 'Create Account'link.
** Fill in all the fields on the form and click on the Create Account button.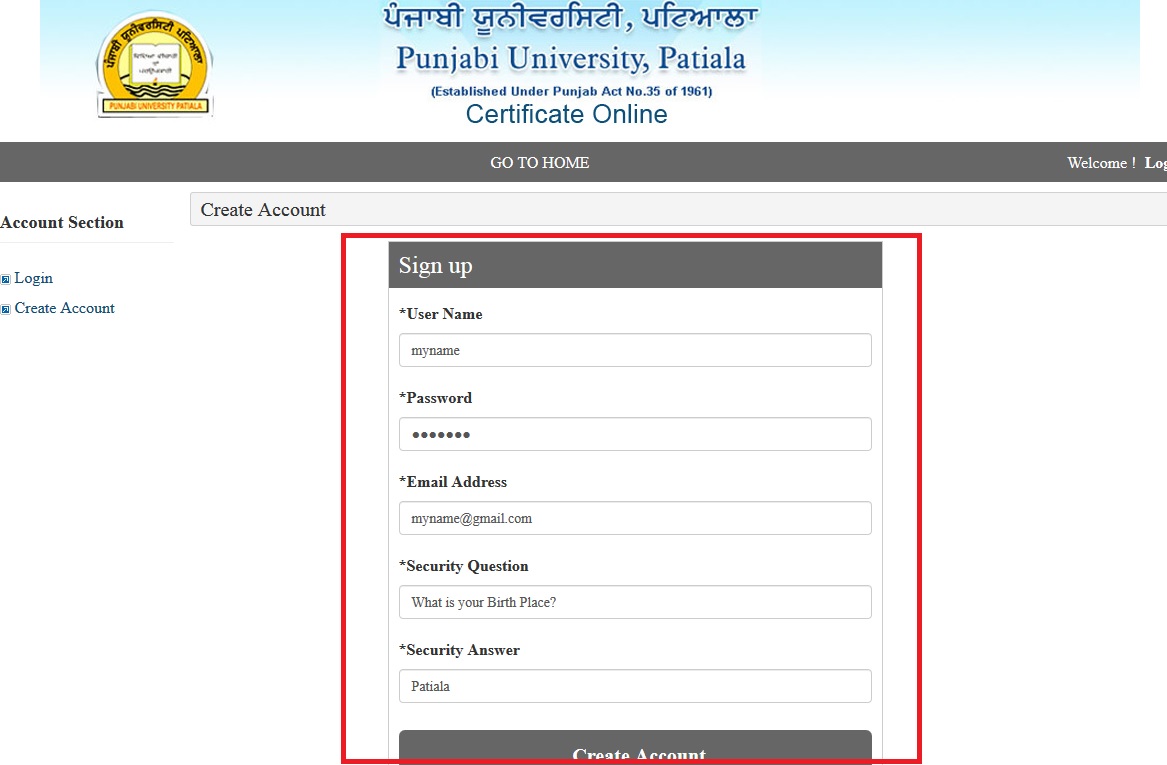 ** Once Account has been successfully created, click on the Finish and Proceed for Application System button.
** Next, please complete the Student Profile by clicking on the link 'Profile' in the left hand menu.
** After filling student profile form, click on Save button.
** After successfully saving the profile, click on Home link in the left hand menu.
** In services section, when you select your service, you will get Instructions (if any) for that particular service, then click on Proceed button.
** Fill Application Details and click on Save button. After that box will appear on screen click on 'proceed to upload ' documents.
** Then, Procced to upload will show Upload Document page, Upload all required documents for the service and click on Save and Proceed button.
** The Payment Mode page will show up, select your Payment Mode and Bank type.
** Click on Save and Print Button, and then click on Download Application and Download Challan.
** Upload payment receipt
Application Fee
| Sr No. | List of Online Application | Course Fee(In Rs.) |
| --- | --- | --- |
| 1 | Confidential Result | 800 |
| 2 | Correction in all DMC with Degree of one Course | 15000 |
| 3 | Degree in Absentia | 1000 |
| 4 | Document Verification | 1000 |
| 5 | Duplicate All DMC with Degree of one Course | 15000 |
| 6 | Duplicate Degree Certificate | 500 |
| 7 | Duplicate Statement of Marks(Marksheet) | 500 |
| 8 | Medium Equivalence Certificate | 1250 |
| 9 | Migration Certificate | 1500 |
| 10 | Reevaluation Form | 500 |
| 11 | RL Lower | 600 |
| 12 | Transcripts | 2000 |
Contact
For any Technical queries Email on : oesppbi2018@gmail.com
For Application Status Email on : verificationexam@pbi.ac.in
Note:
Its mandatory for the candidate if they want to communicate with us ,then they must quote their application number, name, father name, mother name, registered e-mail, registered mobile number and date of application "Accepted" by university in your subject line. Its also mandatory to communicate with us through your registered e-mail.
About Punjabi University:
Punjabi University is a state university located in Patiala, Punjab, India. Punjabi University teaches and researches in science, engineering and technology, humanities, social sciences, performing arts and sports. It was established on the 30 April 1962, and is only the second university in the world to be named after a language, after Hebrew University of Israel.
Originally it was conceived as a unitary multi-faculty teaching and research university, primarily meant for the development and enrichment of Punjabi language and culture, but alive to the social and education requirements of the state.