MAHABOCW Workers Online Registration : Maharashtra Building & Other Construction Workers' Welfare Board
Organization : Maharashtra Building And Other Construction Workers' Welfare Board
Service Name : Workers Online Registration
Applicable For : Workers
Applicable State : Maharashtra
Website : https://mahabocw.in/workers-registration/
Want to comment on this post?

Go to bottom of this page.
MAHABOCW Workers Online Registration
Maharashtra Building And Other Construction Workers' Welfare Board Workers Registration.
Related / Similar Service : MahaJobs Portal 2020 Online Registration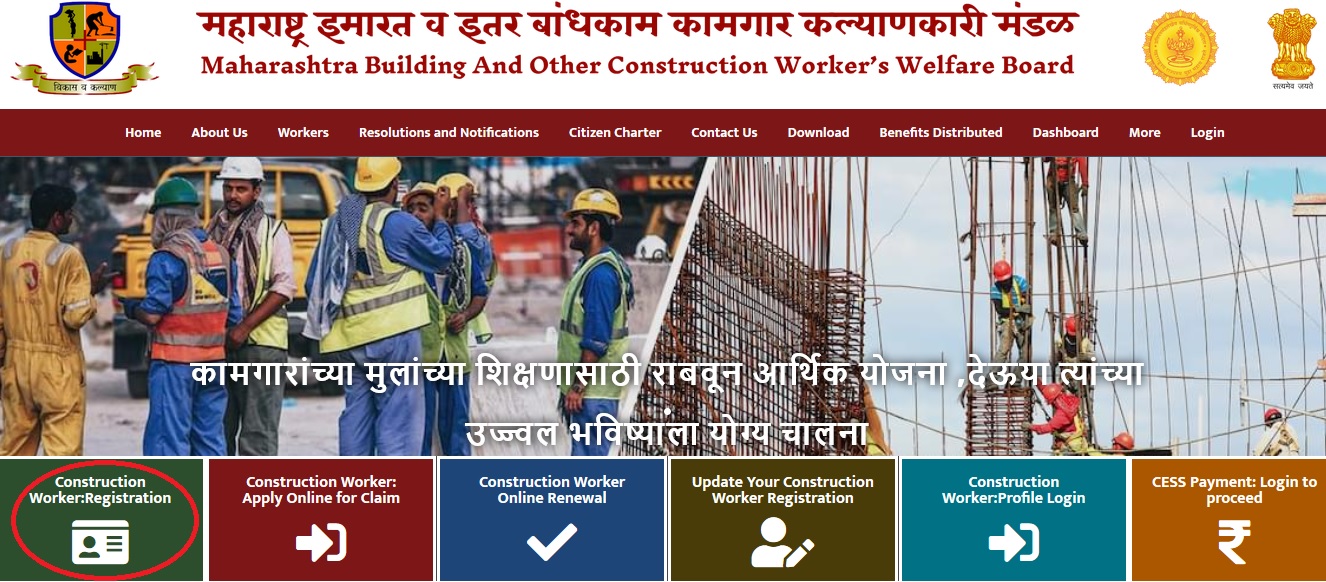 Eligibility Criteria
** A worker should be between 18 to 60 years of age.
** A worker must be working for more than 90 days in the last 12 months.
How to Register?
Just follow the below steps for Maharashtra BOCW Workers Registration.
Steps :
Step 1 : Visit the official website of Maharashtra BOCW through provided above.
Step 2 : Read the instructions carefully before your registration.
Step 3 : Check your eligibility and proceed to register

Step 4 : Next, Select Your District and Aadhar No.
Step 5 : Enter Your Mobile No. linked to aadhar card and click on "Send OTP" button.
Step 6 : Enter the OTP for verification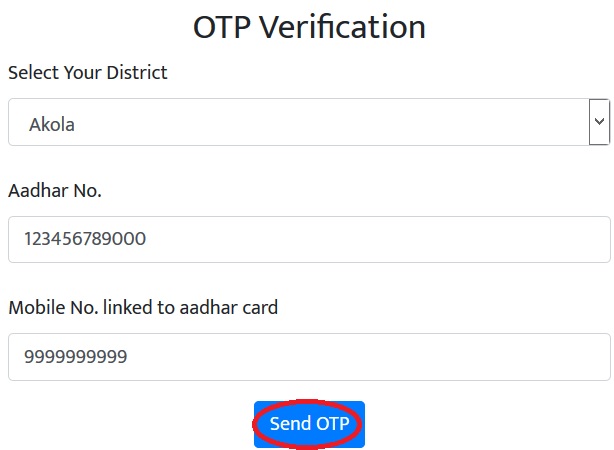 Step 7 : Fill the remaining details to complete your registration.
Documents Required
To get registered with board, form-V has to be filled and submitted along with following documents.
** Proof of Age
** 90 days working certificate
** Residence proof
** Identity proof
** 3 Passport Sized Photographs
Registration Fee
Registration fee- Rs. 25/- and annual subscription for 5 years -Rs. 60/-
Types of Works
"Building or other construction work means the construction, alteration, repairs, maintenance or demolition, of or, in relation to…
** Buildings,
** Streets,
** Roads,
** Railways,
** Tramways,
** Airfields,
** Irrigation,
** Drainage,
** Embankment And Navigation Works,
** Flood Control Works (Including Storm Water Drainage Works),
** Generation,
** Transmission And Distribution Of Power,
** Water Works (Including Channels For Distribution Of Water),
** Oil And Gas Installations,
** Electric Lines,
** Wireless,
** Radio,
** Television,
** Telephone,
** Telegraph and Overseas Communications,
** Dams,
** Canals,
** Reservoirs,
** Watercourses,
** Tunnels,
** Bridges,
** Viaducts,
** Aquaducts,
** Pipelines,
** Towers,
** Cooling Towers,
** Transmission Towers and Such Other Work,
** Cutting the stone, breaking it and crushing the stone finely.,
** Cutting and polishing of tiles or tiles.,
** Carpentry with paint, varnish, etc.,
** Gutter and plumbing works.,
** Electrical works including wiring, distribution, tensioning, etc.,
** Installation and repair of fire extinguishers.,
** Installation and repair of air conditioning equipment.,
** Installation of automatic lifts, etc.,
** Installation of security doors and equipment.,
** Preparation and installation of iron or metal grills, windows, doors.,
** Construction of irrigation infrastructure.,
** Interior work (including decorative) including carpentry, virtual ceilings, lighting, plaster of Paris.,
** Cutting glass, plastering glass and installing glass panels.,
** Preparation of bricks, roofs, etc., not covered under the Factories Act, 1948.,
** Installation of energy efficient equipment like solar panels etc.,
** Installation of modular units for use in places like cooking.,
** Preparation and installation of cement concrete material etc.,
** Construction of sports or recreational facilities including swimming pool, golf course etc.,
** Construction or erection of information panels, road furniture, passenger shelters or bus stations, signal systems.,
** Construction of Rotaries, Installation of Fountains etc.,
** Construction of public parks, sidewalks, picturesque terrain etc.
Contact Us :
Maharashtra Building And Other Construction Worker's Welfare Board.
5th Floor, MMTC House,
Plot C-22, E-Block,
Bandra Kurla Complex, Bandra(E),
Mumbai – 400051,
Maharashtra