TNEA 2020 Online Registration Tamil Nadu Engineering Admissions : tneaonline.org
Organisation : Government Of Tamil Nadu
Facility/ Service Name : TNEA 2020 Tamil Nadu Engineering Admissions Online Registration
Applicable State : Tamil Nadu
Registration Last Date : 16.08.2020
Website : https://www.tneaonline.org/
You can now ask your question on this facility / status.
Ask here
(OR) Go to the bottom of this page for comments.
TNEA Online Registration
Tamil Nadu Engineering Admissions 2020 (TNEA 2020) is a complete online process includes Registration, Payments, Choice Filling, Allotment and Confirmation. Candidates are requested to read the instructions given here completely for the successful completion of their Counseling and Admissions.
Related / Similar Facility : TNGPTC Admission 2020-21 Online Registration
Application Process
Candidates have to register their applications online by visiting the official website www.tneaonline.org, and submit all the necessary details with application fee.
Steps in TNEA Online Counseling Process are as follows,
1. Online Application Registration and Payment of registration fees
2. Random Number Generation (by TNEA Authority)
3. Uploading the copy of original certificates.
4. Certificates Verification at designated TFC (by TNEA Authority).
5. Rank Publication (by TNEA Authority)
6. Online Payment of Initial Deposit
7. Online Choice filling
8. Publication of Tentative Allotment on a notified date (by TNEA Authority)
9. Confirmation of tentative allotment option by the candidates
10. Provisional allotment of institution and branch (by TNEA Authority)
11. Finally reporting to the allotted Institution on the specified date.
How to Apply?
Before starting Registration, candidates should make sure they have
a) Mobile number (preferably their own or their parents)
b) Valid Email address (create one if not available)
c) Debit / Credit Cards / Netbanking for payment of fees.
(Ensure access of mobile number associated with bank account for OTP verification)
(OR)
Valid demand draft drawn in favour of "The Secretary, TNEA" payable at Chennai – 600 025
Steps in Registration process :
1. User Registration
2. Login
3. Personal Information
4. Special Reservation Information
5. Scholarship Information
6. School of Study Information
7. Academic Information
8. Preview Application and Change Information
9. Payment of Registration fees
10. Download Application in PDF
User Registration
** Go to the website www.tneaonline.org.
** Now click on "Click here for New Registration".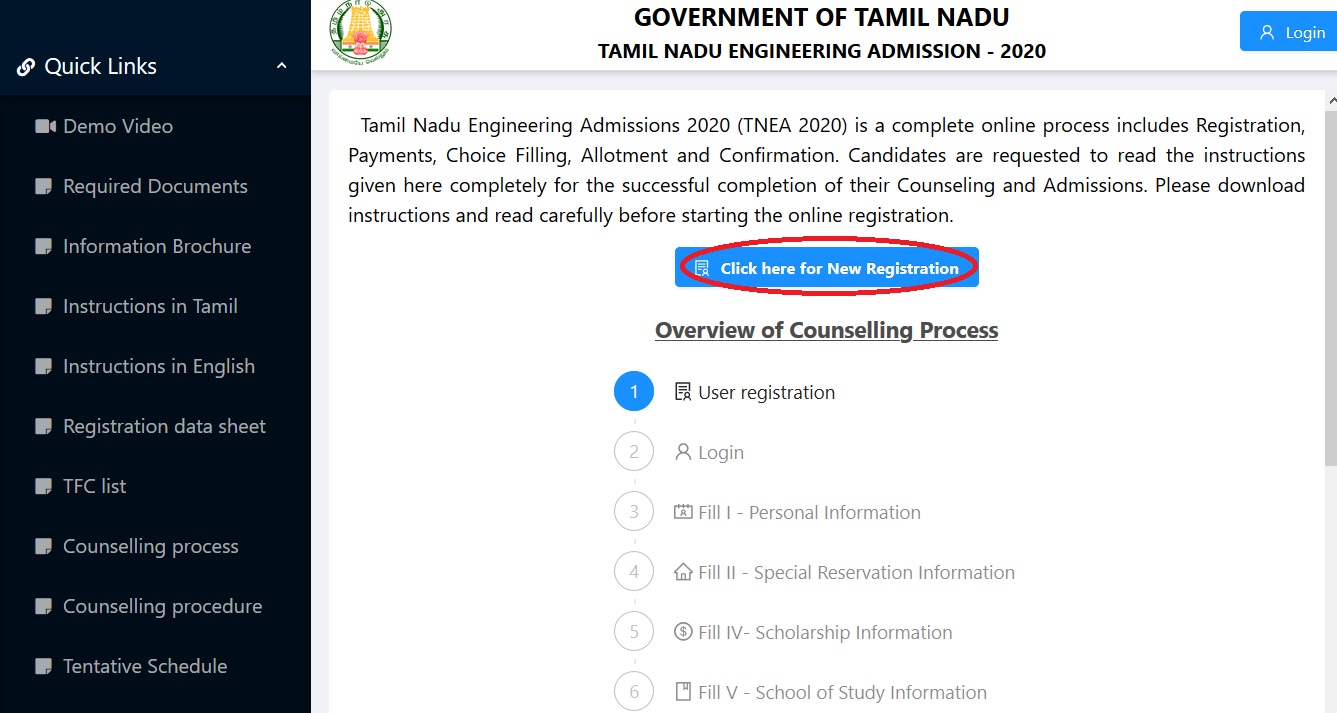 ** Data to be filled as part of Basic Registration consists of following fields
i. Name,
ii. Mobile Number,
iii. E-mail ID,
iv. Date of birth,
v. Whether +1 Passed,
vi. Qualifying Examination,
vii. Password (Choose your own) and
viii. Confirm Password (Re-enter chosen password).
** Once you complete the above details, click on "SAVE".
** On Clicking Yes, you will receive OTP in your mobile as well as in your email.
** Login Credentials are generated only when OTP is verified.
Login
** After OTP verification, you will be directed to Login Page
** Enter Username and Password provided during Step 1: User registration and Password. Note that Username is your registered email address.
** After Successful Login, you will be directed to the following page. Information to be filled is divided into 8 tabs, visible at the top of this page.
i. Personal information
ii. Special reservation
iii. Scholarship information
iv. School of study information
v. Academic information
vi. Preview and Change Information
vii. Payment
viii. Generate Report
Kindly note down the application number displayed at the top.
Registration Fee :
Registration amount to be paid
** Rs.500 for General candidates
** Rs.250 for SC/SCA/ST candidates belonging to Tamil Nadu
** In addition, Rs.100 should be paid for each and every special reservation category.
Registration fees can be paid either through Online Payment or by Demand draft.
i. For online payments, Payments can be made by using Credit / Debit Cards, or by Net banking.
ii. For Demand Draft (DD) Payments, Candidates should visit nearest TNEA Facilitation centres (TFC) and submit their Demand draft. DD to be drawn in favour of "THE SECRETARY, TNEA" payable at Chennai – 600 025
Online Payment Instructions
I). Select any one of the following payment gateways
a) State bank of India
b) Indian Overseas Bank
c) Canara bank
d) Indian Bank
II). Payment gateways may have transaction charges. In such cases, actual amount to be paid is registration amount + transaction charges.
III). Once payment is initiated; candidate will be directed to bank gateway website.
IV). When the payment is completed / failed, candidate will be redirected back to tneaonline.org.
V). Do not press back button / refresh page when payment is under processing.
VI). If the payment fails for any reason, next attempt for payment can be made only after 10 minutes.
VII). Status of all transactions initiated can be accessed from "My Profile" button present at top right of the page (next to logout) and by clicking "My transactions" within that page.
VIII). If the transaction status is not changed within 10 minutes, click reload button in my transactions page.
IX). Before making next payment, kindly ensure the status of earlier transaction.
X). Payment information is also sent to registered email address. Kindly check your email address to know the status of your payment.
XI). If the payment is successful, payment successful page will be displayed.
XII). If the payment is unsuccessful, payment failure page will be displayed.
Download PDF of Application
After payment of registration fee is completed, submitted application can be downloaded along with format of special reservation certificates.
Documents Required
The candidates must be ready with the following details for Registration.
i. Name of the candidate
ii. E-mail ID
iii. Mobile phone number
iv. Community/Caste details
v. Special Reservation Requested
** Sons/daughters of Ex-servicemen
** Differently abled persons
** Eminent sports persons
vi. Details of Registration fee to be paid through Internet
** Credit card / Debit card / Net banking details
** Demand Draft is permitted only at TFC
vii. Aadhar number – optional
viii. Parent's annual income details
ix. School details of VIII,IX,X,XI,XII std
x. XII std Examination Registration Number
xi. XII std Marksheet
xii. Scholarship Requested
** First graduation Fee concession
** Post Matric Scholarship (SC/SCA/ST or SC/SCA Converted Christian)
** AICTE Tuition Fee Waiver (AICTE)
xiii. Use the DATA SHEET for Application Registration.
Tentative Schedule
S.

No.

Events
Proposed dates for 2020
Academic
Vocational
1.
Commencement of Online Registration and filling of Applications
15.07.2020
15.07.2020
2.
Last date for Registration of Online Applications
16.08.2020
16.08.2020
3
Commencement of uploading original certificates
31.07.2020
31.07.2020
4
Last date for uploading original certificates
20.08.2020
20.08.2020
5
Assigning Random Number
21.08.2020
21.08.2020
6.
Original Certificates verification at TFC's
24.08.2020 to 01.09.2020
24.08.2020 to 01.09.2020
7.
Publication of Rank list
07.09.2020
07.09.2020
8.
Counseling for Special  Reservation categories
Differently Abled
10.09.2020 To 14.09.2020
10.09.2020 To 14.09.2020
Ex-Servicemen
Sports
11
Commencement of Counseling
Academic – Online  (Academic)
Vocational – Online
17.09.2020 To 06.10.2020
10.09.2020 To 14.09.2020
10.
Supplementary Counseling (Online)
08.10.2020 To 12.10.2020
08.10.2020 To 12.10.2020
11.
SCA to SC counseling (Online)
14.10.2020 To 15.10.2020
14.10.2020 To 15.10.2020
12.
End of counseling
15.10.2020
15.10.2020
Counselling Process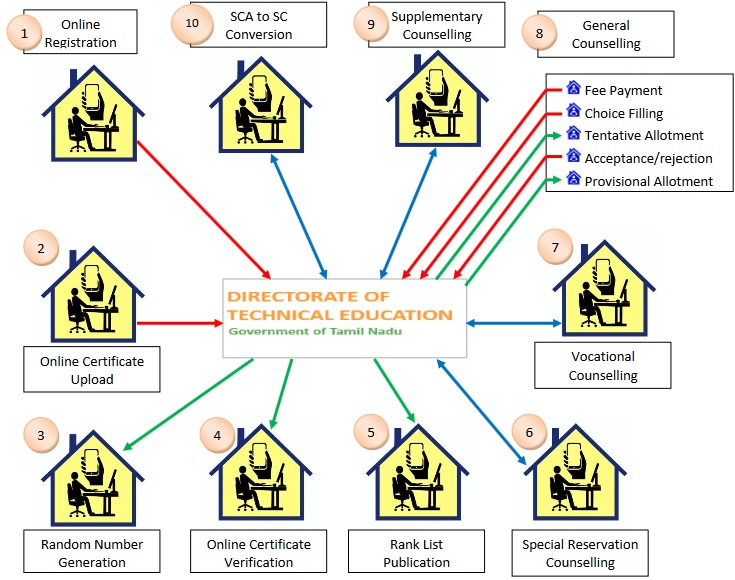 Contact
For any queries, kindly email us at care [AT] tneaonline.org