TNGPTC Tamil Nadu Government Polytechnic College's Admission 2020-21 Online Registration
Organisation : Government Of Tamil Nadu
Facility/ Service Name : Tamilnadu Government Polytechnic College's Admission 2020-2021 Online Registration
Applicable State : Tamil Nadu
Registration Last Date : 20.08.2020 (Date is Extended)
Website : http://tngptc.in/#/
You can now ask your question on this facility / status.
Ask here
(OR) Go to the bottom of this page for comments.
TNGPTC Polytechnic College's Online Registration
Admission for Regular will start from 6.00 PM today on wards only. For Lateral entry and Part-time Diploma Admission a separate notification, will be issued.
Related / Similar Facility : TNGASA Online Registration 2020
This Application Form is intended for seeking Admission to First Year Diploma Courses offered in Government Polytechnic Colleges under the purview of the Directorate of Technical Education, Chennai 600 025.
Eligibility Rules
Candidates satisfying the following eligibility rules as on 01-08-2020 are alone eligible to apply.
Nativity :
Candidates belonging to Tamil Nadu only will be considered for admission. However, the following categories of candidates are eligible to apply subject to certain conditions.
** Children of Central Government Employees not domicile of Tamil Nadu may also apply and compete under Open Competitions for admission, irrespective of their domicile, provided their parents or guardians (only if parents are not alive)are serving in Tamil Nadu continuously for the past FIVE YEARS at the time of submission of application which should be supported by enclosing a certificate from the employer of the parent or guardian.
** Children of persons (not domicile of Tamil Nadu) employed in Private or Public or Government recognised Institutions who are at the time of submission of application for admission employed in Tamil Nadu may apply and compete for admission under open competition irrespective of their domicile provided a certificates from the management is enclosed along with the application that the person is permanent Employee of the Firm or Institution concerned and is working in Tamil Nadu continuously for the past FIVE YEARS.
** Tamil Nadu Candidates with Schooling in Tamil Nadu from IX Std. on wards need not enclose the Permanent Residence Certificate.
In case they have passed the IX, X or their equivalent Examination from Schools situated outside Tamil Nadu, a copy of "Certificate of Permanent Residence" (to be obtained from Tahsildhar) should be enclosed with the application for considering them as candidates belonging to Tamil Nadu.
** Other State candidates with schooling in Tamil Nadu from IX Std. on wards need not enclose "Certificate of Permanent Residence".They are eligible for Open Competition only.
Qualifying Examination :
** A pass in the 10th Standard(SSLC) or any other equivalent qualification.
** Age Limit
** No age limit.
Important Dates
** Commencement of On-line Submission of Application Form – 20/07/2020
** Last date for Submitting Application – 04/08/2020
** Commencement of Certificate upload – 05/08/2020
Allocation Of Seats
Selection shall be made under five categories following the rules of reservation in force at the time of publication of the selection list.
(a) Open Competition
(b) Backward Class(Others)
(c) Backward Class(Muslims)
(d) MBC/DNC
(e) Schedule Caste
(f) Schedule Caste(Arunthathiyars)
(g) Schedule Tribe
How to Register?
Just follow the below steps to apply for Tamilnadu Government Polytechnic College's Admission 2020-2021 Online Registration.
Steps :
Step 1 : Visit the official website through provided above.
Step 2 : Read the instructions carefully and click on the "New Registration" link.

Step 3 : Fill the registration form with the required details and click on "Send OTP" button.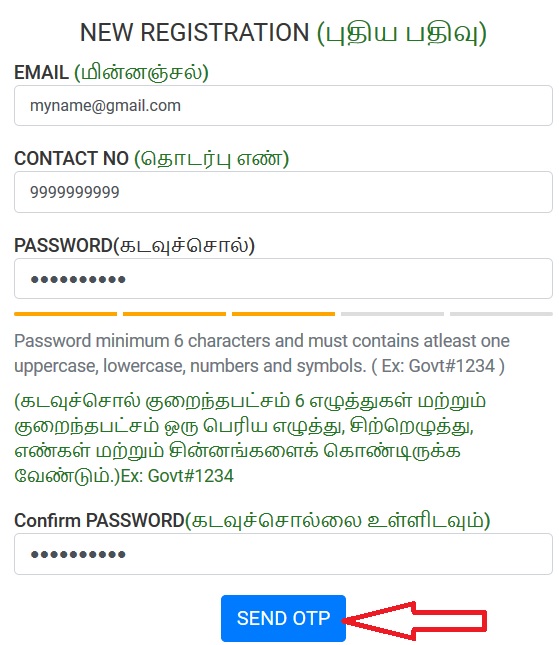 Step 4 : After complete your registration login with your User Name & Password
Step 5 : Fill the remaining details and upload the necessary documents to complete the registration.
Documents Required
The candidates must be ready with the following details for Registration.
i. Name of the candidate
ii. E-mail ID
iii. Mobile phone number
iv. Community/Caste details ST/SCA/SC/MBC & DNC /BCM/BC/Others
v. Special Reservation Requested
** Sons/daughters of Ex-servicemen
** Differently abled persons
** Eminent sports persons
vi. Keep the list of Selected Colleges and departments ready, refer the quick link if required. The Fee Rs. 150/- has to be paid for each college that are selected by the Applicant.
vii. Details of Registration fee to be paid through Internet. Credit card / Debit card / Net banking details
viii. Aadhar number – optional
ix. School details of VI, VII, VIII, IX and X
x. X std Examination Registration Number
xi. X std Marksheet
General Information
1. Fees,Scholarships,Educational Loans,Hostel Facilities etc.
Detailed information can be had from the Principals of the respective Polytechnic Colleges/ Special Institutions.
2. The following original certificates should be produced at the time of admission to the Principal.
(a) Conduct certificate and Transfer Certificate are in original from the Head of the Educational Institution in which the candidate had last studied;
(b) SSLC book or equivalent record;
(c) SSLC mark sheet or mark sheet issued by the concerned educational authority for the qualifying examination; SSLC mark sheet issued by the Head Master of the School, will not be accepted. and
(d) Original community certificate for ST / SC / SC(A) / MBC & DNC / BC (Others) / BC (Muslims) from prescribed authority.
Other Important Points :
1. Applications which are not in proper form or which are not correctly filled in will be considered defective and are liable for rejection.
2. The Application Number should be quoted in all correspondences connected with the application and admission.
3. Separate Application for Sponsored Quota should be sent to the Principal of the respective Polytechnic College as ' # ' mark mentioned under the list of Polytechnics Colleges.
4. The Register Number of the selected candidates will be published in the Notice Board of the Polytechnic concerned. Intimation of selection will be sent to the selected candidates by the Principal of the Polytechnic concerned through registered Mobile/E-mail.
5. The following certificates should be uploaded from 05.08.2020 to 16.08.2020
a) SSLC Marksheet
b) Transfer Certificate
c) Permanent Community Certificate
d) Income Certificate if applicable
e) Nativity certificate if applicable