ICICI Bank eazypay Search, View & Pay Your Bills Online
Organisation : ICICI Bank Ltd
Facility Name : eazypay Search, View & Pay Your Bills Online
Website : https://eazypay.icicibank.com/homePage
Want to comment on this post?

Go to bottom of this page.
ICICI Bank eazypay
eazypay is a first of its kind secure payment service by ICICI Bank in India. It enables institutions to collect money from their customers through multiple payment modes. ICICI Bank is the first and only bank to offer such a payment service in India.
Related / Similar Facility : REC Online Fee Payment System
The service offers multiple payment modes, both offline and online- like cash, cheque, NEFT ,RTGS, cards and NetBanking . It enables the institution to collect money from any bank customer in India.
In order to avail of eazypay facility, the institution needs to open a bank account with ICICI Bank. For any queries, please write to us at cmsindirect@icicibank.com
Why eazypay?
** Search bills with your registered
** Mobile Number/Email ID
** Enjoy multiple payment options
** Get reminder before due date
** Pay from any of your Bank Accounts
** Pay bills of large number of Institutions
** Get e-Receipts for payments made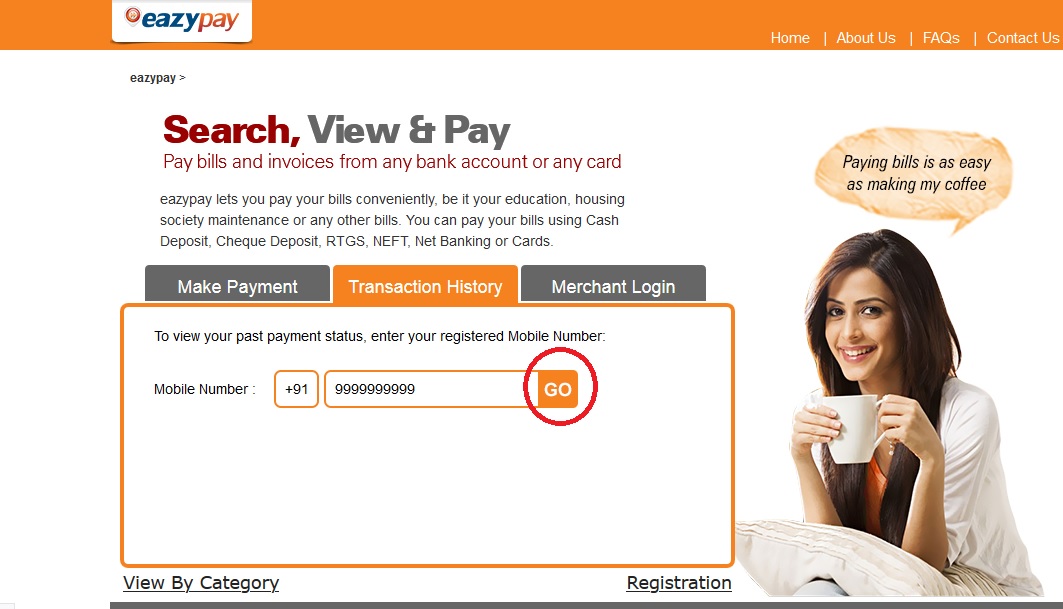 How To Pay Bill?
** Find your Institution
** View your bill/ invoice
** Select payment option
** Pay
How To Search Your Bill?
Option 1 : Enter the name of Institution
Option 2 : Search a bill with your Mobile Number, if you have registered the same with your institution
Option 3: Select the category of Institution (say Education, Corporations, Clubs etc.), subcategory and its location.
How To Pay Via Cash & Cheque?
Generate Challan and submit it at the nearest ICICI Bank branch along with Cash/Cheque.
Cash Payment:
Only if amount less than Rs 3,00,000.
Cheque Payment:
Submit at any ICICI Bank branch up to two working days prior to the last date of payment.
FAQs
My biller is available on the portal, but I am not able to see my record even after entering all my details correctly.
It may be because of any of the below reasons:
** Your details are not available or not updated correctly at the biller's end.
** Biller has not updated your record in current bill cycle.
** You have paid the bill through other sources.
** You need to check directly with your biller for all of the above cases.
** You have paid on eazypay- For such cases, you can check for the bill payment details under transaction status tab.
What are the payment options available to me to facilitate the payment?
We are offering the following modes of payments to our customers:
** Net Banking (Real time: ICICI Bank + other bank�s net banking channel)
** Credit Cards (Online mode- Real time payment)
** Debit Cards (Online mode-Real time payment)
** IMPS (Online mode-Real time payment)
** NEFT (Online+Offline mode)
** RTGS (Online+Offline mode)
** Cash (Offline Mode at ICICI Bank branches)
** Cheque/DD (Offline mode at ICICI Bank branches- ICICI Bank+ other banks cheques)
Your biller may have opted for only some of the modes. The entire list of modes available for any biller can be seen in the left hand side menu of the payment option page while making a bill payment for that biller.
Contact
In case of any issues faced on bill presentment or payment on the site, please write to us at cmssupport@icicibank.com
For opening a bank account with ICICI Bank and availing eazypay facility, please write to us at cmsindirect@icicibank.com