Ayushman Bharat Arogya Karnataka Scheme : Suvarna Suraksha Trust
Organisation : Suvarna Arogya Suraksha Trust
Scheme Name : Ayushman Bharat Arogya Karnataka Scheme
Applicable For : Eligible Households (BPL) and RSBY Enrolled Beneficiaries
Applicable State/UT : Karnataka
Website : http://arogya.karnataka.gov.in/sast/english/index.php/site-map/2018-11-23-07-28-59/about-ab-ark
Want to ask a question / comment on this post?

Go to bottom of this page.
What is Ayushman Bharat Arogya Karnataka Scheme?
Arogya Karnataka" was introduced by Government of Karnataka on 2.3.2018, with the goal of providing Universal Health Coverage to all residents of the State. The Government of India later introduced Ayushman Bharat.
Related / Similar Facility : Ayushman Bharat Organ Transplant Scheme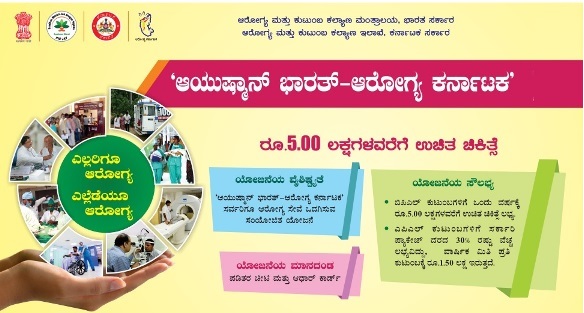 Since both Arogya Karnataka and Ayushman Bharat schemes have the same goal, scope and similar modalities, both the schemes were integrated under a co-branded name called "Ayushman Bharat-Arogya Karnataka" and is being implemented in an Assurance Mode from October 30, 2018.
Eligibility
** Basic Sum Assured is Rs. 5,00,000/- per Family, per annum for "Eligible Households (BPL)" and RSBY enrolled beneficiaries.
** For those that do not come under the "Eligible Household" as defined under the NFSA 2013 or are not enrolled RSBY beneficiaries, the sum assured is 30% of the package rate up to Rs.1.5 lakh per family per annum on co-payment basis.
How To Avail Ayushman Bharat Arogya Karnataka Scheme?
To avail Ayushman Bharat Arogya Karnataka Scheme, follow the below steps
** Patients should first go to the nearest Public Health Institutions (PHIs) with their Adhaar Card and Food Card.
** They should get enrolled in the scheme and get their AB-Ark Card.
** Get diagnosis from the same PHIs
** If the PHI has capacity to treat the disease, that the patient is suffering from treatment will be provided in the same hospital
** If the PHI has no capacity or capability to treat the disease the patient will be given a referral letter and he will be able to get treatment in any private or government empanelled hospitals of his choice.
** In case of emergency treatments patient can go directly to any government and private empanelled hospitals without referral.
Benefit Packages of Ayushman Bharat Arogya Karnataka Scheme
The integrated scheme covers Simple Secondary, Complex Secondary, Tertiary & Emergency Procedures. Primary treatments and simple secondary procedures will be limited to PHIs only. Complex Secondary procedures, Tertiary procedures and Emergency procedures will be performed in PHIs and empanelled Private hospitals.
Complex secondary procedures and tertiary procedures require referral from PHIs. For emergency procedures, patients can directly go to the empanelled hospitals of their choice and avail treatment without referral.
AB-ArK Card
Under the Ayushman Bharat- Arogya Karnataka scheme the enrolment card called AB-ArK Card is provided to the patient at the PHIs on payment of a fee of Rs.10/- in A-4 size paper. AB-ArK cards will be issued at Citizen Service centers, B1 and K1 centers, at a cost of Rs.10/- in A-4 size paper and plastic card at a cost of Rs.35/- and
Fund Sharing Pattern
Government of India will provide funding of 60% of the expenditure incurred for beneficiaries that are in the SECC data 2011 and left over RSBY beneficiaries or 62 lakh families only. Government of Karnataka will also bear the 40% of the expenditure incurred for the 62 lakh families, in addition to 100% of remaining Eligible families and General Families.
State will provide health care for the remaining eligible families and also 19 lakh APL families. These 19 lakh APL families will be eligible for assistance of 30% of the package rates up to Rs. 1.50 lakh per family per year.
Contact
Tel No : 080-22536200.
Fax No : 080-22536221
Helpline Number (Toll Free) : 1800 425 8330
IT Help Line : 080-22536234
Arogya Mitra Help Line (Toll Free) : 1800 425 2646