myaadhaar.uidai.gov.in Update Aadhaar Online 2023 : Unique Identification Authority
Organisation : Unique Identification Authority of India (UIDAI)
Facility Name : Update Aadhaar Online
Applicable For : Aadhaar Holders
Applicable State/UT : All Over India
Last Date : 14th June 2023
Website : https://uidai.gov.in/en/
Want to ask a question / comment on this post?

Go to bottom of this page.
How To Update Aadhaar Online?
Follow the below steps to explore online demographics update service, Aadhaar PVC card ordering & tracking, and more value-added services offered by UIDAI. Your mobile number is required to be registered with the Aadhaar to login.
Related / Similar Facility : How to Upload PoI/PoA Proof of Address Documents in Aadhaar?

Steps:
Step-1 : Go to the link https://myaadhaar.uidai.gov.in/
Step-2 : Enter your Aadhaar Number
Step-3 : Enter Captcha code
Step-4 : Click on the "Send OTP" button
Step-5 : Get and Verify OTP and
Step-6 : Finally click on "Login" button to update details in Aadhaar card online.
Mobile not Registered with Aadhaar? Please follow these steps to get it registered.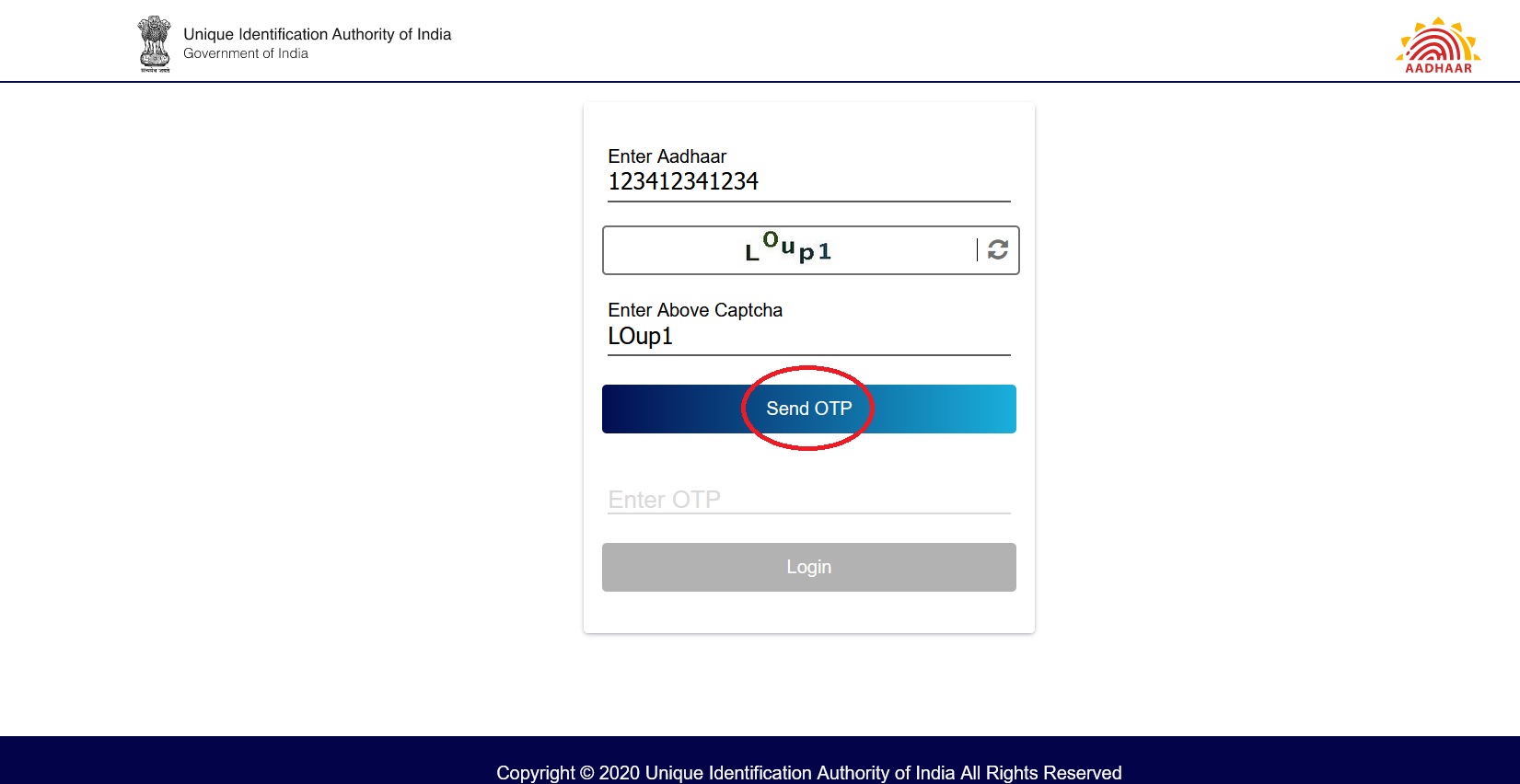 How To Register Mobile Number In Aadhaar Card?
Registered mobile number is essential to access Aadhaar Online Services. You can verify your mobile number that has been declared at the time of enrolment or during latest Aadhaar detail update.
Verify Mobile Number : https://uidai.gov.in/en/my-aadhaar/about-your-aadhaar/updating-data-on-aadhaar.html
If you have not registered your Mobile number while enrolling for Aadhaar, you are required to visit a Permanent Enrolment Centre to get it registered.
Enabling Aadhaar for various services like Government & Non-Government Services, Subsidy Benefits, Pensions, Scholarships, Social Benefits, Banking services, Insurance services, Taxation services, Education, Employment, Healthcare etc., makes it essential to ensure that Aadhaar data of the resident stored in the CIDR is accurate and up-to-date.
Demographic data update, the need could arise from:
** Changes in life events such as marriage may lead to residents changing their basic demographic details such as name and address. Address and mobile number could also change due to migration to newer locations. Residents may also want changes in their relative's details due to changes in life events such marriage, death of a relative etc. In addition, residents could have other personal reasons to change their mobile number, email address etc.
** Changes in various service delivery platforms may lead residents to declaration request changes and to add mobile number to CIDR etc.
** Errors made during the enrolment process wherein the resident's demographic data may have been captured incorrectly. Changes to "DoB/Age" and "Gender" fields are expected primarily due to enrolment errors.
** Since a resident can enrol anywhere in India, it may happen that a native speaker of language "A" is enrolled by an operator of language "B" and consequently the resident's local language of enrolment is "B". Later, the resident may want to change the local language of enrolment to another that he/she prefers. If so, then all the demographic information that is printed on the Aadhaar letter will need to be updated in the new local language.
** UIDAI may also ascertain availability of POI, POA and other documents collected at the time of enrolment/update and its quality and decide to notify resident to update their demographic information and submit the required document.
Biometric update, the need could arise from:
** Age <5 years at the time of initial enrolment -The child should be re-enroled when the child attains an age of 5 years and all biometric data should be provided. A de-duplication would be done for the child at this stage. This request will be treated similar to a new enrolment request while retaining the original Aadhaar number
** Age between 5 and 15 years at the time of enrolment – The resident should furnish all biometrics for updates when the resident attains age of 15 years.
** Age >15 years at the time of enrolment – Residents are recommended to update their biometric data every 10 years.
** Events like accidents or diseases leading to biometric exception
** As the Aadhaar authentication service is becoming ubiquitous, residents may also approach for biometric updates because of authentication failures (called false rejects – where a correct resident with valid Aadhaar number may be incorrectly rejected) which may result from incorrect biometric capture or poor biometric quality captured at the time of enrolment. With improvements in technology, it may be possible to capture better quality biometrics in the CIDR.
** UIDAI may verify the quality of biometric captured during enrolment/ update and decide a threshold. All the residents whose biometrics are below the decided threshold level may be notified by UIDAI to update of biometrics.
What is the Last Date For Updating Aadhaar Online?
You can update Aadhaar online from 15th March 2023 to 14th June 2023.