INC Update Your Mobile Number/ Email ID : nrts.indiannursingcouncil.gov.in
Organisation : Indian Nursing Council (INC)
Facility Name : Update Your Mobile Number/Email ID
Applicable For : Registered Nurses
Website : https://nrts.indiannursingcouncil.gov.in/login.nic
Want to ask a question / comment on this post?

Go to bottom of this page.
How to Update Mobile Number/Email ID at INC?
To update Mobile Number/Email ID at INC, Follow the below steps
Related / Similar Facility : INC Download Primary Registration Certificate
Steps:
Step-1 : Go to the link https://nrts.indiannursingcouncil.gov.in/getEmailMobileUpdates.nic?mode=emailMobileUpdateVerify&&selectMode=mobilebyemail
Step-2 : Select the State Nursing Council
Step-3 : Select the Search Type
Step4 : Enter your Date of Birth
Step-5 : Enter the Captcha
Step-6 : Click on the "Get Details" button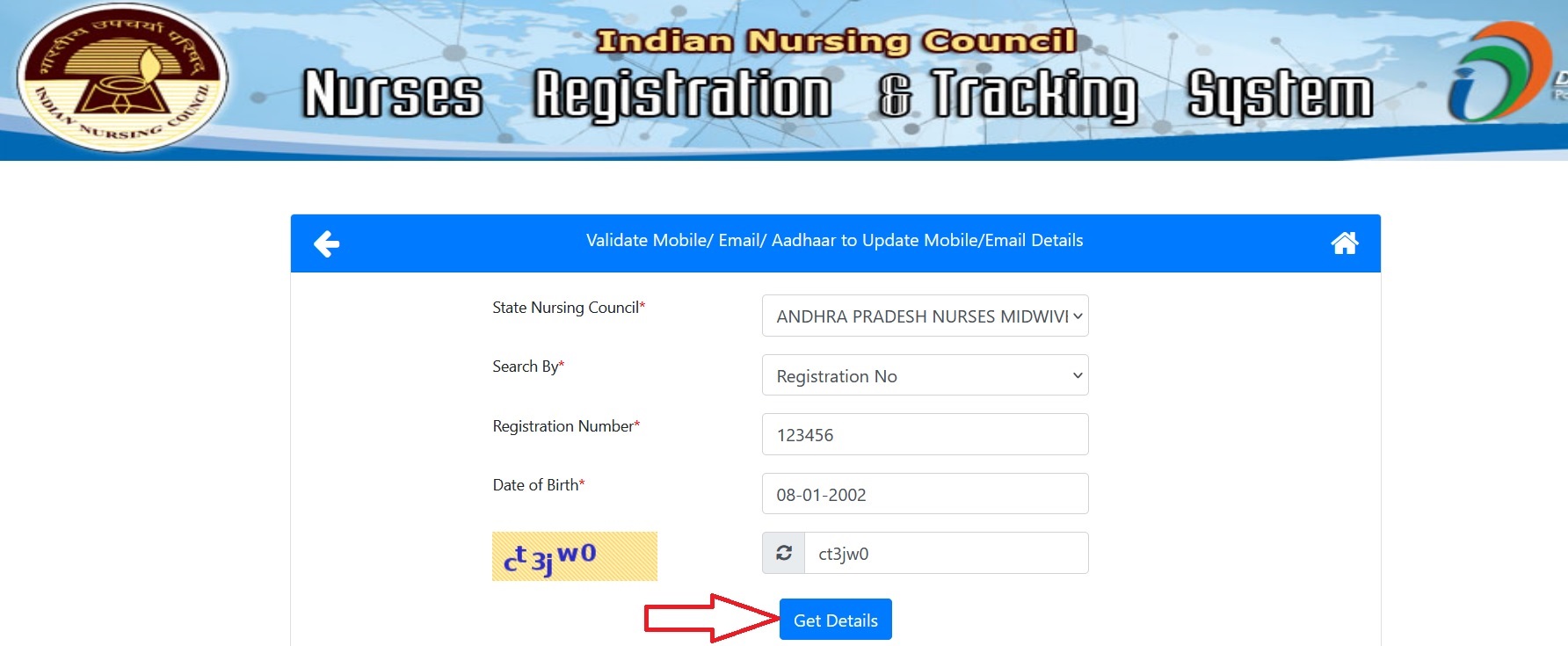 NRTS Data Correction Procedure
It is brought to the notice of those nurses who have enrolled through M/S FINO the enrollment agency for NRTS and later, on verification it is found that some of the nurse's data particularly the scanned copies of the certificates are not clearly readable/available. Therefore the following procedure is worked out to get the data from those nurses only.
M/s FINO the enrollment agency will send the whats-app message from +91-7738317776 Mobile number only to those nurses whose uploaded scanned certificates are not readable.
The message will be as follows:
"Dear Sir/Madam,
I'm Ajay Kumar writing this message from Fino PayTech Ltd. On behalf of INC, requesting you to please provide following scanned copies of original documents, It's required for correction of your NRTS enrollment against SNC registration No.XXXXX.
** Name of Certificate-1 (Document)
** Name of Certificate-2 (Document)
** Name of Certificate-3 (Document)
Please send documents on email ID "ajaykumar.9788[at]finopaytech[dot]com" only, while sending mail please don't forget to add your SNC registration number in subject line. On receipt of the requisite documents, it will be rectified in the NRTS Software. On rectification that NUID card and Nurse Passbook will be provided.
Note:
Only those Nurses should send the above data who receive above message from +91-7738317776 or if they are seeing documents not updated on NRTS portal (as part of the remarks for rejection by SNRC) and because of which NUID has not been generated
Attention of Self Enrolled Nurses those who have not submitted properly in NRTS:
Only those Nurses who have self enrolled and not submitted properly may note that these data Nurses data can not be processed as they have not submitted successfully. Accordingly this data has been deleted , they can verify here by selecting their parent State Nursing Council and entering their RN/RM Number. If they find their RN/RM number they can proceed to enroll afresh in NRTS and complete OTP based Aadhar authentication, capture or upload photo and submit the application to SNRC for get your NUID card
Contact
Technical Support: inctechhelp[at]gmail[dot]com (or) support-nrts[at]nic[dot]in