INC Download Primary Registration Certificate : nrts.indiannursingcouncil.gov.in
Organisation : Indian Nursing Council (INC)
Facility Name : Download Primary Registration Certificate
Applicable For : Registered Nurses
Website : https://nrts.indiannursingcouncil.gov.in/login.nic
Want to ask a question / comment on this post?

Go to bottom of this page.
How To Download INC Primary Registration Certificate?
To Download INC Primary Registration Certificate, Follow the below steps
Related / Similar Facility : INC Update Your Mobile Number/Email ID
Steps:
Step-1 : Go to the link https://nrts.indiannursingcouncil.gov.in/getEmailMobileUpdates.nic?mode=emailMobileUpdateVerify&&selectMode=download_primary_cert
Step-2 : Select the State Nursing Council
Step-3 : Select the Institute
Step-4 : Select the Year of Passing
Step-5 : Select the Search Type
Step-6 : Enter the Date of Birth
Step-7 : Enter the Captcha code and
Step-8 : Click on the button "Get Details"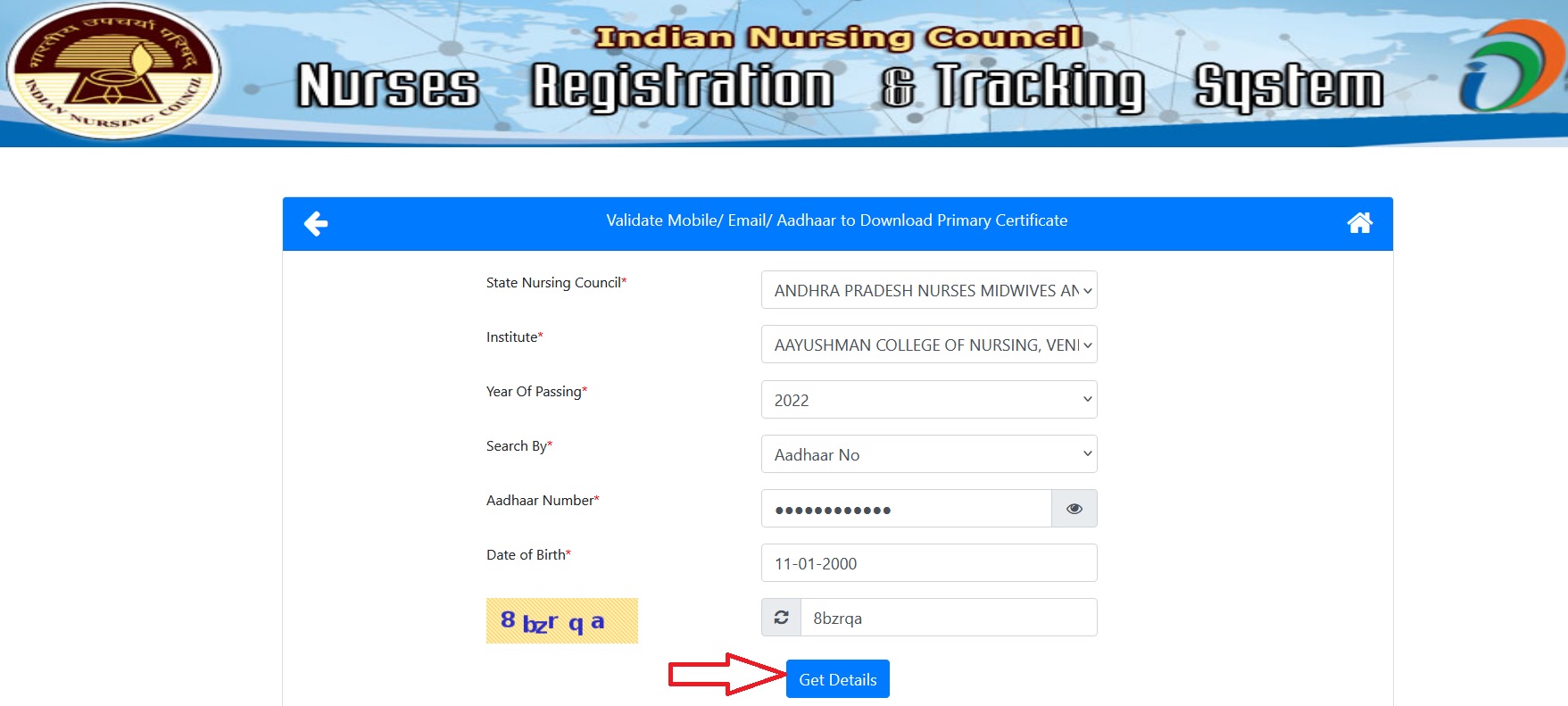 What is NRTS?
NRTS – Nurses Registration and Tracking System is a web-based application designed for Indian Nursing Council, New Delhi to enable creation of live register of the nurses across the country. Enrolment Registration is the process by which an individual nurse can register and get NUID number along with digital signature. Nurse can undergo this process in three different means. Through any of them, a nurse can get his NUID number and Digital signature.
Objectives of Nurses Registration & Tracking System (NRTS):
** Free Enrollment of Nurses – Hassel free registration and linked with Aadhaar based biometric authentication.
** Simplified Registration and has integrated uniform system across the country.
** Empower Nurses with National Unique Identity Number (NUID).
** Renewal of license once in five years linked with 150 hours of Continuing Nursing Education (CNE).
** Candidates getting NUID Card will get the incentive of 30 hours of CNE for the first time.
** Facilitate for effective manpower planning for policy makers at State and National level.
** Uniform issuance of Nurse Passbook comprising of complete history of Nurse Midwifery.
Attention of Self Enrolled Nurses those who have not submitted properly in NRTS:
Only those Nurses who have self enrolled and not submitted properly may note that these data Nurses data can not be processed as they have not submitted successfully. Accordingly this data has been deleted , they can verify here by selecting their parent State Nursing Council and entering their RN/RM Number. If they find their RN/RM number they can proceed to enroll afresh in NRTS and complete OTP based Aadhar authentication, capture or upload photo and submit the application to SNRC for get your NUID card
Cancellation & Refund Policy:
The "State Nursing Council" shall collect the fee from Nurses under its jurisdiction towards registration services as prescribed in the NRTS. The fee details are
** Registration fee:- Rs. 1000/- for ANM and Rs. 2000/- for GNM/BSc
** Reciprocal Registration fee:- Rs. 1000/-
** Renewal of Registration fee:- Rs. 500/ –
** Additional/Higher Qualification Registration fee:- Rs. 1000/-
** Delay in Reciprocal of Registration for more than 3 months: Rs. 5000/-
** Delay in Renewal of Registration for more than 6 months: Rs. 5000-
Please read this policy carefully. This is the Return and Refund Policy of Nurses Registration and Tracking System. There is no refund policy for Registration services. The refund is given only in the case of double payment by any one after producing the same in writing to the council. We issue refunds for such double payment within 30 days of the original request of the same.
Contact
Technical Support: inctechhelp[at]gmail[dot]com (or) support-nrts[at]nic[dot]in